This post may contain affiliate links, which means we may receive a commission if you purchase through our links. Please
read our full disclosure here
.
TV Fashion Recap is a biweekly column featuring the best of TV fashion. Every other week, we recreate our favorite outfits from the most recent episodes of all of the hottest shows. Stay tuned; we may feature your favorite show next!

Every other week, I break down the best of TV fashion, featuring my favorite looks from the last two weeks. This week, I was inspired by The Once Upon A Time and Pretty Little Liars. Read on to check out the outfits!
1. Once Upon A Time (Season 2, Episode 18): Tamara's Military Cargo Jacket and Floral Scarf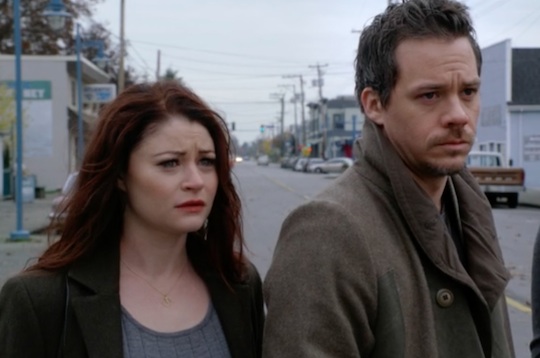 (Photo Credit – Screenshot)
ABC's Once Upon A Time is one of the few shows on TV that just gets better with each new episode. The plot twists, intricate costumes, special effects, and fairytale elements keep me glued to the screen. (What do you guys think of the revelation concerning "Her"? Did you see it coming?)
Tamara, a relatively new character to the show, is fearless, charming, and beautiful, but she also has a lot of secrets. I want to hate her because she's keeping Neal and Emma apart, but I just can't — her style is too flawless. It has a sophisticated, yet laid-back vibe that I love.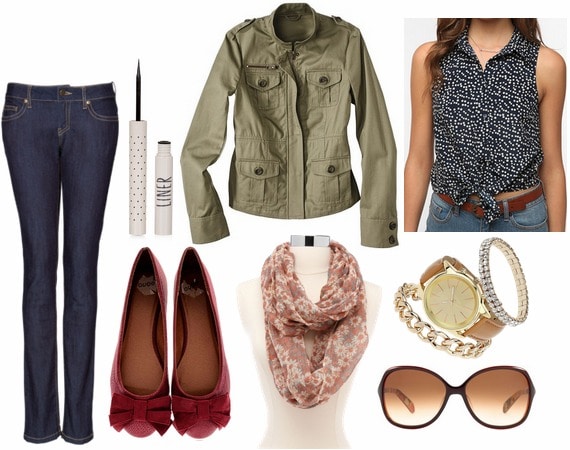 (Product Information: Jeans – Mango, Eyeliner – Topshop, Jacket – Target, Shirt- Urban Outfitters, Flats – Pret-a-Beaute, Scarf – Charlotte Russe, Bracelets – Miss Selfridge, Sunglasses – Vera Bradley)
To recreate Tamara's gorgeous springtime look, start with an olive green military cargo jacket. Add a dark, polka-dot print top underneath – this one is very on-trend this season. Slip on a pair of jeans and sling a sheer, floral scarf around your neck. Next, put on some classic gold jewelry and add a pair of sunglasses to create a more elegant feel. For your feet, colorful, bow-adorned flats add a flirty vibe and an unexpected pop of color. For the finishing touch, create a winged cat eye using liquid liner — it's Tamara's signature look.
2. Pretty Little Liars (Season 3, Episode 23): Hanna's Floral Dress and Cropped Jacket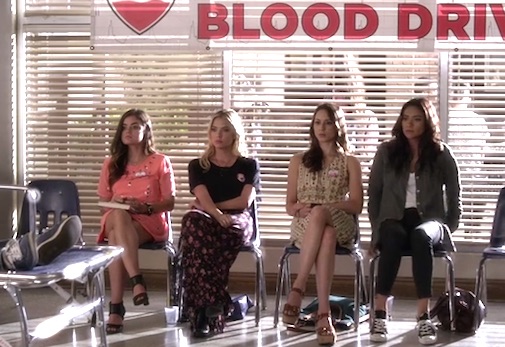 (Photo Credit – Screenshot)
Pretty Little Liars is over for the season, and I'm having mixed emotions. On one hand, I'm relieved we found out that — Spoiler Alert! — Spencer didn't actually join the 'A' Team, but I'm also really upset that it ended on such a huge cliffhanger. You'd think that after three seasons I'd be used to the suspense, but I still can't handle it.
Hanna is definitely my favorite PLL character. She's impulsive, funny, and so trendy. She takes a lot of fashion risks, but I've never seen her wear something I didn't like and want in my wardrobe. (Who's your favorite Liar?)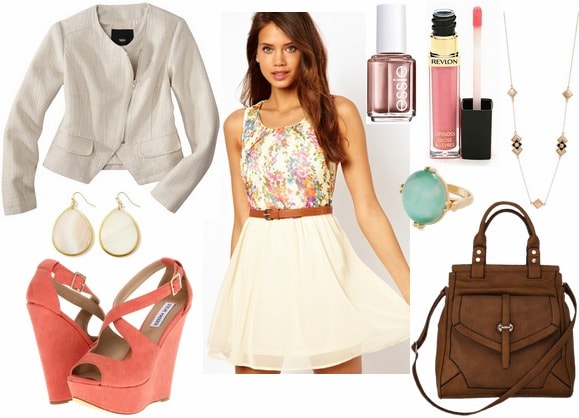 (Product Information: Jacket – Target, Earrings – White House Black Market, Shoes – Zappos, Dress – ASOS, Lip Gloss – Revlon, Nail Polish – Essie, Necklace – Pink Mascara, Ring – Modcloth, Purse – Target)
Hanna's outfit would be perfect for a sunny day on campus. To recreate her look, start with a belted floral dress — this two-toned one has a gorgeous skater skirt that's very in for spring. Add a neutral cropped jacket and a large leather bag. Next, slip on some feminine jewelry as well as a pair of coral-colored skyscraper wedges. Add a coat of metallic nail polish for an interesting contrast to the girly dress, then finish this look with a few swipes of pink lip gloss, one of Hanna's makeup essentials.
Your thoughts?
What do you think of these looks? Did we miss any amazing outfits from the past week of TV? Which shows do you think deserve a spot on the next TV Fashion Recap post? Leave a comment below and tell us what you think!