TV Fashion Recap is a biweekly column featuring the best of TV fashion. Every other week, we recreate our favorite outfits from the most recent episodes of all of the hottest shows. Stay tuned; we may feature your favorite show next!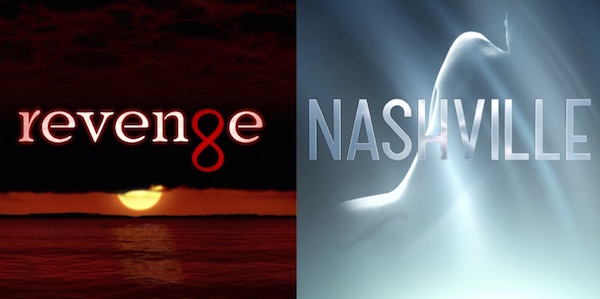 Every other week, I break down the best of TV fashion, featuring my favorite looks from the last two weeks. This week, I was inspired by Once Upon a Time and Pretty Little Liars. Read on to check out the outfits: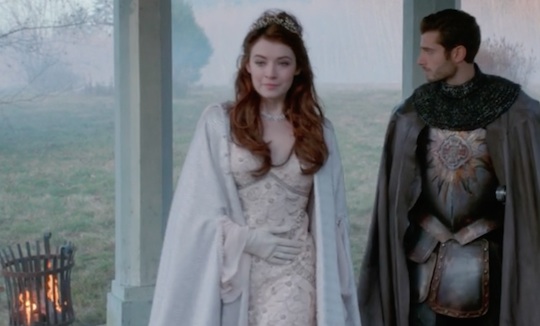 (Photo Credit – Screenshot)
Once Upon a Timeis basically a live-action fairy tale with some modern twists. It's everything that I want my life to be: full of pretty dresses and magic, but I still have access to hair detangling spray and waffles. It's the best of both worlds. I'm a huge fan of the show (see here and here for more recaps!), and it just keeps getting better and better. I know, I say that every time, but it's true!
Aurora, also known as Sleeping Beauty, is one of my fashion icons. She rocks the pastel trend, and isn't afraid to add a lot of sparkly accessories. She also manages to look flawless, even after running through the woods for days on end while evading bad guys. Seriously, all I do is sit in the library all day, and yet her hair is perfect, and I look like I've just taken a nap in an actual bird's nest. This is proof that life isn't fair.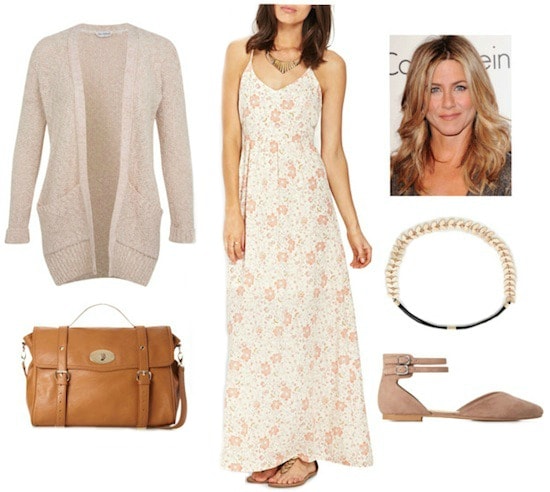 Product Info: Sweater, Dress, Bag, Headband, Shoes, Hair Photo: ELLE
You might look at this outfit and say, "Ummm, Sarah? That looks nothing like Aurora's outfit. She's got a tiara and fancy white gloves." Shhh, let's just pretend. I don't know how it is at your university, but this is as close as I can get to wearing a princess gown and cape in my 8:30 a.m. Complex Web Design lecture without getting a lot of weird looks. (The stares I'd get would probably be worth it if I looked as good as Aurora does, though.)
To make this look a little more school-appropriate, add a boho chic twist to Aurora's ensemble. Start with a floral maxi dress and trade the cape for a slouchy neutral cardigan.
Because the dress is so detailed, keep the accessories to a minimum. A leather messenger bag and a cute pair of flats are all you really need. Add a gold leaf headband or a gorgeous floral crown in place of a tiara, and finish off with loose, boho-chic waves like Aurora's.
2. Pretty Little Liars (Season 4, Episode 23): Emily's Leather Bomber Jacket and Moon Tee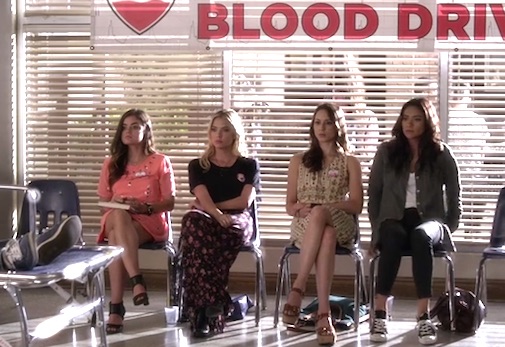 (Photo Credit – Screenshot)
I love Pretty Little Liars so much – I know I'm starting to sound like a broken record, but I can't help it. The show is just so good! PLL has fab fashion, plenty of suspense, and lots of mind-blowing twists, which is exactly what I look for in a show (well, that and David Tennant, but don't get your hopes up – he hasn't joined the cast yet). I've covered PLL before (see here and here for a few more recaps), but I really can't get enough of the Liars' style.
I've always loved Emily's menswear-inspired wardrobe – it's cool and casual yet comfy and chic. Lately, she's been adding some boho-inspired pieces to spice things up, and I especially liked this outfit she wore in last week's episode.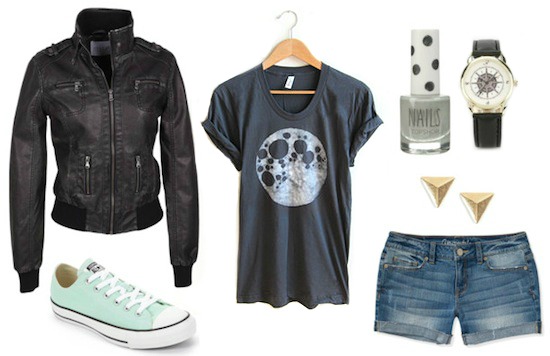 Product Info: Jacket, Shirt, Nail Polish, Watch, Earrings, Shoes, Shorts
To recreate this adorable springtime look, start with a graphic moon tee;for some reason, this top reminds me of the type of thing you'd see on Instagram – a wavy haired girl frolicking barefoot on the beach, eating ice cream and flashing peace signs toward the sparkling sunset. Sigh. I wish my life was an Instagram feed, rather than just sleep, Netflix, and math homework.
Wishful thinking aside, this whole outfit is pretty picture-worthy. Just add a faux leather bomber jacket and slip on a pair of medium-wash denim shorts. Add a pair of mint sneakers to make the outfit even more casual.
This getup works because of the simplicity, so grab a pair of pyramid studs and a cute oversized watch to accessorize the look. Finish off with a coat of gray nail polish – it's a cute and easy spring trend.
Your thoughts?
What do you think of these looks? Did we miss any amazing outfits from the past week of TV? Which shows do you think deserve a spot on the next TV Fashion Recap post? Leave a comment below and tell us what you think!