TV Fashion Recap is a biweekly column featuring the best of TV fashion. Every other week, we recreate our favorite outfits from the most recent episodes of all of the hottest shows. Stay tuned; we may feature your favorite show next!

Every other week, I break down the best of TV fashion, featuring my favorite looks from the last two weeks. This week, I was inspired by Once Upon a Time, 30 Rock, and The Carrie Diaries. Read on to check out the outfits!
1. Once Upon a Time (Season 2, Episode 11): Belle's Skater Skirt and Oxblood Blazer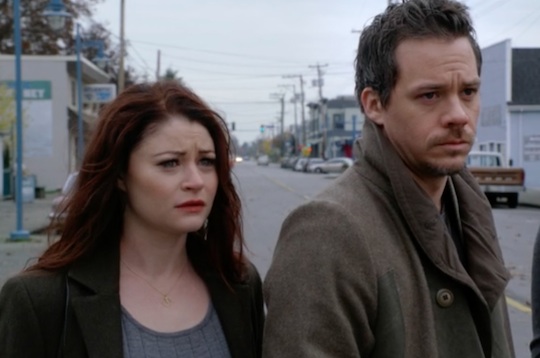 (Photo Credit – Screenshot)
So if you haven't guessed from this post (and this one, too), I'm a little obsessed with Once Upon a Time. Every time I think that the show can't possibly get any better or more addictive, I am proven wrong. I don't want to spoil anything, but did anyone else freak out and start screaming at the TV after what happened to Belle this week? If you haven't seen it yet, you really should. The first season is great, but the second season is so amazing that I can barely handle it.
I know that I have featured Once Upon A Time here a few times already, but the fashion is pretty fabulous. I love how feminine and timeless each outfit is, and how wearable the clothes are, not just for fairy tale characters hitting the town, but also for college students.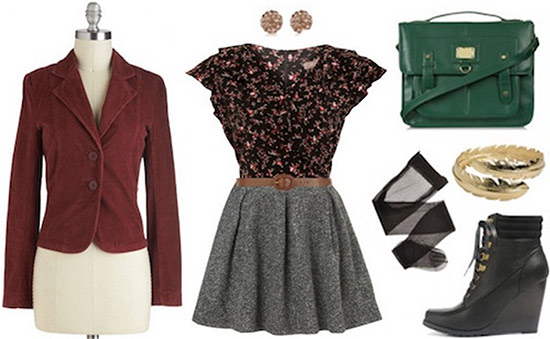 (Product Information: Jacket – Modcloth, Top – AWear, Belt – Dorothy Perkins, Skirt – Nordstrom, Earrings – River Island, Bag – Topshop, Tights – Pret a Beaute, Bracelet – Swell, Boots – Forever 21)
To recreate this look, which would be perfect for a day of classes, start with a floral patterned blouse. Next, add a gray skater skirt, accessorized with a brown leather belt. Belle's jacket, above, is a dark oxblood hue, and while this blazer isn't an exact copy, this lighter shade is similar and gives off the "chic librarian" vibe that Belle is famous for. Finish with sheer black tights, wedge ankle booties, simple jewelry, a bright green messenger bag.
2. 30 Rock (Season 7, Episode 9): Kaylie's Patterned Sweater and Black Shorts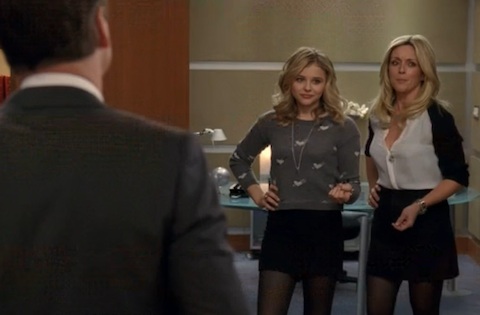 (Photo Credit – Screenshot)
NBC's hit comedy 30 Rock, starring Tina Fey, is in its last season, and the hilarious antics, great one-liners, and goofy characters are as fabulous as ever. If you still haven't watched the show, you are seriously missing out!
Kaylie Hooper, a minor but hilarious character, is a conniving teenage girl trying to take over her grandfather's company. Jack Donaghy, the NBC executive who has been angling for CEO for years, consistently loses in their power struggle. She's evil, but her faked innocence and whip-smart one liners make her one of my favorite characters.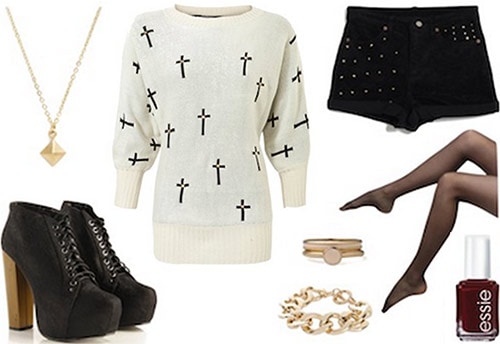 (Product Information: Necklace – Modcloth, Rings – American Apparel, Boots – Fashion Union, Sweater – New Look, Shorts – Romwe, Tights – Urban Outfitters, Bracelet – River Island, Nail Polish – Beauty.com)
To recreate Kaylie'son-trend look, which would be great for class, start with a neutral sweater with small patterns. Add a pair of black shorts and a pair of sheer black tights. Next, slip on some chunky black lace-up ankle boots. Add small jewelry that's slightly edgy, but still classic, and finish off with dark red nails for an interesting pop of color.
3. The Carrie Diaries (Season 1, Episode 1): Carrie's Floral Top and Jean Shorts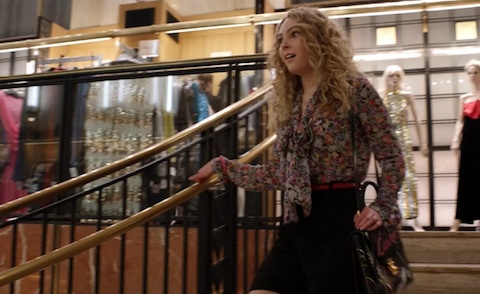 (Photo Credit – Screenshot)
New CW series The Carrie Diaries is a prequel to Sex and the City, and I'm trying to reserve my judgment, because only the pilot has aired. I have to say, though, the first episode left me pretty underwhelmed. I was looking forward to the amazing fashion that Carrie Bradshaw is known for, but it seems like she had some slightly awkward fashion years in HS. (Though, really, who didn't?)
Either way, all is not lost! I really loved this chic floral outfit, shown above, and I do think the show has a lot of potential. And I'm not just saying that because of the super gorgeous Austin Butler, who plays Carrie's love-interest, Sebastian Kydd!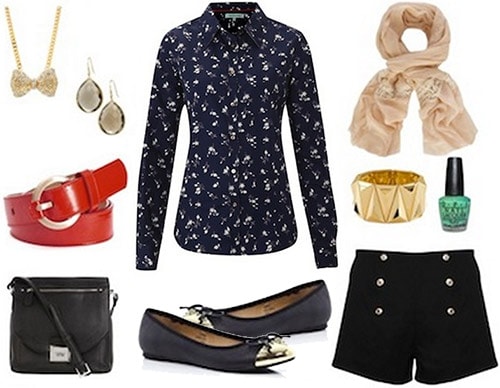 (Product Information: Necklace – Go Jane, Earrings – Stella & Dot, Top – House of Fraser, Scarf – Dorothy Perkins, Belt – Clothing.net, Bracelet – H&M, Nail Polish – Amazon, Bag – Dorothy Perkins, Shorts – Rare London, Shoes – River Island)
To recreate Carrie's polished look, start with a navy floral top. Next, taking inspiration from the bow around her neck, add a slightly sheer, neutral-colored scarf so that there aren't two competing patterns. Add a pair of black high-waisted shorts and a cherry red belt for an unexpected pop of color. Sling a black boxy messenger bag across your shoulders, then accessorize with cute, girly jewelry. To finish the look, paint your nails a bright, neon teal as a nod to the show's 1980s setting.
Your thoughts?
What do you think of these looks? Did we miss any amazing outfits from the past week of TV? Which shows do you think deserve a spot on the next TV Fashion Recap post? Leave a comment below and tell us what you think!