TV Fashion Recap is a biweekly column featuring the best of TV fashion. Every other week, we recreate our favorite outfits from the most recent episodes of all of the hottest shows. Stay tuned; we may feature your favorite show next!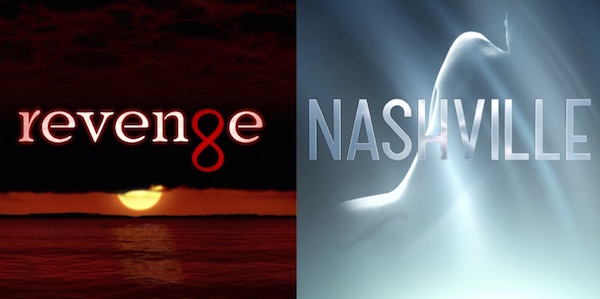 Every other week, I break down the best of TV fashion, featuring my favorite looks from the last two weeks. This week, I was inspired by New GirlandThe Vampire Diaries. Read on to check out the outfits:
1. New Girl (Season 3, Episode 16): Jess's Black and White Printed Dress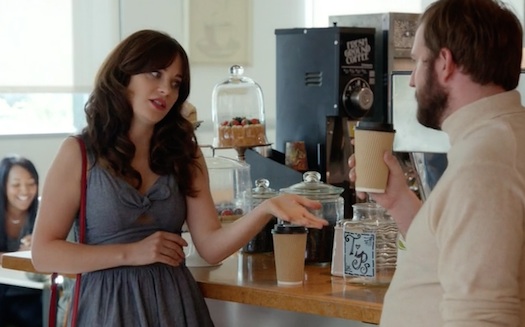 (Photo Credit – Screenshot)
New Girl is one of my favorite shows to watch after a long day of studying (well, to be honest, it's more like a long day of drinking coffee and chatting on Facebook – which is somehow still exhausting). The show is bubbly, funny, and light. It's not the kind of show where I count down the days until the next episode (ahem, Sherlock), but I always enjoy watching it, and I always want more after it's over.
I've done a few recaps on New Girl fashion (see here and here), but I'm absolutely obsessed with Jess's style. It's adorable and girly, but still very comfortable and casual. I am so jealous of her wardrobe, hair, and pretty much everything else. I especially loved this black-and-white dress she wore in a recent episode.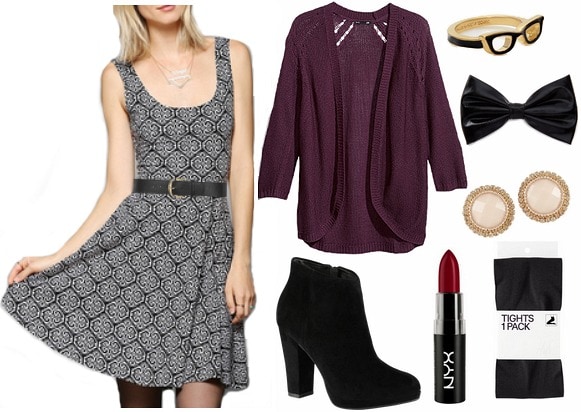 Product Info: Dress, Belt, Cardigan, Ring, Bow, Earrings, Shoes, Lipstick, Tights
To recreate Jess's outfit, which would be perfect for a day of classes or meetings, start by cinching a belt around the waist of a black-and-white printed dress. I know Jess's was a houndstooth pattern, but this one is similar, and perfect for the (hopefully!) rising temperatures. Layer a loose-fitting, wine-colored cardigan over top. Next, slip on a pair of opaque tights and some black heeled booties.
Jess loves cute, fun accessories, and this ring shaped like a pair of black rimmed glasses, one of Jess's staples, is perfect for the look! Accessorize with a cute pair of earrings or maybe a bracelet or two. To recreate one of her classic hairstyles, pull a strand of hair from each side of your face back behind your head and pin them together with a cute black hair bow. Complete the ensemble with a cool-toned red lipstick.
2. The Vampire Diaries (Season 5, Episode 13): Katherine's Leather Jacket and Red Tank Top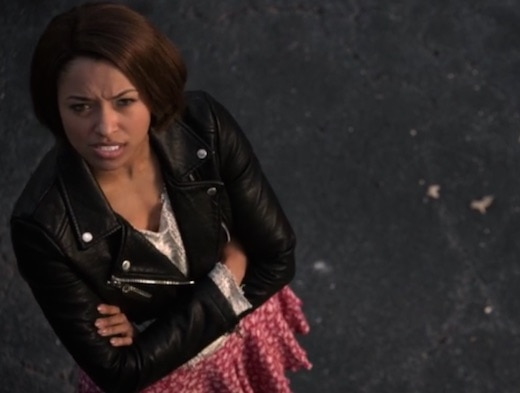 (Photo Credit – Screenshot)
The Vampire Diariesis one of the most frustratingly addictive shows on TV right now. I just want Elena and Damon to live happily ever after! If you haven't seen it, it's a drama about, you guessed it, vampires. I don't want to spoil anything for new viewers, but I would definitely recommend checking the show out. Just be warned – you may become obsessed with it!
This week, I absolutely adorned this outfit worn by Katherine. It's cool and casual, which makes it the ideal look to rock on campus.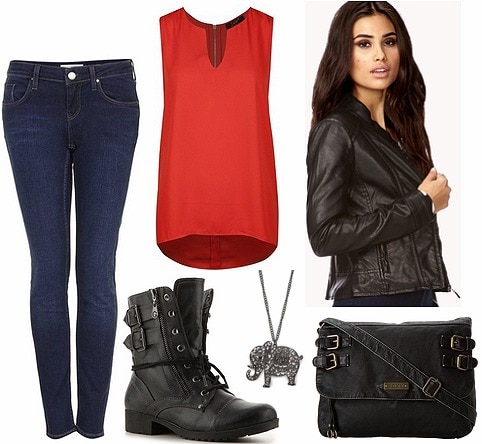 Product Info: Pants, Top, Jacket, Boots, Necklace, Purse
To recreate Katherine's casual, yet edgy ensemble, start with a red tank top and a dark brown faux leather jacket – the bright red adds a fun pop of color to the outfit. Slip on a pair of slightly faded blue jeans to play up the casual vibe, and contrast that with a pair of trendy buckled faux leather boots.
Next, sling a black bag over your shoulder to carry all of your campus necessities (for me, it's a notebook, highlighters in every conceivable color, and lip balm). Finish off with a small pair of earrings or a large pendant necklace – I'm definitely in love with this elephant one!
Your thoughts?
What do you think of these looks? Did we miss any amazing outfits from the past week of TV? Which shows do you think deserve a spot on the next TV Fashion Recap post? Leave a comment below and tell us what you think!