TV Fashion Recap is a biweekly column featuring the best of TV fashion. Every other week, we recreate our favorite outfits from the most recent episodes of all of the hottest shows. Stay tuned; we may feature your favorite show next!

Every other week, I break down the best of TV fashion, featuring my favorite looks from the last two weeks. This week, I was inspired by New GirlandBones. It seems to be all about the fashionable Deschanel sisters this week – I've chosen Zooey and Emily's starring shows! Read on to check out the outfits:
1. New Girl (Season 3, Episode 7): Jess's Black Sweater and Red Skater Skirt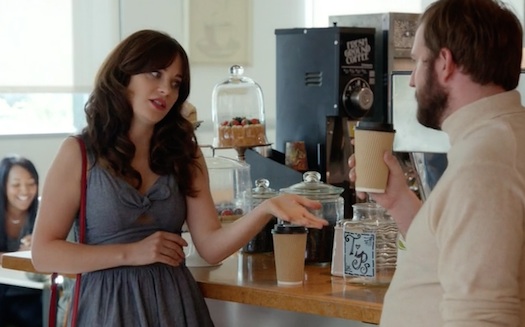 (Photo Credit – Screenshot)
I've already gushed about the sitcom New Girl, but Jess (Zooey Deschanel) keeps getting cuter and cuter, and the nerdy guys she shares an apartment with keep getting more hilarious and witty. The show is adorable, funny, and light – the perfect thing to watch when you just want to paint your nails and have a girly, relaxing night.
Jess is quirky, bubbly, and seems like someone I want to be friends with (partially because I'd love to raid her closet!). Her wardrobe consists of lots of gorgeous skirts, dresses, ladylike prints, and, of course, her signature thick rimmed "geek" glasses. Check out this CF article if you'd like a more comprehensive guide to her amazing style!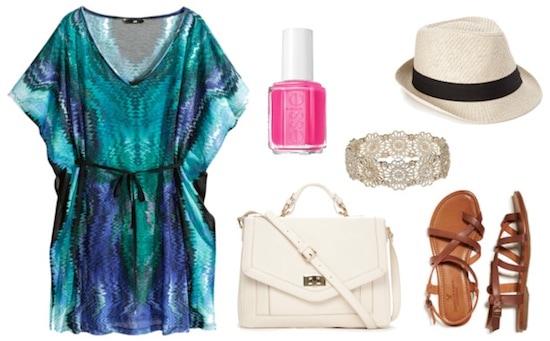 Product Info: Skirt, Sweater, Lipstick, Glasses, Tights, Ring, Earrings, Boots
To recreate Jess' adorable ensemble, which would be perfect for the holidays (it's never too early to start thinking/dreaming about winter break, right?), start with a black cowl neck sweater and a bright red skater skirt. Add a pair of semi-sheer tights underneath for a little extra warmth and pair them with black lace-up boots.
The focus of the outfit is on the colorful skirt, so accessorize with cute yet subtle jewelry, like a quirky little pair of earrings and a ring or two. Jess' look isn't complete without thick-rimmed glasses, so grab a pair with slightly rounded frames. Don't forget a few swipes of a vibrant red lipstick – it's her signature!
2. Bones (Season 9, Episode 7): Angela's Printed Tee and Silver Accessories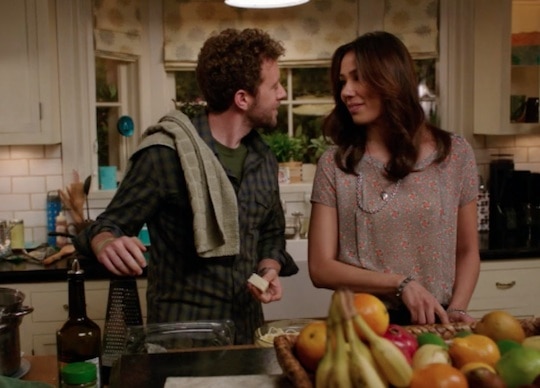 (Photo Credit – Screenshot)
The popular crime show Bones is still going strong on its ninth season. It's a funny, suspenseful, and sometimes gruesome show, but I stopped watching it a few seasons ago because it seemed a little repetitive. However, the ninth season has started off much better, and I'm getting a little obsessed again.
The cast is fantastic, and the characters are all lovable and so much fun to watch. I've covered this show in the past, but Angela's look in this episode really drew my interest. (For more Bones fashion, be sure to check out our Geek Chic post on the series!)
Angela is a free-spirited forensic artist/computer hacker. She's very compassionate, loving, and has a lot more real-world knowledge than the rest of the lab team, who are affectionately known as "squints" because of their geeky tendencies. Her marriage to "squint" Jack Hodgins is probably one of my favorite parts of the show–I can't handle how adorable they are together! Angela also has a sophisticated, edgy, and bohemian style that I absolutely love.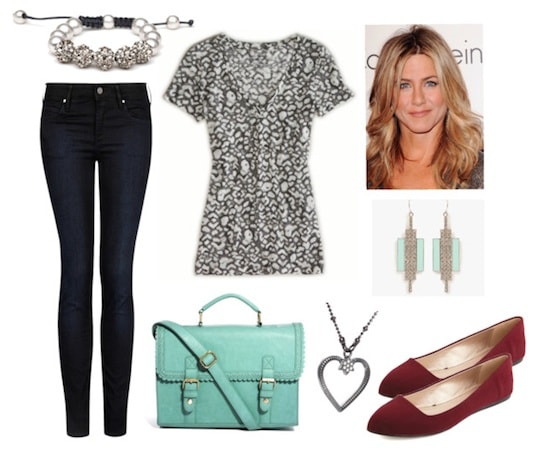 Product Info: Pants, Bracelet, Top, Earrings, Shoes, Necklace, Purse | Hair Photo: ELLE
Angela's outfit is casual and comfortable, but it still looks very put together. To recreate her look, start with a grey patterned cotton tee and black skinny jeans. Angela loves adding pastels to black and white outfits, so sling a mint messenger bag over your shoulder. Add a pair of comfy dark red flats for a bold pop of color.
Angela's delicate silver jewelry pulls her outfit together, so accessorize with a silver necklace and a matching bracelet. As a nod to Angela's artistic nature, finish off this campus-ready ensemble with a cute pair of art deco earrings.
Your thoughts?
What do you think of these looks? Did we miss any amazing outfits from the past week of TV? Which shows do you think deserve a spot on the next TV Fashion Recap post? Leave a comment below and tell us what you think!