TV Fashion Recap is a biweekly column featuring the best of TV fashion. Every other week, we recreate our favorite outfits from the most recent episodes of all of the hottest shows. Stay tuned; we may feature your favorite show next!

Every other week, I break down the best of TV fashion, featuring my favorite looks from the last two weeks. This week, I was inspired by Modern Family and The Vampire Diaries. Read on to see both looks:
1. Modern Family (Season 6, Episode 10): Haley's Sequined Skirt and Leather Jacket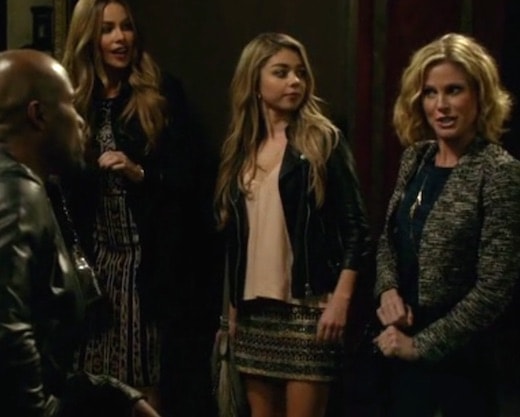 Photo Credit – Screenshot
Modern Family is one of those shows where you can turn on a random episode and you'll end up laughing so hard that you cry. If you haven't heard of it, it's a mockumentary-style comedy about, you guessed it, the "modern family" in all its variations.
The characters are hilarious and heartwarming, so it's a show that's genuinely fun and relaxing. Don't get me wrong, I love my dramatic crime shows, but sometimes it's nice to watch something that is guaranteed to cheer you up. If you haven't tuned in, I highly recommend giving Modern Family a try.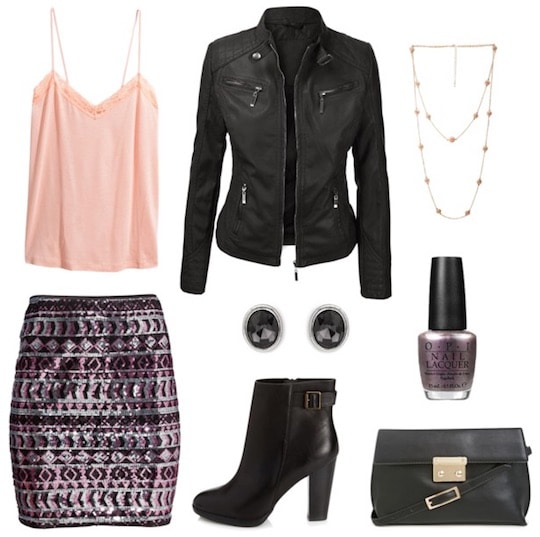 Product Info: Tank, Jacket, Necklace, Skirt, Earrings, Shoes, Nail Polish, Purse
I'm still waiting for the opening of a club where it's acceptable to wear yoga pants and high school track sweatshirts (and you have the option of sitting in a booth and having Netflix marathons), but until then, I'm consoling myself with pretty sequined outfits for nights out on the town. Haley's outfit is really versatile – you can make it work for an evening date or a trip out to the bar with friends.
To recreate the look, start with a sequined skirt and a pale pink tank. Wear a fitted leather jacket to keep warm and add a bit of edge to the ensemble. Wearing booties allows you the option of adding fleece tights, but strappy heels work too. Accessorize with a pair of oversized stud earrings and a layered necklace. Grab a small black clutch for your wallet, phone, and keys. Finish the look with a sophisticated yet fun metallic nail polish.
2. The Vampire Diaries (Season 6, Episode 10): Bonnies' Moto Jacket and Floral Skirt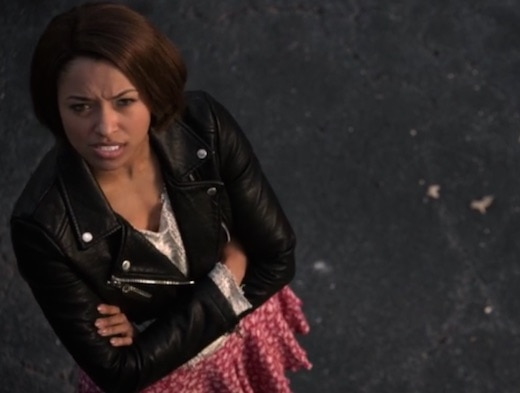 Photo Credit – Screenshot
I'm a casual fan of The Vampire Diaries – I can't watch it too often because love triangles stress me out (I'm Team Delena all the way – Stefan can console himself by dating me instead), but the gruesome storylines, suspense, and plot twists just keep me coming back for more vampiric drama. Let's be real, the beautiful eye candy helps too – I'm talking about the fashion, obviously….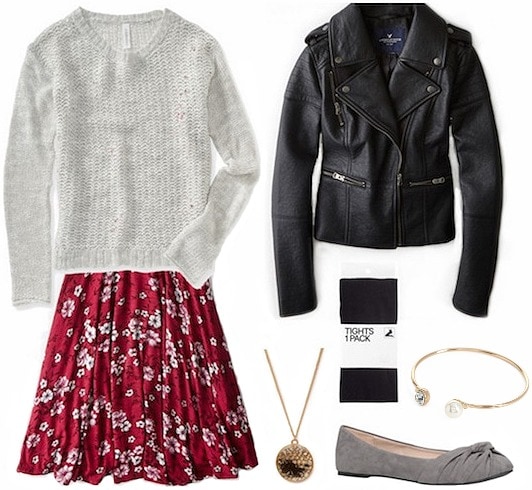 Product Info: Sweater, Floral Dress, Jacket, Necklace, Tights, Flats, Bracelet
When I saw Bonnie's outfit, a perfect mix of edgy and girly pieces, I immediately fell in love. It's comfortable and casual, but still dressy enough for an evening get-together with friends. To recreate the look, start with a red floral skater skirt or dress – I'd wear the dress for an extra layer in the winter. Pair it with a loose gray sweater and an embellished motorcycle jacket. The contrasting textures really add dimension to the outfit.
Grab a pair of fleece tights (my best friend in winter) and a pair of flats or booties; Bonnie chose white sneakers, but in the slushy streets of Michigan, it just isn't practical this time of year. Complete the ensemble with a delicate necklace and a small bracelet to contrast the edgy moto jacket.
Your thoughts?
What do you think of these looks? Did we miss any amazing outfits from the past week of TV? Which shows do you think deserve a spot on the next TV Fashion Recap post? Leave a comment below and tell us what you think!