TV Fashion Recap is a biweekly column featuring the best of TV fashion. Every other week, we recreate our favorite outfits from the most recent episodes of all of the hottest shows. Stay tuned; we may feature your favorite show next!
Every other week, I break down the best of TV fashion, featuring my favorite looks from the last two weeks. This week, I was inspired by Lip Sync Battle and iZombie. Read on to check out the outfits!
1. Lip Sync Battle (Season 1, Episode 8): Julianne's Red Crop Top and High Waisted Shorts
I'm in love with Lip Sync Battle. Seriously. It's hilarious, and this episode was no exception. Julianne Hough and her brother, Derek Hough, battled to the death– well, not to death, but for sibling bragging rights, which is basically the same thing. Julianne kicked ass with "All About that Bass" and "I Just Had Sex," which was hilarious and scarred her brother for life (you can see his traumatized face above).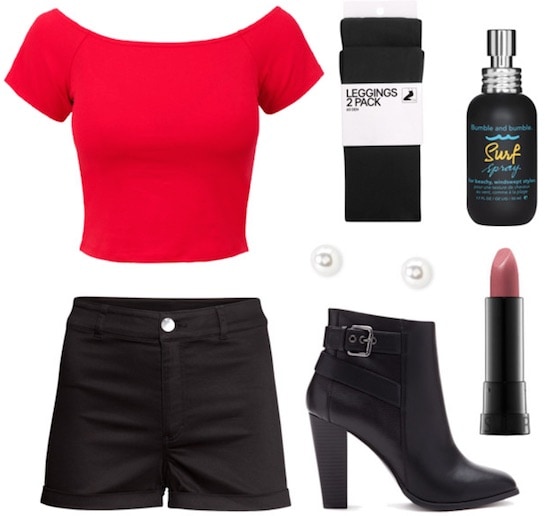 Top, Leggings, Surf Spray, Earrings, Shorts, Boots, Lipstick
Julianne deserved to win based upon her outfit alone. She rocked a bold, sexy look that would be perfect for a party with friends. To recreate the look, start with a pair of black high-waisted shorts and a bright red crop top. The punch of color adds a modern vibe to the ensemble. Next, slip on tights and boots– Julianne rocked knee-high boots, but in the summer heat, I'd opt for booties.
Because this outfit is so striking, you don't need to load up on the accessories– though of course, you can if you want a more dramatic look. A pair of pearl earrings and a neutral lipstick give you just enough glam. Finish off the look with a generous spray of sea salt texturizing spray, which will give you Julianne's amazing waves.
2. iZombie (Season 1, Episode 10): Connie's Military Jacket and Lace Top
I'm loving the rise of TV adaptions of comic books, and DC Vertigo's iZombie series on The CW is no exception. It follows Liv, a young woman who is turned into a zombie. When she eats someone's brains (yummy, I know), she gets flashbacks from when the unlucky person dies. She uses this talent for good, working in a police department as a "psychic."
It's a little gruesome, but it's a great show. I've only just started watching it, but I'm obsessed. Comic book fans beware: it is a loose adaption, so if you're a stickler for details, you may want to pass on the show, or at least mentally prepare yourself.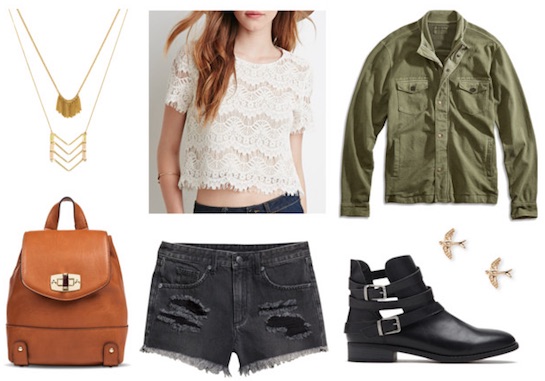 Necklace, Top, Jacket, Backpack, Shorts, Boots, Earrings
Connie may be a minor character, but her fashion sense takes center stage. To recreate her girly/grunge look, start with a pair of ripped dark wash jeans or shorts. Next, add a white lace top for a fun contrast. If you're feeling brave, wear a sheer crop top and add a black bandeau underneath like Connie did. Since I'm a little bustier, I'd stick to a bra and an opaque shirt. Next, slip on a pair of badass booties and a military jacket to kick the grunge up a notch.
Add a pair of stud earrings and a cute pendant statement necklace, then finish off with a mini backpack. This tan leather one brightens the outfit perfectly for spring.
Your thoughts?
What do you think of these looks? Did we miss any amazing outfits from the past week of TV? Which shows do you think deserve a spot on the next TV Fashion Recap post? Leave a comment below and tell us what you think!