TV Fashion Recap is a biweekly column featuring the best of TV fashion. Every other week, we recreate our favorite outfits from the most recent episodes of all of the hottest shows. Stay tuned; we may feature your favorite show next!

Every other week, I break down the best of TV fashion, featuring my favorite looks from the last two weeks. This week, I was inspired by TNT's Leverage and the new hit show, Perception.Read on to check out the outfits!
1. Leverage (Season 5, Episode 4): Parker's Preppy Cardigan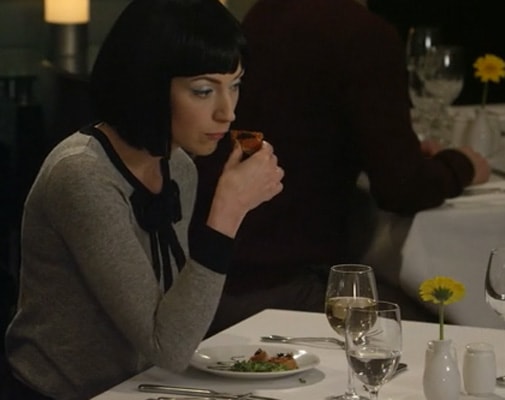 Even though it is well into its fifth season, TNT's Leverage is still going strong thanks to its mix of dramatic subplots, geeky jokes, action, and explosions. The show focuses on a Robin Hood-like group of thieves and conmen as they try to help average citizens who have been wronged by large companies. In this episode, the gang tries to take down a wealthy restaurant owner who uses his cooking school as a front for smuggling.
Parker is a gorgeous thief. Her hobbies revolve solely around jumping off of buildings and cracking safes. Because of her troubled childhood, she has trouble expressing emotion and connecting to others. Though her primary skill is stealing, she is often required to participate in the cons by impersonating someone else. Though Parker favors a bungee jumping harness as her go-to accessory, when she is dressed for a con, her clothes are preppy and sophisticated.
Outfit Inspiration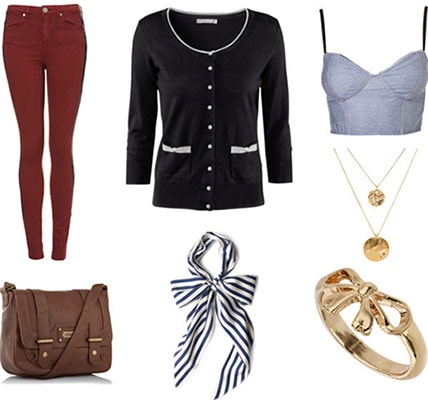 (Product Information: Jeans – Topshop, Cardigan – H&M, Bustier – Topshop, Purse – Debenhams, Scarf – Modcloth, Ring – Dorothy Perkins, Necklaces – Dillard's)
To recreate Parker's outfit, slip on a demure cardigan. Her outfit has a French vibe, and the white trim and delicate buttons of this cardigan from H&M capture that feeling. A simple tank or bustier, like this jean one, gives the outfit a youthful, flirty appeal. Dark skinny jeans in a gorgeous burgundy add color to the outfit without overpowering the cardigan.
Tie a scarf in a bow around your neck to mimic the neckline of Parker's feminine cardigan and slip on some delicate jewelry. Parker's look is all about subtle sophistication, so small gold jewelry like this necklace from Dillard's is perfect! Finish with a large, sophisticated leather satchel, and slip on a pair of nice patent heels or ballet flats in a darker jewel tone for an extra pop of color.
2. Perception (Season 1, Episode 5): Daniel's Wool Jacket and Messenger Bag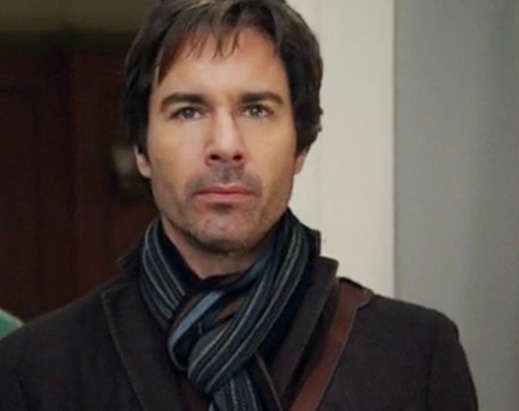 (Photo Credit – Screencap)
TNT's new smash hit Perception focuses on a neuroscientist, Dr. Daniel Pierce, with paranoid schizophrenia. He is called in to consult with his former student, FBI Agent Kate Moretti, on special cases. His hallucinations, though terrifying and traumatizing, often help him to make connections that his conscious mind can't see yet.
In this episode, Daniel and Kate investigate the murder of a young cult member, while an infuriated Daniel tries to disprove the claim that one of the cult leaders is a messenger of God.
Daniel is extremely abrupt and anti-social (think Hugh Laurie from House). He doesn't tolerate lying or bureaucratic red tape and frequently sympathizes with suspects about oppression from "The Man." He is frequently overwhelmed in social situations, and tries to focus on puzzles to overcome the paranoia and fear that swamps him in public places. Daniel is a brilliant young professor, and he favors the very comfortable collegiate prep look.
Outfit Inspiration: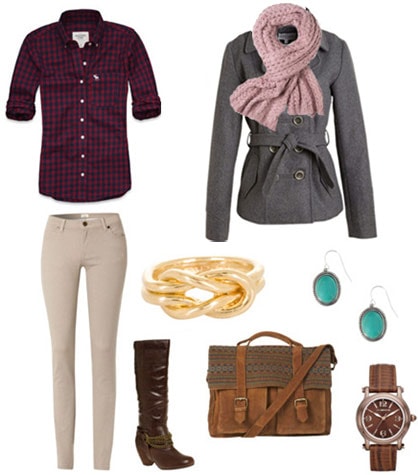 (Product Information: Shirt – Abercrombie, Coat – Delia's, Scarf – Modcloth, Ring – Lord and Taylor, Pants – House of Fraser, Boots – Modcloth, Messenger Bag – Topman, Watch – JC Penny, Earrings – Debenhams)
To recreate Daniel's comfortable and casually sophisticated outfit, start with a nice button up shirt. This plaid one from Abercrombie is perfect because of its tailored fit and trendy oxblood hue. Pair it with nice pants and a light coat to recreate Daniel's layered look. This coat from Delia's is perfect because the gold button details and belted waist highlight your shape.
Casual layering is all about playing with patterns and textures. Try a chunky knit scarf for added visual interest. Because the focus is on the different fabrics, keep your jewelry simple and predominantly neutral. Don't forget a pair of leather knee-high boots to pull the preppy ensemble together! The final touch is a nice leather messenger bag – this one from Topman is perfect it's both classic and big enough to hold all your textbooks.
Your thoughts?
What do you think of these looks? Which one is your favorite? Did we miss any amazing outfits from the past week of TV? Which shows do you think deserve a spot on the next TV Fashion Recap post? Leave a comment below and tell us what you think!