TV Fashion Recap is a biweekly column featuring the best of TV fashion. Every other week, we recreate our favorite outfits from the most recent episodes of all of the hottest shows. Stay tuned; we may feature your favorite show next!
Every other week, I break down the best of TV fashion, featuring my favorite looks from the last two weeks. This week, I was inspired by Jane the Virgin and Lip Sync Battle. Read on to check out the outfits!
1. Jane the Virgin (Season 1, Episode 17): Jane's Blue Floral Dress
If you like soap operas, Jane the Virgin is definitely the show for you. It's a comedy-drama (emphasis on the drama) about a woman who is accidentally artificially inseminated. It's a fun show, but it was not at all what I expected. The number of twists and secrets rivals that of Pretty Little Liars, but since I'm addicted to PLL, I can't exactly complain.
Even if you're not a fan of intensely dramatic shows, the fashion alone makes it worth tuning in. Jane's girly girl-next-door wardrobe is drool-worthy. If you want to learn how to get her style, check out this CF article!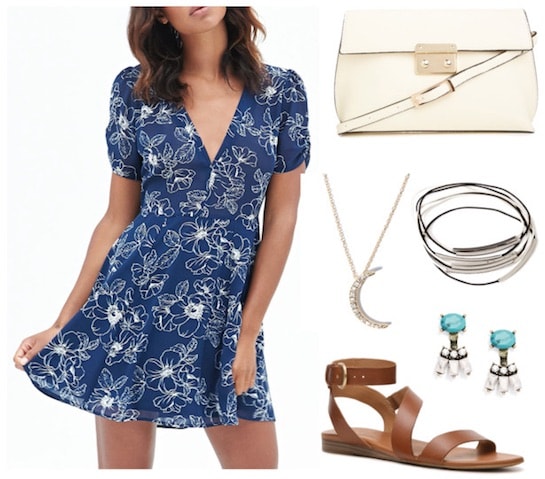 Dress, Purse, Necklace, Bracelets, Earrings, Sandals
To recreate this adorable spring look, start with a blue-and-white floral dress; blue floral prints are super-haute right now (get it?), and this short-sleeved one will serve you well through spring and summer. Add a pair of cute strappy wedges or sandals, then grab a structured white bag. The white will really pop against the dress.
Because Jane's dress makes a statement —it's the I'm-adorable-and-springy-and-pretty statement, in case you were wondering— the jewelry should be delicate. I'd suggest a crescent pendant necklace like Jane's, and maybe a small bracelet stack. I love Jane's teal phone case because of the unexpected color it brings to the outfit, but I need an ugly, heavy duty Kevlar case since I drop my phone 3-5 times a week. The splash of color can instead be easily recreated with a pair of turquoise earrings or an aqua bracelet.
2. Lip Sync Battle (Season 1, Episode 3): Emily Blunt's Chambray Shirt and Jeans
I've never wondered what The Rock would look like if he was lip-syncing to Taylor Swift's mega-hit "Shake It Off," but boy, am I glad that I know now. If you haven't heard of the new show and viral sensation, Lip Sync Battle, it's pretty much exactly what you'd expect, but with celebrities doing the elaborate dances and, in John Krasinski's case, cross-dressing.
This doesn't need to be said, but I'll say it anyway: this show is amazing. It's perfect for a hilarious study break. I mean, who doesn't want to see Anne Hathaway channeling her inner Miley on a wrecking ball? The correct answer: no one. It's awesome.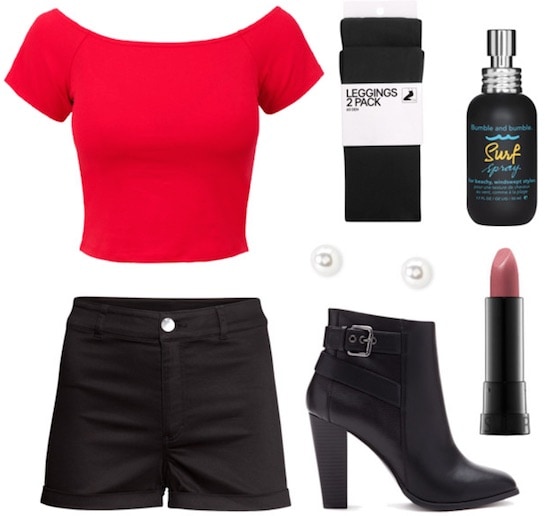 Jeans, Shirt, Lip Balm, Sneakers, Earrings, Necklace | Hair Photo: ELLE
Jane the Virgin may be known for her girl-next-door looks, but she's got some serious competition in Emily Blunt. Emily's outfit is the epitome of casual chic, and it's super-easy to recreate.
Start with a pair of heavily faded jeans and a chambray shirt. Mixing denim and chambray can be tricky. You don't want to look like Britney Spears at the 2001 MTV awards (too. much. denim. it burns my eyes), so make sure your top and jeans are noticeably different shades. This top's slight sheen distinguishes it from the worn denim.
Slip on a pair of black sneakers, then add a small silver antler necklace as a nod to Emily's stellar performance in Into the Woods. When I want to add a girl-next-door vibe to my outfit, I remind myself of Michael Scott's stellar advice: keep it simple, stupid. Don't overload on the accessories and keep your makeup minimal. A tinted lip balm and some sea salt spray to recreate those gorgeous textured waves are all you really need on the beauty front.
Your thoughts?
What do you think of these looks? Did we miss any amazing outfits from the past week of TV? Which shows do you think deserve a spot on the next TV Fashion Recap post? Leave a comment below and tell us what you think!