TV Fashion Recap is a biweekly column featuring the best of TV fashion. Every other week, we recreate our favorite outfits from the most recent episodes of all of the hottest shows. Stay tuned; we may feature your favorite show next!

Every other week, I break down the best of TV fashion, featuring my favorite looks from the last two weeks. This week, I was inspired by Inside Amy Schumer and Arrow. Read on to check out the outfits!
1. Inside Amy Schumer (Season 3, Episode 2): Amy's Coral Jacket and Striped Dress
I'm obsessed with Amy Schumer, the witty comedian known for confronting women's issues with sass and humor. She's phenomenal— though, fair warning, she's often a little crude. In this skit, a parody of One Direction's ultra-catchy "What Makes You Beautiful," she addresses guys and their opinions about makeup.
I love makeup. What I don't like is when guys tell me that I don't need makeup, because A) I'm not wearing it to make them happy— I'm wearing it because it's fun and I like it, and B) if they saw the bags under my eyes, they'd probably offer to help me put the concealer on. So, this safe-for-work skit made me so happy. It's got a great message, and it's super-catchy, too! I've been humming it all week.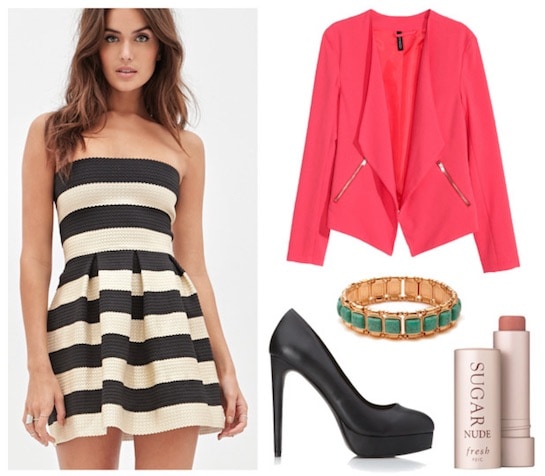 Dress, Jacket, Heels, Bracelet, Lip Balm
To recreate the look, start with a black-and-white strapless dress. A colorful coral jacket adds a punch of color to the outfit. Turquoise and coral is a phenomenal, fun color combo, so grab a turquoise bracelet to make this outfit even more summery. Slip on black heels— or sandals if you're feeling casual and/or clumsy.
Now, you definitely don't need makeup, but it can still be fun to wear! If you aren't feeling a cat eye and coral lips (which would look super-cute with this outfit, by the way), a tinted lip balm is the way to go. It's moisturizing and adds low-commitment color that you won't have to check every few hours.
2. Arrow (Season 3, Episode 22): Felicity's Matching Separates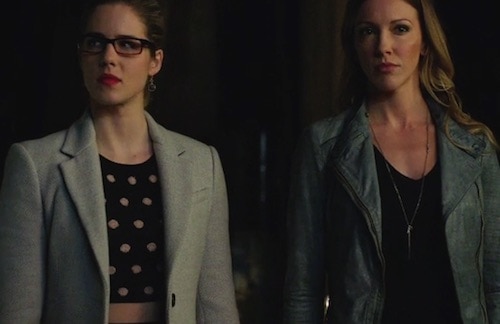 I've been obsessed with Arrow since it first came out. Super badass and attractive people running around fighting crime and dealing with tortured pasts? Yes please. If you're a regular reader of my column, you're probably sick to death of hearing about the show, but if you haven't checked it out yet, you really should!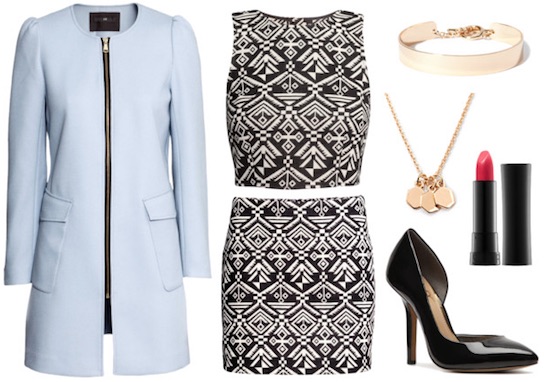 Jacket, Top, Bracelet, Necklace, Skirt, Lipstick, Pumps
Felicity's fashion game was on-point this episode. She rocked a black-and-white geometric print, matching separates, and pink lips, all of which are super on-trend this spring. I decided to infuse all her outfits into one gorgeous look reminiscent of T-Swift's street style (which is similarly on-point).
To recreate the look, start with a matching top and skirt set with a geometric print. Add a long gray or pastel blue coat to break up the black and white pattern. Because the bold fabric takes center stage, keep the accessories small and simple. Slip on a pair of black pumps, and for the finishing touch, apply a few swipes of pinkish-red lipstick for a fun pop of color.
Your thoughts?
What do you think of these looks? Did we miss any amazing outfits from the past week of TV? Which shows do you think deserve a spot on the next TV Fashion Recap post? Leave a comment below and tell us what you think!