TV Fashion Recap is a biweekly column featuring the best of TV fashion. Every other week, we recreate our favorite outfits from the most recent episodes of all of the hottest shows. Stay tuned; we may feature your favorite show next!

Every other week, I break down the best of TV fashion, featuring my favorite looks from the last two weeks. This week, I was inspired by How to Get Away with Murder and Red Band Society. Read on to see both looks:
1. How to Get Away with Murder (Season 1, Episode 2): Michaela's Cropped Sweater and Skater Skirt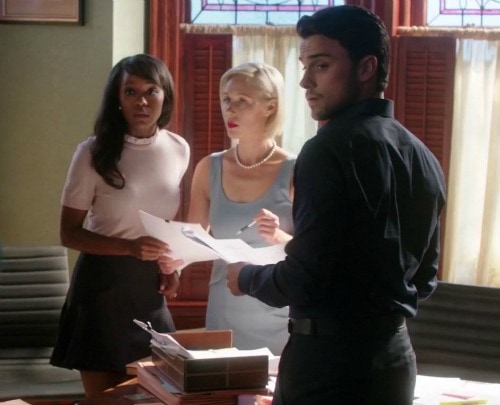 (Photo Credit – Screenshot)
I've been obsessed with ABC's hit drama, Scandal, for a few years now, so when I found out there was a new law show out by the same creators, I just about died with happiness. I was hoping for the same level of drama, crime, and amazing fashion that made me fall in love with Scandal, and boy, does How to Get Away With Murder deliver.
The drama follows a sharply dressed, intimidating law professor (played by The Help's Viola Davis) and her students as they become involved in a murder plot. I absolutely love this show, and you guys need to watch it so that we can fangirl together!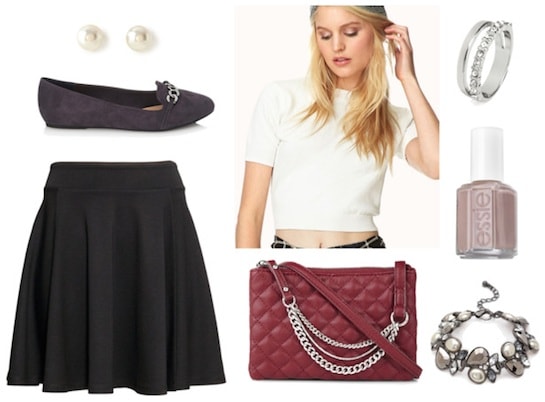 Product Info: Earrings, Shoes, Sweater, Ring, Nail Polish, Skirt, Purse, Bracelet
To recreate Michaela's classically cute outfit, start with a white cropped sweater that has a high neckline. Add a black skater skirt and a pair of comfy loafers. The focus of the outfit should be the silhouette and the trendy contrast between black and white pieces, so keep the accessories simple – a pair of pearl earrings, a simple silver ring, or a gem bracelet will do the trick.
Add a pop of color to the outfit with a small oxblood bag; the quilted pattern of this one is slightly reminiscent of Chanel handbags and adds a level of sophistication that pulls everything together. A mauve nail polish, which is a hit color this fall, will polish off the look (I'm so sorry to subject you to that, but I couldn't resist – I'm the queen of awful puns).
2. Red Band Society (Season 1, Episode 4): Emma's Blouse and Statement Necklace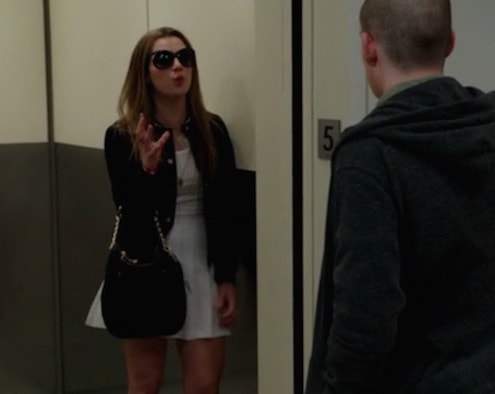 (Photo Credit – Screenshot)
CF reader Casey alerted me about FOX's new series, Red Band Society, as well as the adorable fashion sense of Emma, one of the series' main characters, and I'm forever grateful! It's a great dramedy about teenagers who live together in the pediatric ward of a hospital.
The show is very heart-warming and surprisingly funny. I do have to admit that it can tug at your heartstrings; my mom has cried almost once per episode (though you may want to take that with a grain of salt, because she also cries during Home Depot commercials), so if that's not your thing, I'd steer clear of this show – it's similar to Glee on the emotional scale.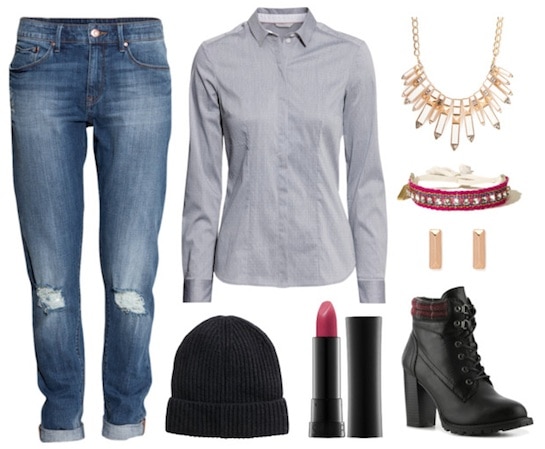 Product Info: Jeans, Shirt, Necklace, Bracelet, Earrings, Hat, Lipstick, Shoes
Emma's casual yet slightly sophisticated look is perfect for a cool fall day on campus. To recreate her ensemble, start with a structured button-up blouse and a pair of slouchy boyfriend jeans with rolled up cuffs. The contrasting fits will help balance the outfit and prevent you from looking like you're drowning in clothing – a fate I know all too well, thanks to my obsession with boyfriend jeans and men's hoodies in middle school. I'm surprised I could even walk underneath all that heavy fabric.
Next, add a spiked statement necklace that hangs just below your collar and slip on a pair of heeled booties. Emma chose to wear a black cap with a visor, but I switched it out for a beanie, which is a slightly more mature and on-trend fall look. Slip on a red bracelet to pay homage to the Red Band Society, and for the finishing touches, accessorize with edgy studded earrings and apply a rosy pink lipstick.
Your thoughts?
What do you think of these looks? Did we miss any amazing outfits from the past week of TV? Which shows do you think deserve a spot on the next TV Fashion Recap post? Leave a comment below and tell us what you think!