TV Fashion Recap is a biweekly column featuring the best of TV fashion. Every other week, we recreate our favorite outfits from the most recent episodes of all of the hottest shows. Stay tuned; we may feature your favorite show next!

Every other week, I break down the best of TV fashion, featuring my favorite looks from the last two weeks. This week, I was inspired by How I Met Your Mother and Glee.Read on to check out the outfits!
1. How I Met Your Mother (Season 8, Episode 1): Robin's Striped Shirt & Camel Pants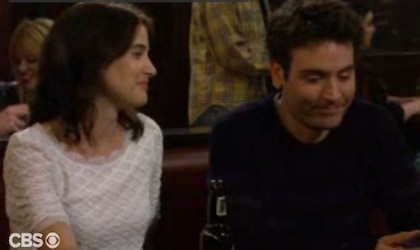 (Photo Credit – Screenshot)
CBS's How I Met Your Mother is a sitcom about a guy named Ted who tells his kids the story of the events leading up to meeting his wife and their mother. Eight seasons later, the kids are still listening, we still don't know who the mother is, and I am still glued to the television every Monday night, laughing hysterically.
The story follows five friends: the hopelessly romantic, yet unlucky-in-love Ted, the sassy Canadian beauty, Robin, the ridiculous playboy, Barney, and the adorable nerdy couple, Lily and Marshall, as they navigate love, life, and what must be horrible hangovers.
Robin, played by the gorgeous Cobie Smulders, is an ambitious reporter stuck as a broadcast anchor doing fluffy pieces. She's smart and quirky, and though she's Ted's former girlfriend and a newer part of the gang (well, as new as you can be after eight seasons), she is very close with everyone. She fits right in with the boys, but she also has a sensitive and caring side that she hides from the world. She's one of my favorite characters, in part because of her enviable style.
Robin tends towards either menswear-inspired outfits or dresses with high-heeled boots. She always looks gorgeous, and because of her careful accessorizing, her look always appears effortless.
(Product Information: Pants – Tobi, Sweater – Wallis, Watch – ASOS, Nail Polish – OPI on Amazon, Bracelet – ASOS, Purse – Puma, Necklace – Topshop, Ring – Windsor, Shoes – Endless)
Robin's relaxed fall look from the season premiere is adorable and easy to recreate. Start with camel colored skinny jeans, which have been a huge and slightly unexpected hit this season. Next, add a white and black striped sweater for a casual and slightly menswear-inspired vibe. A light brown tote adds dimension to the outfit and complements the jeans. Next, slip on brightly colored flats for a flirty, unexpected pop of color. Don't forget a gold watch and edgy gold jewelry for interest! A nice neutral nail polish will finish off the casual day look.
2. Glee (Season 4, Episode 1): Rachel's Burgundy Skirt & Mustard Beanie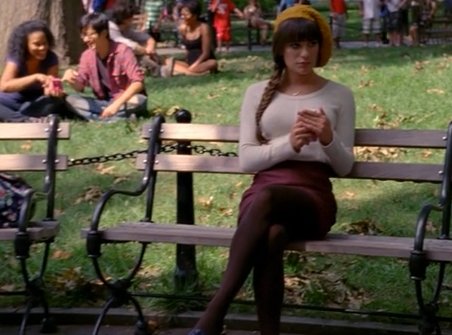 (Photo Credit – Screenshot)
If you aren't completely addicted to Fox's smash hit, Glee, it's about a glee club called New Directions, which is made up of talented singers and dancers from all different high school cliques. The students cover Broadway songs and popular hits to express themselves, as many members struggle with serious issues involving sexuality, relationships, and social pressures. The script is hilarious, the songs are catchy, and the actors are amazing.
One of the main characters, Rachel, played by Lea Michele, is extremely talented and somewhat crazily driven to become a famous Broadway actress. She is currently pursuing her dream in New York at NYADA, an elite school for performers. Though she has graduated high school and is no longer in the club, she is such a lovable character that the show is now following her adventures in New York with Kurt and a hunky upperclassman named Brody.
Rachel Berry has one of the most interesting styles on the show. She usually wears classic and preppy outfits, but she mixes in quirky and fun elements, too. She favors sweaters, cardigans, tights, and neutrals mixed with rich colors, and she always looks fabulous.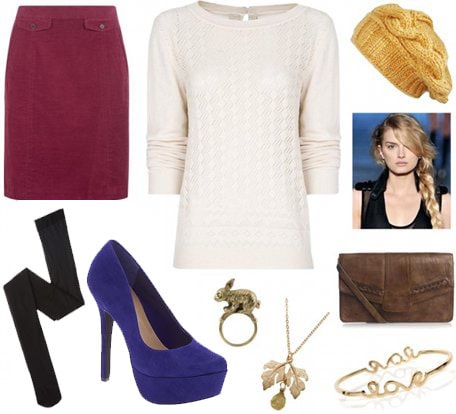 (Product Information: Skirt – John Lewis, Tights – Armani Exchange, Sweater – House of Fraser, Hat – Etsy, Braid Inspiration – Elle, Shoes – Piperlime, Ring – Harvey Nichols, Necklace – Oliver Bonas, Purse – Jigsaw, Bracelet – Windsor)
To recreate Rachel's gorgeous fall outfit, start with a plum skirt and black tights. Next, add a white sweater, like this corded one from House of Fraser. Slip on some chunky indigo heels for a fun pop of color and add an oversized leather clutch; the boxy shape adds structure to the outfit.
Next, grab some slightly quirky jewelry and accessories. Rachel, especially in earlier seasons, likes to add kitschy details to her look, and this rabbit ring is very "her." A cute bangle and a delicate gold necklace add to the girly vibe. For the final touch, add a slouchy beanie in a bright color. The mustard one Rachel wears really brings out the rich wine color of the skirt. Don't forget Rachel's chunky side braid to complete the look!
Your thoughts?
What do you think of these looks? Which one is your favorite? Did we miss any amazing outfits from the past week of TV? Which shows do you think deserve a spot on the next TV Fashion Recap post? Leave a comment below and tell us what you think!