TV Fashion Recap is a biweekly column featuring the best of TV fashion. Every other week, we recreate our favorite outfits from the most recent episodes of all of the hottest shows. Stay tuned; we may feature your favorite show next!

Every other week, I break down the best of TV fashion, featuring my favorite looks from the last two weeks. This week, I was inspired by Hart of Dixie andThe Big Bang Theory. Read on to check out the outfits:
1. Hart of Dixie (Season 3, Episode 8): Lynly's Emerald Top and Leopard Skirt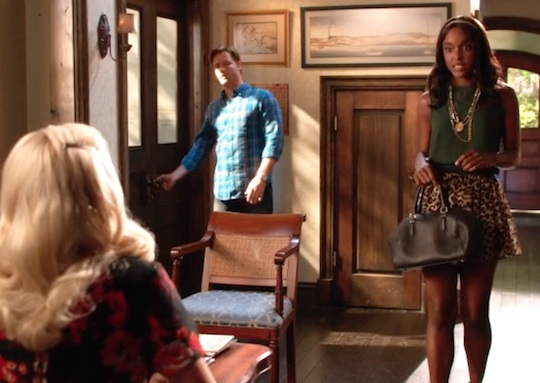 (Photo Credit – Screenshot)
I tuned in to The CW's Hart of Dixie on the recommendation of CF reader, Olivia, and I am so glad that I did. The fashion is amazing, but of course, anything starring style maven Rachel Bilson is bound to be very on-trend.
The show itself is really interesting, too – it's about a young doctor, named Zoe Hart (Bilson), who moves from New York to Alabama and becomes a general practitioner in the beautiful coastal town of Bluebell. It's a funny, interesting drama, and I love the characters.
Lynly, Lavon's cousin, seems adorable, especially when it comes to her new love interest, George. She also looks flawless, and I'm insanely jealous of her wardrobe, hair, and pretty much everything else!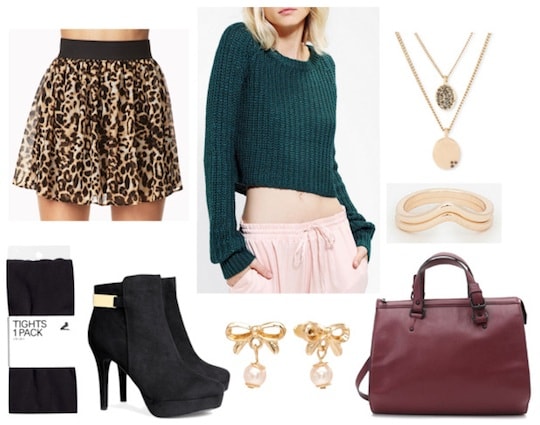 Product Info: Skirt, Sweater, Necklace, Midi Rings, Tights, Shoes, Earrings, Purse
To recreate Lynly's stylish look from episode 8, start with a leopard print skirt. To make it cold-weather friendly, add a cropped emerald sweater. The jewel tone of the top really makes the animal print pop. Slip on some fleece tights and a pair of ankle booties. Add a few layered gold necklaces and chains to tie the outfit together.
Grab a cute purse – this burgundy faux leather bag adds subtle color to the outfit. Finish with a cute pair of earrings and a few gold midi rings.
2. The Big Bang Theory (Season 7, Episode 11): Bernadette's Floral Dress and Cardigan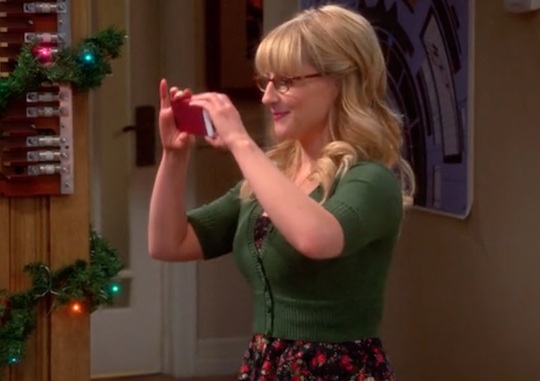 (Photo Credit – Screenshot)
I love The Big Bang Theory. It's a hilarious show with lots of nerdy humor, and I'm a little obsessed (see here and here for more recaps!). I'm more than a little bit in love with Sheldon, the snarky, socially inept scientist. He's just so funny! I also have a girl crush on Penny, Leonard's gorgeous girlfriend. She's so sarcastic and always looks amazing.
However, this week, I was especially smitten by Bernadette's outfit, which perfectly showcased her adorable and ultra-feminine fashion aesthetic.
(P.S. – If you want to see more fashion inspired by the show, check out our Geek Chic post on The Big Bang Theory.)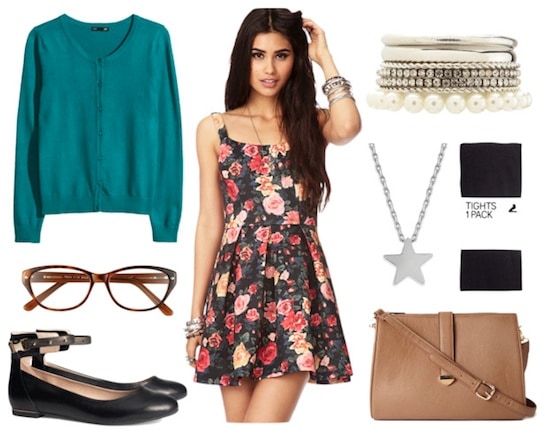 Product Info: Cardigan, Dress, Bracelets, Glasses, Necklace, Tights, Shoes, Purse
When I saw Bernadette's outfit, I fell in love – it's perfect for class or lunch with friends! To recreate it, start with a black floral skater dress. Pair it with a cropped cardigan in a green jewel tone to make the outfit a little more casual. Slip on some tights and a pair of black flats. This particular pair is a cute yet slightly edgier twist on the classic Mary Jane shoes that Bernadette loves.
Grab a cute tan messenger bag for all of your notebooks, then accessorize with a cute silver pendant necklace – the star is a subtle reference to her astronaut husband, Howard. Add a few silver bracelets and a thin headband. To finish off the look, slip on a pair of tortoise eyeglasses with a slight cat-eye shape – Bernadette's signature accessory!
Your thoughts?
What do you think of these looks? Did we miss any amazing outfits from the past week of TV? Which shows do you think deserve a spot on the next TV Fashion Recap post? Leave a comment below and tell us what you think!