TV Fashion Recap is a biweekly column featuring the best of TV fashion. Every other week, we recreate our favorite outfits from the most recent episodes of all of the hottest shows. Stay tuned; we may feature your favorite show next!

Every other week, I break down the best of TV fashion, featuring my favorite looks from the last two weeks. This week, I was inspired by The Big Bang Theory and Pretty Little Liars. Read on to see both looks:
1. The Big Bang Theory (Season 8, Episode 5): Sheldon's Graphic Tee and Long Sleeved Shirt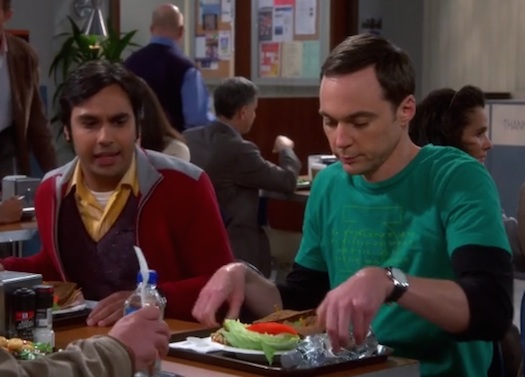 (Photo Credit – Screenshot)
My Halloween costumes always suck. DIY costumes aren't really for me because giving me a glue gun or needle is dangerous for everyone involved. I can't go the sexy costume route because I get cold too easily and need at least five layers when venturing out of bed. Also, I am not dedicated or creative enough to create amazing cosplay like the super-talented Shannon.
I usually go the lame, whatever-is-in-the-back-of-my-closet route (last year, my costume planning was me thinking, oh, hey, I'm blonde. I'll put on red lipstick and be Taylor Swift!). But this year, I wanted to step it up a little. When I saw Sheldon's iconic outfit on The Big Bang Theory, I immediately knew what I was going to be. This is my kind of costume – it requires zero effort, and the best part? If you take off the name tag, you're still left with a cute geek chic outfit!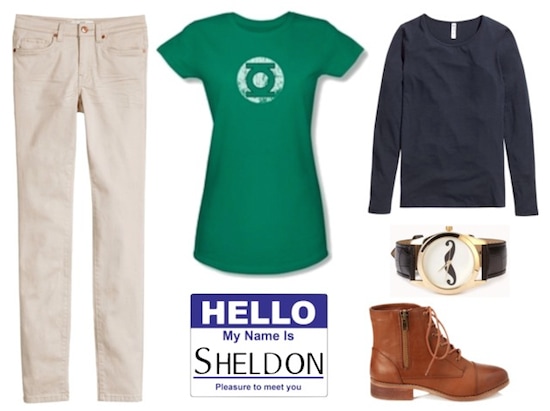 Product Info: Pants, T-Shirt, Name Tag, Long Sleeved Shirt, Watch, Boots
To recreate Sheldon's ensemble, start with a dark long-sleeve shirt with a geeky graphic tee overtop. Slip on a pair of khaki slacks and a pair of faux leather lace-up boots. Sheldon usually straps on a modern watch with a black band to finish off his look.
If you want to guarantee that people will immediately recognize you as Sheldon, and not just a person with a great t-shirt, slap on a Hello My Name Is… sticker (you can find these in drugstores and office supply chains) with a hastily scrawled 'Sheldon' or 'DR. Cooper' (underline the Dr. just like Sheldon would) on it.
2. Pretty Little Liars (Season 5 Special): Spencer's 1940s Actress Costume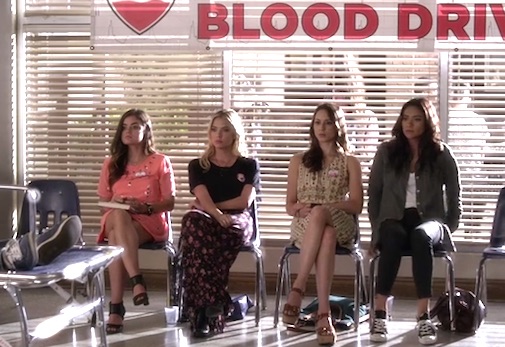 (Photo Credit – Screenshot)
While there wasn't a Pretty Little LiarsHalloween special this year, there was a hilarious behind-the-scenes, Q&A fan special that will probably tide me over until the first-ever holiday episode (insert squealing here). I got to see flashbacks of all my favorite moments, including the gorgeous Halloween costumes the Liars have worn over the years, like Aria's amazing flapper outfit and Spencer's 1940s actress costume.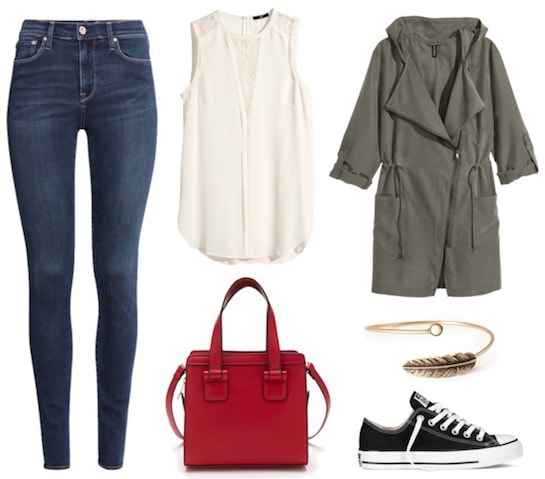 Product Info: Gloves, Dress, Headband, Lipstick, Heels, Earrings | Hair Photo: ELLE
Spencer's costume is gorgeous and understated, which makes it easy to recreate. Grab a formfitting navy dress and black heels. You can find black opera gloves at costume shops or on Amazon to add Old Hollywood glam to your outfit. While you can buy a small black veil, you can easily glue some fishnet fabric from a craft store to a headband (I know I told you I can't do any gluing, but it's not much… just be careful that you don't glue your fingers together! You may be thinking no one over the age of five would do that, but I accidentally did at 19).
Finish with a pair of classic pearl studs and a dark red lipstick. To get even more into the spirit, curl your hair into big, glamorous curls with tons of volume. P.S. – If you get rid of the black veil and opera gloves, you've got a great formal outfit!
Your thoughts?
What do you think of these looks? Did we miss any amazing outfits from the past week of TV? Which shows do you think deserve a spot on the next TV Fashion Recap post? Leave a comment below and tell us what you think!