This post may contain affiliate links, which means we may receive a commission if you purchase through our links. Please
read our full disclosure here
.
TV Fashion Recap is a biweekly column featuring the best of TV fashion. Every other week, we recreate our favorite outfits from the most recent episodes of all of the hottest shows. Stay tuned; we may feature your favorite show next!

Every other week, I break down the best of TV fashion, featuring my favorite looks from the last two weeks. This week, I was inspired by Gossip Girl and How I Met Your Mother. Read on to check out the outfits!
1. Gossip Girl (Season 6, Episode 10): Sage's Plaid Dress and Mustard Cardigan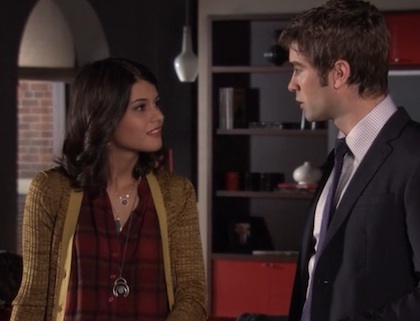 (Photo Credit – Screenshot)
Now that I've seen the Gossip Girl series finale, I feel an odd mixture of relief and sadness. I'm glad that I finally know for sure who Gossip Girl is (how did you guys feel about the big reveal?), but I've been watching the show loyally for years – now that it's over, it's left a little hole in my TV-obsessed heart. Here at CF, we're pretty much all feeling a little nostalgic about GG. (For a look back, check out our posts on Blair, Chuck, Jenny, and Serena's most iconic looks.)
Sage, Nate's girlfriend, is a minor character, but I really like her — mostly because I adore her boho-glam style. (Okay, I'm also eternally jealous that she gets to make out with Nate – life isn't fair.)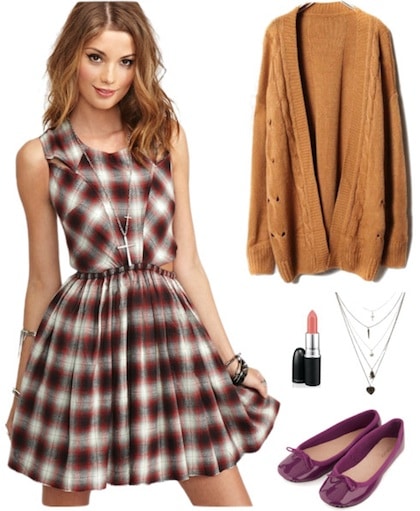 (Product Information: Dress – Nasty Gal, Cardigan – Chicnova, Lipstick – MAC, Necklace – Vanity, Shoes – Topshop)
To recreate Sage's comfy and casual look, start with a plaid dress. Wear a warm, loose-knit, opencardigan sweater in a mustard color; it will bring out the red in the plaid dress. Layer a few dainty necklaces for interest and sparkle. Next, slip on a pair of plum-colored flats to add an unexpected pop of color; I'm having a serious case of shoe lust for these gorgeous, wine-colored Topshop ballerina flats. Finish off the look with a light pink lipstick to add a little more color to the outfit.
2. How I Met Your Mother (Season 8, Episode 12): Robin's White Lace Top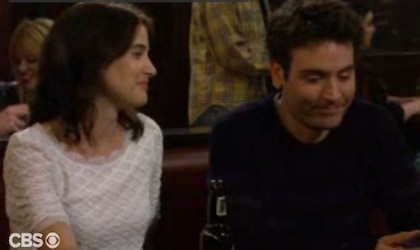 (Photo Credit – Screenshot)
I've covered How I Met Your Motherbefore, but these recent episodes have been phenomenal. (Did everyone else melt when Barney proposed? And, I ask this question to make myself feel less ridiculously sappy, did anyone else cry at the end when Robin and Ted were saying goodbye to each other and closed the door on any future relationship?)
All tears aside, Robin looked phenomenal during the mid-season finale. She has such an interesting sense of style, and she usually mixes masculine, edgy pieces with more classic, ladylike pieces for a unique and timeless look.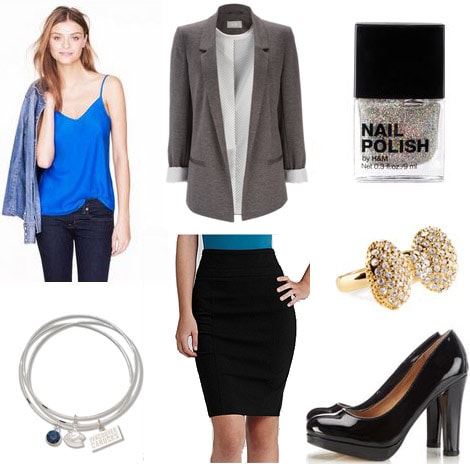 (Product Information: Pants – Forever New, Top – Vila, Necklace – General Pants Co., Bracelet – Caché, Earrings – Debenhams, Shoes – Bakers, Nail Polish – Essie on Amazon)
To recreate Robin's chic, yet edgy look, start with a white lace top. Put on a pair of coated black jeans for added shine and interest. Slip on a pair of edgy black boots; these lace-up ankle booties from Bakers have a killer heel that we know Robin would love. Next, add detailed gold jewelry to play up the feminine vibe. As an homage to Robin's Canadian background, add a cute gold bird necklace around your neck. To finish, paint your nails a bright red shade to add an unexpected pop of color.
Your thoughts?
What do you think of these looks? Did we miss any amazing outfits from the past week of TV? Which shows do you think deserve a spot on the next TV Fashion Recap post? Leave a comment below and tell us what you think!