TV Fashion Recap is a biweekly column featuring the best of TV fashion. Every other week, we recreate our favorite outfits from the most recent episodes of all of the hottest shows. Stay tuned; we may feature your favorite show next!
Every other week, I break down the best of TV fashion, featuring my favorite looks from the last two weeks. This week, I was inspired by Girls and Empire. Read on to check out the outfits!
1. Girls (Season 4, Episode 10): Hannah's Dotted Top and Cardigan
I started watching HBO's Girls because you guys recommended it to me. I'm not really far into the series, but I'm loving it so far! As a twenty-something about to enter the "real world" after college (gulp), I identify a lot with this show – especially since the girls don't exactly have it all together.
I also suspect that I am actually Shoshanna, the somewhat naïve voice of reason – except without the math skills. Which Girls character are you? Let me know in the comments, and let me know if I should keep watching past season two. I'm a little worried, because I've been hearing mixed reviews about the latest season, but I know the show can't be that bad since the style is so on-point.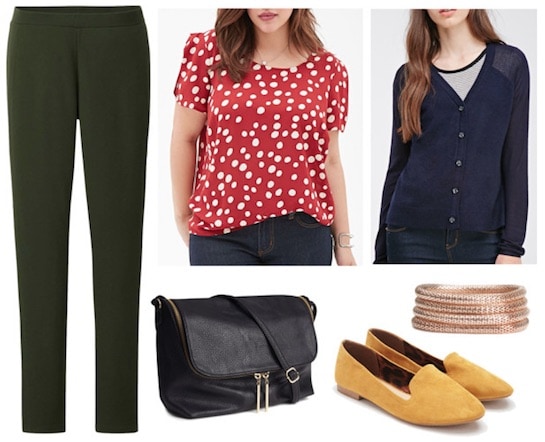 Product Info: Pants, Top, Cardigan, Purse, Shoes, Bracelet
Hannah's outfit is casual, but still sophisticated and comfortable. I was really impressed that she pulled off mixing all the primary colors (and with polka dots, no less!) because oftentimes, it can look a little more youthful than you'd like. Hannah pulls it off because she uses the red and yellow as pops of color against a darker navy and neutral palette.
To recreate the look, start with a red polka dot top and a navy cardigan. Slip on a pair of olive-colored pants or capris, then brighten up the outfit with a pair of yellow loafers. Because the color is the focus of the ensemble, keep the accessories minimal. A black or cognac shoulder bag and a gold bracelet or two are all you need to complete this cute look.
2. Empire (Season 1, Episode 12): Rhonda's Blazer and Purple Jeans
Empire, FOX's new musical drama, has been called one of the most important shows on television right now, which is pretty high praise. I'm not entirely caught up, but it's fascinating.
The show is about a hip-hop/entertainment company and the feuding family who founded it. There's drama, great music, and a phenomenally well-dressed cast, so what's not to love? If you haven't already, I highly recommend checking Empire out.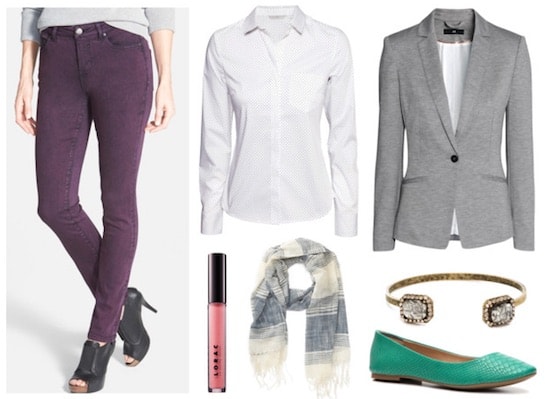 Product Info: Pants, Shirt, Blazer, Lipgloss, Scarf, Bracelet, Shoes
To recreate Rhonda's chic outfit, which is perfect for a brisk spring day (the only kind of spring day we have in Michigan), start with a dotted button-up and a casual jersey blazer. Add a pair of purple skinny jeans, as well as some colorful flats to refresh the look for spring.
Accessorize with a comfy plaid or striped scarf, then finish the look with a sparkly bangle and a coat of pink lip gloss. It's super-easy to throw these pieces together, but the resulting ensemble is glamorous and sophisticated.
Your thoughts?
What do you think of these looks? Did we miss any amazing outfits from the past week of TV? Which shows do you think deserve a spot on the next TV Fashion Recap post? Leave a comment below and tell us what you think!