TV Fashion Recap is a biweekly column featuring the best of TV fashion. Every other week, we recreate our favorite outfits from the most recent episodes of all of the hottest shows. Stay tuned; we may feature your favorite show next!

Every other week, I break down the best of TV fashion, featuring my favorite looks from the last two weeks. This week, I was inspired by Game of Thrones and Arrow. Read on to check out the outfits:
1. Game of Thrones (Season 4, Episode 8): Daenerys' Mint Maxi Dress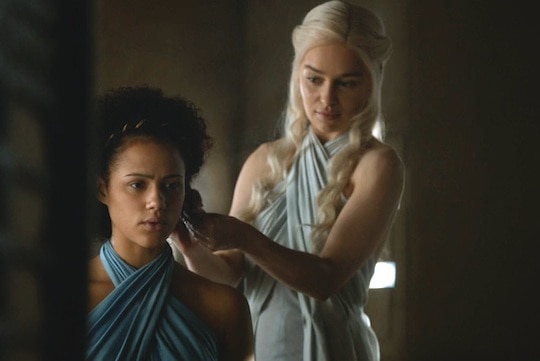 (Photo Credit – Screenshot)
If you haven't heard of Game of Thrones by now, there's a large chance that you are living under a rock, so you should probably get that sorted out. It's a very popular HBO fantasy series based off of George R.R. Martin's A Song of Ice and Fire series. It's got dragons, political intrigue, zombie-like creatures, and attractive bearded men – literally everything you could ever want in a show.
Fair warning: there's lots of violence, cursing, and frequent sex/nudity, so this might not be something you'd want to watch with your grandmother. But I'd highly recommend giving GoT a try – it's highly addictive, and almost everyone I know watches and loves it, regardless of whether or not they usually like fantasy shows.
(P.S. – Be sure to check out our posts on fashion inspired by the houses of Westeros!)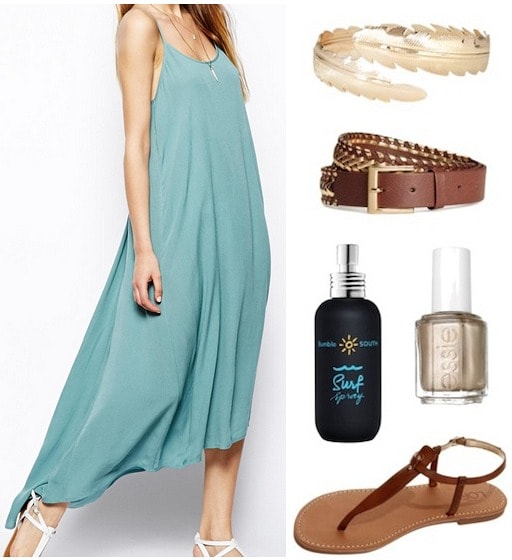 Product Info: Dress, Cuff, Belt, Surf Spray, Nail Polish, Sandals
Daenerys, in addition to being a total badass, always looks flawless – in part, due to being portrayed by the stunning Emilia Clarke, but also because of her fabulous style. She generally favors loose clothing, maxi dresses with interesting cut-outs, and lots of leather accessories.
To recreate her look, start with a mint maxi dress and a pair of leather sandals. If you want the dress to be a little more form-fitting, cinch a leather belt around your waist. Since we can't all have dragons as accessories, make do with an intricate gold cuff – it may not fly or breathe fire, but it'll still turn heads! Finish with a few coats of gold nail polish and some texturizing salt spray to get Daenerys' volume and touchable curls.
2. Arrow (Season 2, Episode 23): Felicity's Pink Tank and Neutral Cardigan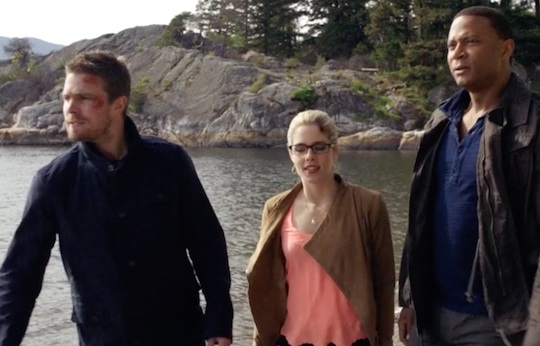 (Photo Credit – Screenshot)
I've talked about Arrow and the wonderfully shirtless main character quite frequently (see here and here for more recaps), but I just caught up to the most recent episodes, and I had forgotten how good it is… and not just because of the shirtless guy, I swear.
If you're a fan of superhero movies, comic books, or Smallville, you'll probably really like this show. I'll admit that it is a little angsty and melodramatic, and sometimes I can't help but roll my eyes at some of the characters' questionable life choices, but the archery, action, and superhero goodness makes up for it, I promise!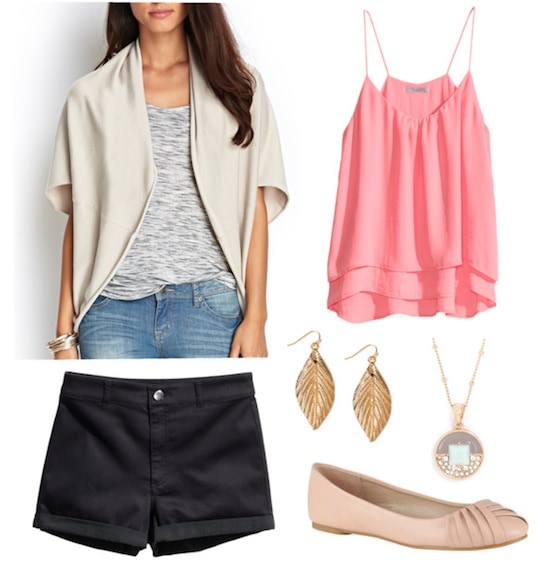 Product Info: Cardigan, Tank, Shorts, Earrings, Necklace, Shoes
Felicity's outfit looks casual and comfy, but it's still very polished. To get the look, start with a coral tank top, then layer a neutral-colored open cardigan overtop. To make this getup a little more summer-friendly, switch out the black pants for a pair of trendy high-waisted shorts.
This outfit looks effortless because of the classic, simple accessories – a cute pair of flats, dangly earrings, and a pendant necklace are all you really need to complete the look. This ensemble would be perfect for a warm day on campus or grabbing lunch with some friends!
Your thoughts?
What do you think of these looks? Did we miss any amazing outfits from the past week of TV? Which shows do you think deserve a spot on the next TV Fashion Recap post? Leave a comment below and tell us what you think!