This post may contain affiliate links, which means we may receive a commission if you purchase through our links. Please
read our full disclosure here
.
TV Fashion Recap is a biweekly column featuring the best of TV fashion. Every other week, we recreate our favorite outfits from the most recent episodes of all of the hottest shows. Stay tuned; we may feature your favorite show next!
Every other week, I break down the best of TV fashion, featuring my favorite looks from the last two weeks. This week, I was inspired by Fresh Off the Boat and The Vampire Diaries. Read on to check out the outfits!
1. Fresh Off the Boat (Season 1, Episode 13): Nicole's Crop Top and Tied Plaid Button-Up
Fresh Off the Boat is a hilarious comedy about an Asian-American family struggling to adjust to life in suburban Orlando during the 1990s. It's actually based off of chef Eddie Huang's memoir, which I'm dying to read.
If you're a '90s child missing Nirvana, modem dialing, and the Wu-Tang Clan, this is definitely the show for you. Fans of Modern Family and general hilarity should check it out, too!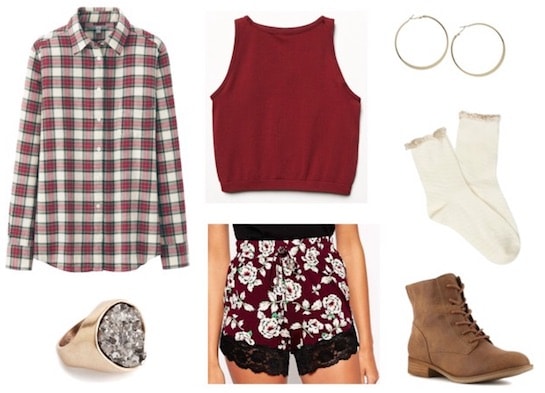 Plaid Shirt, Crop Top, Earrings, Socks, Ring, Shorts, Shoes
The '90s fashion game in this show is on-point, which is perfect because '90s-inspired fashion (à la Kylie Jenner's style) is huge right now. Nicole's outfit embodies the current throwback trend, especially because of the burgundy color palette, which adds to the grungy vibe of this look.
To recreate her getup, grab an oxblood crop top and similarly colored floral high-waisted shorts. Throw on a pair of lace-up boots with cream socks peeking above the tops.
Add an edgy geode ring and a pair of hoop earrings (the must-have '90s/early '00s accessory if you couldn't find your jelly bracelets) to accessorize the outfit. For bonus points, complete the look with a slicked-back ponytail.
2. The Vampire Diaries (Season 6, Episode 18): Caroline's Lacy Dress
I've been a loyal watcher of The Vampire Dairies for years. Initially, I was skeptical because I hate love triangles (my heart can only take so much drama!), but the supernatural elements and crime-show-worthy gruesomeness won me over. So when I found out that Nina Dobrev, the lead actress, is leaving after this season, I was distraught. And confused. How will they go on without her? How will I?
I'm not sure I'll be able to watch the show if I can't get my Damon + Elena fix, so I'm trying to get all the fashion inspiration I can from the last few episodes of this season. And trust me, there's lots.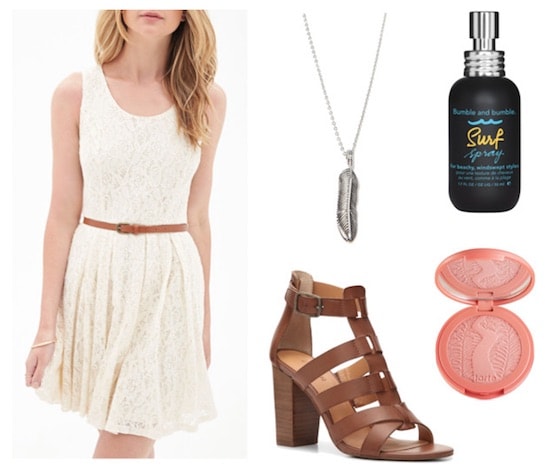 Dress, Necklace, Sea Salt Spray, Shoes, Blush
Caroline's outfit is girly, fresh, and perfect for summer. To recreate the look, start with a lacy white dress. Add a pair of cute sandals– I've been drooling over these for a while now. This outfit is all about simplicity, so keep the accessories minimal; a simple silver necklace is the perfect addition because it won't distract from the dress.
Caroline's rosy cheeks and beautiful curls take this outfit to the next level. Dust a coral blush on the apples of your cheeks for a gorgeous glow like hers. For effortless waves, apply a sea salt texturizing spray liberally through your hair, scrunching it as you go.
Your thoughts?
What do you think of these looks? Did we miss any amazing outfits from the past week of TV? Which shows do you think deserve a spot on the next TV Fashion Recap post? Leave a comment below and tell us what you think!