TV Fashion Recap is a biweekly column featuring the best of TV fashion. Every other week, we recreate our favorite outfits from the most recent episodes of all of the hottest shows. Stay tuned; we may feature your favorite show next!

Every other week, I break down the best of TV fashion, featuring my favorite looks from the last two weeks. This week, I seem to be obsessed with statement necklaces, and was inspired by Emma ApprovedandRavenswood. Read on to check out the outfits:
1. Emma Approved (Episode 11): Emma's Olive Tank and Statement Necklace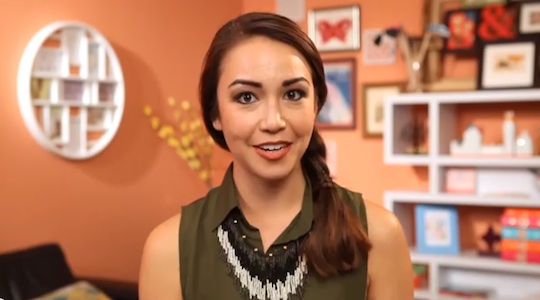 (Photo Credit – Screenshot)
Emma Approvedis a hit show on YouTube made by the creators of the amazing, wildly popular web show, The Lizzie Bennet Diaries. It's a modern retelling of Jane Austen's novel Emma in a vlog format. Each episode is roughly five minutes long, and I highly suggest checking it out if you have time. I'm a huge Austen fangirl, and this show not only does her work justice, but provides a unique, updated twist.
Emma is a little bit spoiled and incredibly headstrong, but she genuinely cares about everyone's happiness – she's always trying to play matchmaker or help others improve themselves. In this show, Emma works as a matchmaker and heads up the lifestyle division of an emerging company. Her wardrobe is very unique: it's simple and feminine, but she always has a few intricate details that tie her looks together.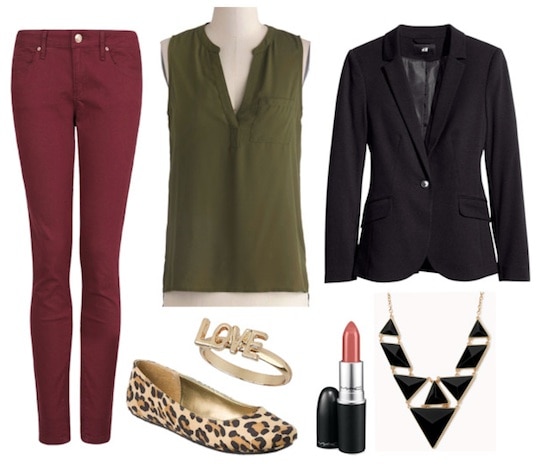 Product Info: Pants, Tank, Blazer, Shoes, Ring, Lipstick, Necklace
To recreate Emma's stylish and casual outfit, start with an olive-hued sleeveless blouse. Put on a geometric statement necklace and, to make it a little more wearable for winter, a black blazer. Slip on a pair of cute skinny jeans – these oxblood ones are very on-trend and pair perfectly with the green top.
Emma's look seems effortless, so just accessorize with a midi ring and a few swipes of an orangey-nude lipstick. For a little extra pop, slip on a pair of leopard print flats to complete this fab ensemble that would most definitely be Emma approved (get it?).
2. Ravenswood (Season 1, Episode 5): Olivia's Embellished Collar and Black Ensemble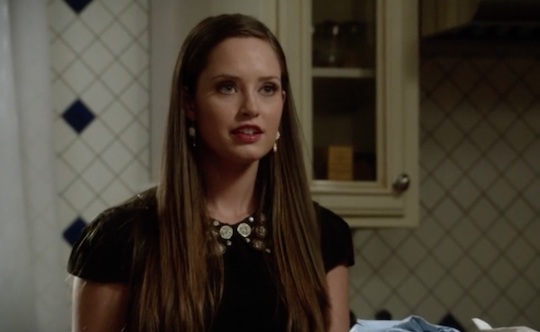 (Photo Credit – Screenshot)
Ravenswood is ABC's new Pretty Little Liars spin-off, and, since I'm completelyobsessed with PLL, of course I had to tune in. The show centers around Caleb (Hanna's really cute boyfriend) and four strangers as they try to lift a deadly curse by digging deep into the town's dark history.
I have been known to watch Pretty Little Liars with all the lights on because of how creepy it can be, but Ravenswood is even creepier. It's a very good show so far, and I'll keep watching, but is anyone else really worried that Caleb and Hanna are going to break up? I hope not – I love them together!
Olivia is haunted by all of the difficulties in her life, but she used to be bubbly and carefree. She's a little bit quieter right now since she's figuring out who she is and how to get past her issues. However, even though Olivia is having a huge life crisis, she still manages to look amazing. So far, her clothing is very on-trend and feminine, but with a few edgy accents.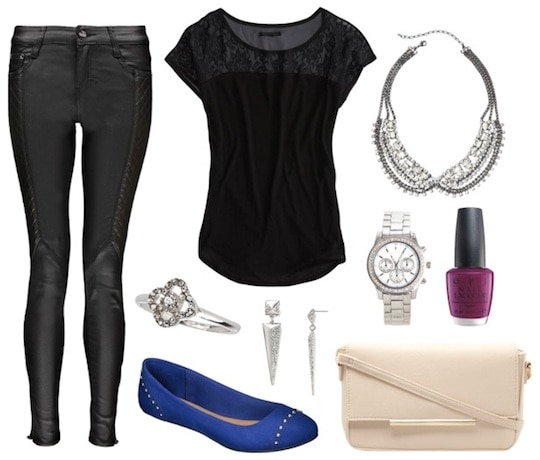 Product Info: Pants, Top, Necklace, Ring, Earrings, Watch, Nail Polish, Shoes, Bag
Olivia's look is perfect for an evening out with friends or even a day on campus when you feel like dressing up. To recreate her ensemble, start with an embellished black shirt or a dressier black tee layered with a statement collar necklace over top. Olivia's outfit is mostly monochrome, so put on a pair of black jeans with a noticeably different fabric to break the look up a little bit – these coated motorcycle jeans are a trendy choice for this season.
To add a few more girly details to the outfit, grab some silver jewelry and a practical wristwatch. Slip on a white messenger bag and a pair of brightly-colored flats to make your accessories really pop. Finish by painting your nails a darker, more vivid color, like this fuchsia.
Your thoughts?
What do you think of these looks? Did we miss any amazing outfits from the past week of TV? Which shows do you think deserve a spot on the next TV Fashion Recap post? Leave a comment below and tell us what you think!