TV Fashion Recap is a biweekly column featuring the best of TV fashion. Every other week, we recreate our favorite outfits from the most recent episodes of all of the hottest shows. Stay tuned; we may feature your favorite show next!

Every other week, I break down the best of TV fashion, featuring my favorite looks from the last two weeks. This week, I was inspired by BBC's hit show Doctor Who and NBC's new comedy, The New Normal.Read on to check out the outfits!
1. Doctor Who (Series 7, Episode 2): Amy's Striped Sweater and Cobalt Jeans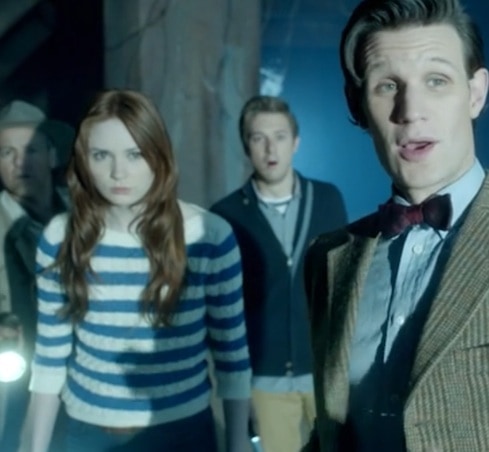 (Photo Credit – Screenshot)
BBC's Doctor Who is without a doubt one of our favorite shows on television. A continuation of the original 1963 series, the show follows a Time Lord – a member of a nearly extinct humanoid alien species – affectionately known as the "Doctor", and his adventures with the TARDIS, his time-traveling device. There have been ten other Doctors — as he can regenerate his body when he dies — and each body is more attractive than the last one… at least, in my opinion.
The Eleventh Doctor's companion, Amy Pond, travels with him through time and space wearing adorable, yet casual outfits. She's funny, intelligent, and a little bit guarded. She has matured significantly throughout the series, and has developed a beautiful relationship with another one of the Doctor's companions, Rory Williams, who she is currently married to. Sadly, this will be the last season for Amy Pond, who is played by Karen Gillan. I'm going to miss her sassy remarks, and, most importantly, her easygoing, action-heroine style.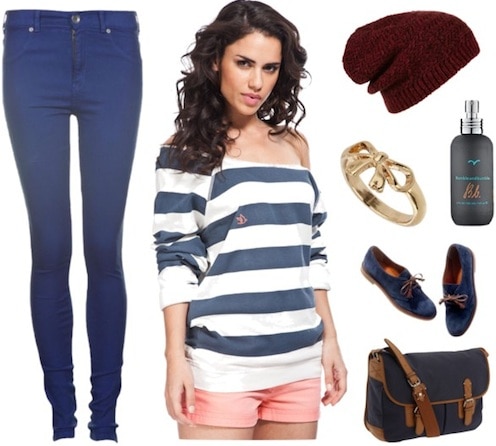 (Product Information: Jeans – Van Mildert, Shirt – Republic, Beanie – Topshop, Ring – Dorothy Perkins, Styling Cream – Bumble and Bumble, Shoes – Madewell, Bag – Zappos)
Amy wowed this week in a casual outfit that is perfect for class in the fall. To recreate her look, start with a navy and white striped sweater. Add a pair of cobalt skinny jeans, and slip on some navy oxfords to add to Amy's French-inspired outfit.
Now it's time for accessories. Sling a messenger bag around your shoulder to carry all of your time-traveling necessities (like really long-lasting foundation or one of the Doctor's multi-purpose sonic screwdrivers). Add a cute bow ring to capture Amy's girly side. Don't forget Amy's signature waves, which you can get by running curling cream through your hair and following this CF tutorial. A dark red beanie adds a pop of rich color to finish the look.
2. The New Normal (Season 1, Episode 2): Goldie's Floral Dress and Red Shoes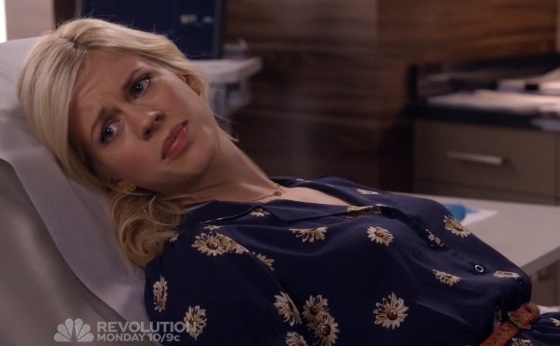 (Photo Credit – Screenshot)
NBC's new comedy, The New Normal, is about a successful gay couple, Bryan and David, who decide that they need a new baby in their lives. They go to newly single mother, Goldie, to ask her to become a surrogate mother. She accepts, and they begin a new and funny kind of family. This show may be only two episodes in, but the hilarious one-liners from Goldie's bigoted grandma and pop culture references from Bryan have made this one of my new favorites.
Goldie eagerly jumps at the chance to become a surrogate mother for a gay couple because she wants to help them have the family they've always wanted. She's also trying to achieve her lifelong dream of becoming a lawyer. She wants to be a strong, independent woman for her daughter, Shania. In addition to being a great mom and a total sweetheart, she is also adorable. Her clothing is very feminine and flirty, and she always looks impeccable.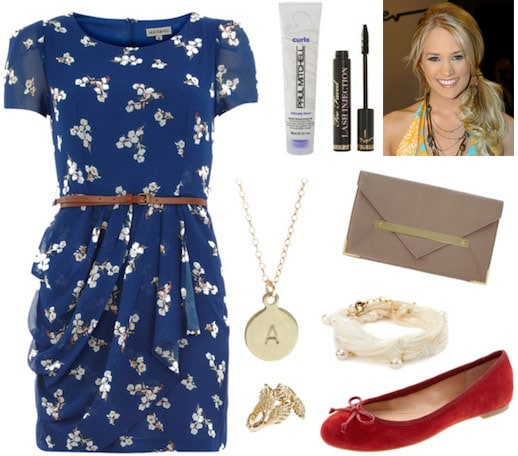 (Product Information: Dress – Dorothy Perkins, Curling Cream – Paul Mitchell, Mascara – Too Faced, Necklace – Etsy, Clutch – Dorothy Perkins, Bracelet – Endless, Ring – Reiss, Flats – Banana Republic) | Hair photo: ELLE
To recreate Goldie's cute and classy outfit, start with a blue floral dress. Cinch a leather belt around your waist and slip on a pair of bright red flats like Goldie's for a pop of color. Next, add delicate gold jewelry to bring out the royal blue of the dress and add detail to the outfit. A brown envelope clutch completes this look–the boxy shape of the clutch adds structure to balance out the loose, ruffly dress.
Don't forget to recreate Goldie's gorgeous wavy side ponytail and her plush, long lashes too. Her hair and makeup complete the elegant and girly look; this would be perfect for a date or semi-formal event.
Your thoughts?
What do you think of these looks? Which one is your favorite? Did we miss any amazing outfits from the past week of TV? Which shows do you think deserve a spot on the next TV Fashion Recap post? Leave a comment below and tell us what you think!