This post may contain affiliate links, which means we may receive a commission if you purchase through our links. Please
read our full disclosure here
.
TV Fashion Recap is a biweekly column featuring the best of TV fashion. Every other week, we recreate our favorite outfits from the most recent episodes of all of the hottest shows. Stay tuned; we may feature your favorite show next!

Every other week, I break down the best of TV fashion, featuring my favorite looks from the last two weeks. This week, I was inspired byContinuumand Teen Wolf. Read on to check out the outfits!
1. Continuum (Season 2, Episode 8): Alec's Laid-Back Plaid Look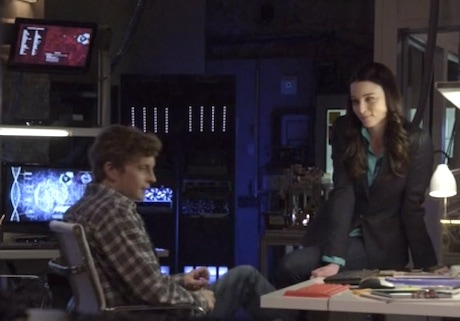 (Photo Credit – Screenshot)
The Canadian sci-fi show Continuum follows Kiera, a cop from 2077 who accidentally travels about sixty years into the past. She just wants to get back to her family, but she has to prevent terrorists from changing the past and starting a revolution. It's a great show with lots of humor, plot twists, and great sci-fi technology. (Don't worry, guys, mascara in the future is so much easier to use — no more poking ourselves in the eye accidentally!) It's definitely one of my new summer faves.
Alec, the stepbrother of a future terrorist, is a genius tech guy. In the future, he becomes a fabulously wealthy inventor and revolutionizes the world, but for now, he's content helping Kiera solve cases. He's really funny, sweet (can you tell that I have a huge crush on him?) and generally very relaxed, which is reflected in his style.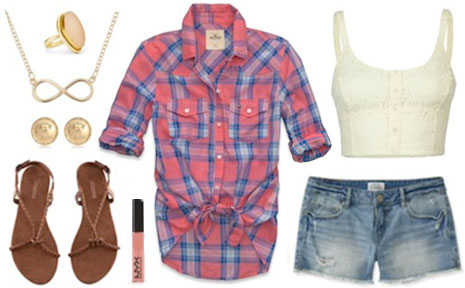 (Product Information: Ring – Ann Taylor, Necklace – shopbevel, Earrings – River Island, Shirt – Hollister, Tank – Tilly's, Sandals – H&M, Lipgloss – Amazon, Shorts – Aeropostale)
Alec's casual look would be perfect for summer, with a few easy modifications. To recreate his look, start with a red plaid shirt and distressed jean shorts. Underneath the unbuttoned shirt, wear a cream and lace corset for a flirty vibe. Add leather sandals and some cute, simple gold jewelry — the infinity necklace is a stylish nod to Alec's future technology and time travel. To finish, swipe on some nude lipgloss to enhance the relaxed vibe that Alec loves.
2. Teen Wolf (Season 3, Episode 4): Lydia's Oxblood Skirt and Chambray Shirt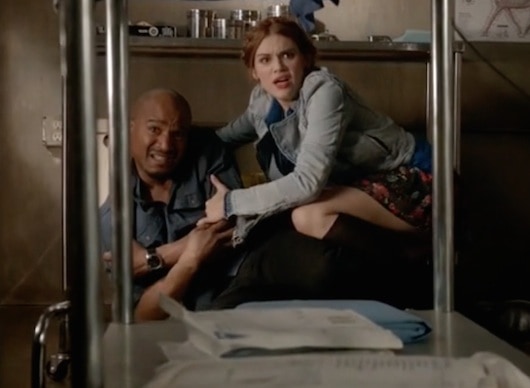 (Photo Credit – Screenshot)
I've already gushed about season three of Teen Wolf, and it's only getting better. And okay, my obsession with the show may be fueled by the increasing storyline intensity and the fact that Stiles (pictured above with Lydia) is getting even cuter — which I didn't think was possible. But, when I saw Lydia's cute and sophisticated look, I knew that I had to feature it.
Lydia is incredibly popular, and because of this, she has learned to hide her extreme intelligence. She's fierce and often scathing, but she's funny and she cares a lot more about her friends than she lets on. Right now, she's having some supernatural visions and memory loss, but her style is always flawless and on trend. This cute outfit pictured above is no exception.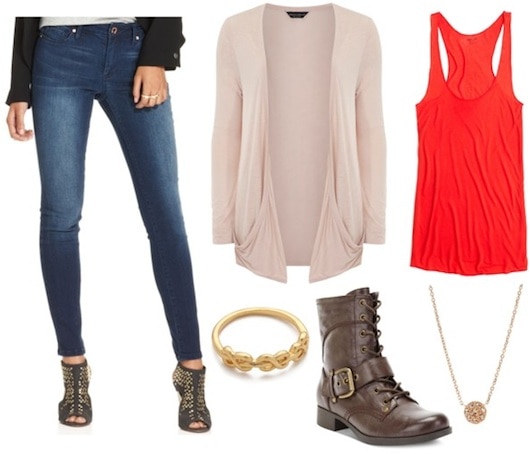 (Product Information: Necklace – Pacsun, Shirt – Delia's, Purse – Aldo, Shoes – Dorothy Perkins, Ring – ASOS, Earrings – Zappos, Lipstick – Bloomingdale's, Skirt – River Island)
To recreate Lydia's look, which would be perfect for a summer date or shopping downtown with friends, start with a patterned chambray shirt and an oxford colored skirt — Lydia's is leather, but this skater skirt is gorgeous and a little more lightweight, which is ideal for summer. Sling a tan crossbody over your shoulder and slip on a pair of lace-up, heeled booties.
Keep your accessories classic with pearl earrings and a simple gold necklace, but add a fun statement piece, like this lion ring to add a bold touch to the outfit. To finish, swipe on a bright lipstick–Lydia's signature, which will add a flirty pop of color to the outfit.
Your thoughts?
What do you think of these looks? Did we miss any amazing outfits from the past week of TV? Which shows do you think deserve a spot on the next TV Fashion Recap post? Leave a comment below and tell us what you think!