TV Fashion Recap is a biweekly column featuring the best of TV fashion. Every other week, we recreate our favorite outfits from the most recent episodes of all of the hottest shows. Stay tuned; we may feature your favorite show next!

Every other week, I break down the best of TV fashion, featuring my favorite looks from the last two weeks. This week, I was inspired by Being Human andThe Tomorrow People. Read on to check out the outfits:
1. Being Human (Season 4, Episode 3): Sally's Printed Dress and Cardigan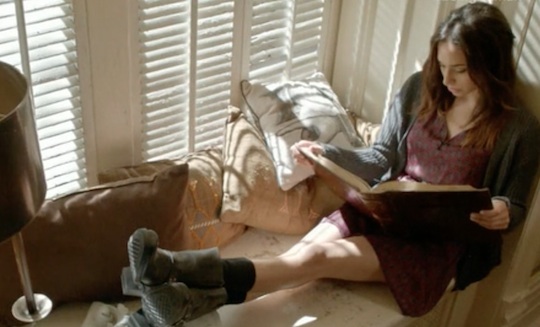 (Photo Credit – Screenshot)
The plot of Being Human sounds like the setup of a joke — a ghost, werewolf, and vampire live in a house in Boston and…. The trio deals with daily struggles involving relationships, witches, and curses (the usual stuff). The show is funny, dramatic, and action-packed. In addition, the characters are all very lovable (and attractive!). I'd definitely recommend the show – it's like a slightly more serious Supernatural.
I don't want to spoil anything, so I'll be brief. Sally's a ghost. She's incredibly funny, sarcastic, and intelligent. Her fiancé pushed her down the stairs when they were arguing and killed her, and she's been haunting the house ever since. She's tough and very lively, even though she's dead (see what I did there?). Corny jokes aside, she's definitely one of my favorite characters!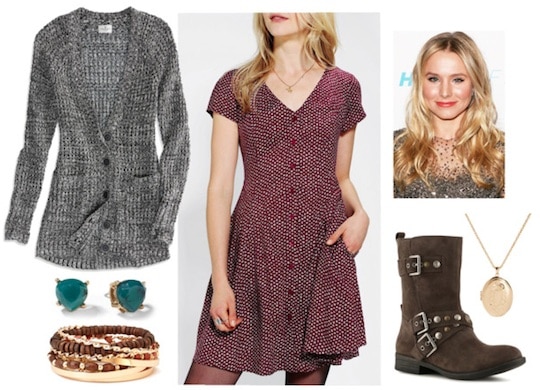 Product Info: Sweater, Dress, Earrings, Bracelets, Boots, Necklace | Hair photo: ELLE
To recreate Sally's comfy, casual chic look, start with a patterned button-up dress. Wear a thick grey cardigan on top to stay comfy while adding an interesting texture contrast to the outfit. Then slip on a pair of cute knee socks and some short brown boots, preferably with buckles and straps.
Add a pair of bright colored earrings for a fun pop of color and grab a few cute, casual bracelets and a pendant to dress up the outfit a little. To complete the look, style your hair into beachy waves — it's a look that's gorgeous and seemingly effortless (even though it actually takes me like twenty minutes to achieve this look)!
2. The Tomorrow People (Season 1, Episode 12): Astrid's Plaid Shorts and Red Blazer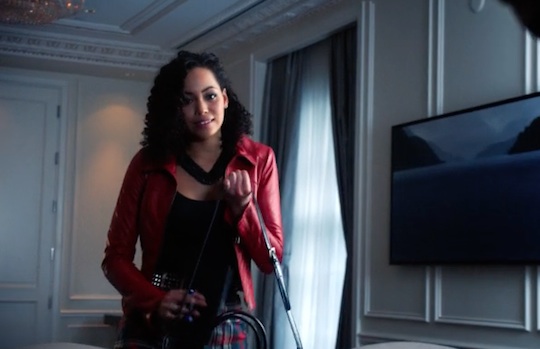 (Photo Credit – Screenshot)
I've talked about The Tomorrow People before (see here for another fashion recap), but I have to say, it's getting so much better. For those of you who haven't heard about it, it's about a group of evolutionarily advanced people with powers who are being hunted down and killed. It's kind of like The Matrix meets X-Men, with a serious dose of Kyle XY thrown in. Needless to say, I'm hooked — and Astrid's amazing style only feeds my addiction!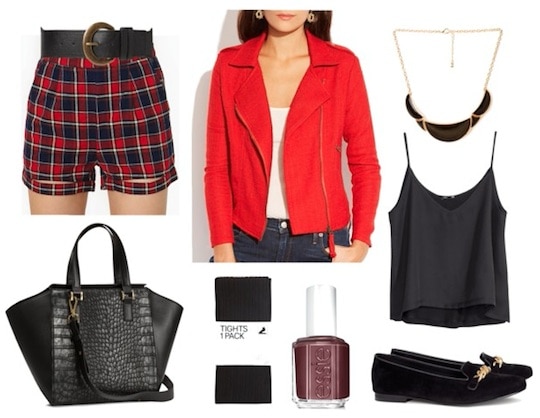 Product Info: Belt, Shorts, Jacket, Necklace, Purse, Tights, Nail Polish, Top, Shoes
I've always been wary of red plaid shorts because they remind me of pajamas (did anyone else think this?), but Astrid showed me that they can be very trendy and cute. I'm definitely buying a pair ASAP! To recreate this outfit, start with a black top and a red faux leather moto jacket. Pair it with red plaid shorts and a large cinched waist belt — extra points if it's got edgy metal detailing like Astrid's does! To make the look more suitable for the current polar vortex, add a pair of black fleece tights.
For shoes, grab a pair of black loafers or flats; the metal chains on this one really tie the outfit together! Next, add a thick black statement necklace and a few edgy rings. Then sling a black crossbody bag over your shoulder and for the finishing touch, paint your nails a dark maroon color.
Your thoughts?
What do you think of these looks? Did we miss any amazing outfits from the past week of TV? Which shows do you think deserve a spot on the next TV Fashion Recap post? Leave a comment below and tell us what you think!