TV Fashion Recap is a biweekly column featuring the best of TV fashion. Every other week, we recreate our favorite outfits from the most recent episodes of all of the hottest shows. Stay tuned; we may feature your favorite show next!

Every other week, I break down the best of TV fashion, featuring my favorite looks from the last two weeks. This week, I was inspired by American Horror Story and How to Get Away With Murder. Read on to see both looks:
1. American Horror Story (Season 4, Episode 7): Penny's Red Jacket and Polka Dot Dress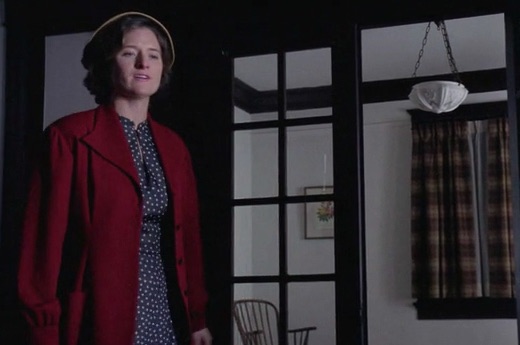 Photo Credit – Screenshot
I'm deathly afraid of clowns. I know there's nothing to be afraid of and that I'm missing out on cute balloon animals, but every time I see a clown, I freak out. So obviously American Horror Story: Freak Show, which predictably follows a freak show as they struggle to stay open, is not a good show for me to watch. Clowns of America International actually spoke out about how the clowns on the show are being unfairly portrayed as evil and terrifying. Even clowns are afraid of the show's clowns!
Anyway, because of my fear, I've been reluctant to get into the show – and by reluctant, I mean that I've refused to watch it and always shut my eyes and start singing Journey's "Don't Stop Believin'" when I see my roommate watching it. But she lulled me into watching it with Penny's pretty outfit, and now I'm considering watching the rest of the season. What do you guys think? Is it worth the fear?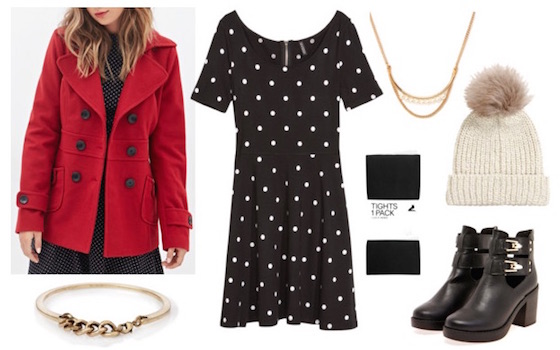 Product Info: Coat, Dress, Necklace, Bracelet, Fleece Tights, Hat, Boots
Penny's ensemble is adorably retro, and feels similar to Taylor Swift's street style – which is flawless, by the way. To recreate this outfit, start with a dark polka dot dress and a red button-up jacket, which adds a vibrant splash of color to this black-and-white ensemble. To make this getup more cold weather-appropriate, put on fleece-lined tights and a cute pair of buckled boots.
I live in Michigan, so every time I step outside, I run the risk of my ears freezing and falling off (note: this may not be scientifically possible, but it feels like it could), so I switched out the cute hat for a thick knitted beanie.
Because the bright coat is the center of the look, keep the jewelry to a minimum. A small bracelet and a delicate necklace are the perfect finishing touches.
2. How to Get Away With Murder (Season 1, Episode 8): Michaela's Striped Top and Collar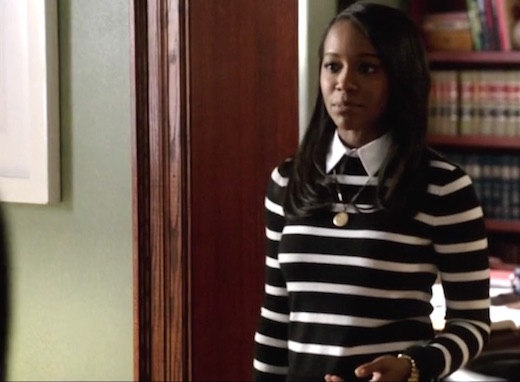 Photo Credit – Screenshot
I'm obsessed with the hit law drama, How to Get Away With Murder. It's all I've been thinking about for the past few weeks (proof: here's another recap), and I am considering law school almost entirely because I love the show and the fact that the characters make law school seem fascinating, though incredibly cutthroat. I can't say enough good things about the show, and even if you don't like intrigue, suspense, and intellectual bad-assery, you should tune in for the sophisticated fashion.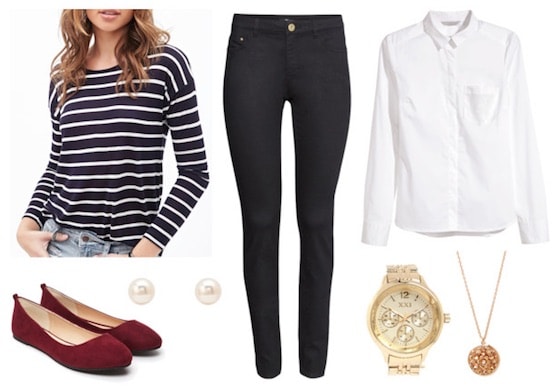 Product Info: Striped Top, Pants, White Shirt, Flats, Earrings, Watch, Necklace
To recreate Michaela's classy and preppy look, start with a white collared blouse and layer a horizontal striped shirt over top so that the collar peeks out from underneath the striped shirt. Slip on a pair of jeans, as well as burgundy flats to add a sophisticated pop of color to the outfit. Accessorize with a gold locket and watch, then finish off with a small pair of pearl earrings to pull everything together.
Your thoughts?
What do you think of these looks? Did we miss any amazing outfits from the past week of TV? Which shows do you think deserve a spot on the next TV Fashion Recap post? Leave a comment below and tell us what you think!