TV Fashion Recap is a biweekly column featuring the best of TV fashion. Every other week, we recreate our favorite outfits from the most recent episodes of all of the hottest shows. Stay tuned; we may feature your favorite show next!

Every other week, I break down the best of TV fashion, featuring my favorite looks from the last two weeks.
As every TV fan knows, there's a serious lull after the holidays. We see all these tempting commercials for new shows and teasers for all the shows that ended on huge cliffhangers (ahem, Grimm), but there are very few new episodes. Luckily, the super cute fashion in 1600 Penn and The Big Bang Theory made up for it this week! Read on to check out the outfits!
1. 1600 Penn (Season 1, Episode 1): Becca's Collared Sweater and Plaid Skirt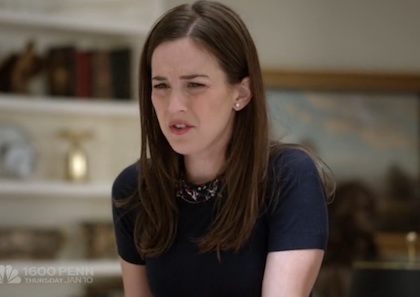 (Photo Credit – Screenshot)
NBC's 1600 Penn isn't out yet, but the pilot episode is available on Hulu. This show follows the First Family and all the chaos that comes along with running the United States and raising your kids simultaneously. It's got a great cast, including Jenna Elfman (Dharma & Greg, Friends with Benefits), Josh Gad (The Book of Mormon), and Martha MacIsaac (Superbad). The show also has a great mixture of hilarious and touching moments, and I'm definitely excited to see more.
Becca, the President's daughter, is nicknamed "Miss Perfect" because of her mature, responsible demeanor. She hates her stepmother, and definitely has a catty side to her personality, but she softens when around her siblings and father. In the first episode, she finds out she's pregnant and has a bit of a breakdown. Regardless of her frazzled mental state, her fashion choices are very polished, preppy, and put-together.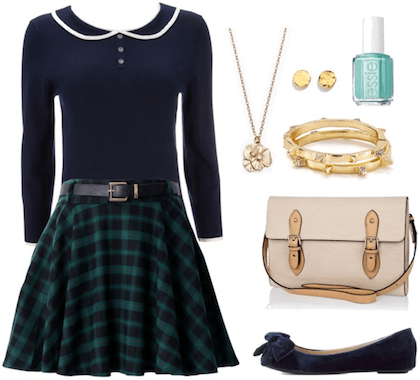 (Product Information: Sweater – Wallis, Skirt – Chic Wish, Necklace – Ann Taylor, Earrings – Lord and Taylor, Nail Polish – Essie on Amazon, Bracelets – Bloomingdales, Bag – River Island, Shoes – Modcloth)
To recreate Becca's cute and sophisticated look, start with a navy collared shirt; this one is perfect for winter and incorporates the popular Peter Pan collar trend. Next, add a plaid skirt and a pair of navy flats, and grab a cream-colored messenger bag to brighten the outfit. Then slip on some small gold jewelry; the edgy studded bracelets are a nod to Becca's sarcastic side, but still work with the outfit. To finish, rock a nice pastel nail polish.
2. The Big Bang Theory (Season 6, Episode 12): Penny's Floral Shirt and Red Skinny Jeans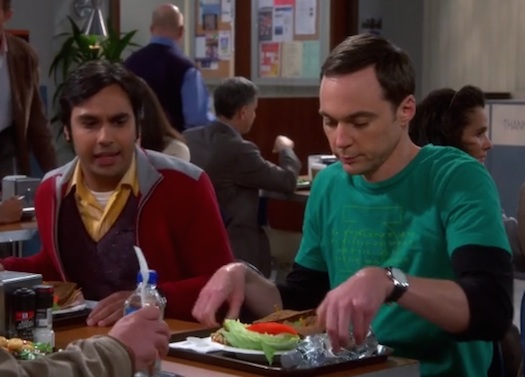 (Photo Credit – Screenshot)
If you haven't seen The Big Bang Theory, you should definitely watch it ASAP (and check out our post on fashion inspired by the show!). The ultra-popular sitcom follows a group of nerds living next door to a stereotypical "hot girl," and the hilarity that ensues as they try to understand and befriend each other. It sounds a little cheesy, but it's really well done – there's a lot of witty banter, and tons of great lines, especially thanks to the the brilliant, yet socially clueless scientist Sheldon, who constantly protests, "I'm not crazy! My mother had me tested."
Penny, the gorgeous girl next store, is a waitress and struggling actress. She's sweet and funny, yet tough, and is constantly teaching the guys how to act normally in social situations. She's in a relationship with Leonard, one of the nerds, and she struggles to understand him and put up with his constant Star Trek references. (I definitely wouldn't mind though, Leonard!)
(Sidenote: Are Penny and Leonard among your favorite TV couples? They are definitely one of mine. Who else hates Alex for trying to get between them??)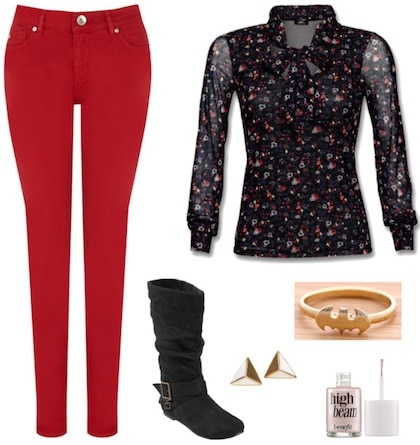 (Product Information: Pants – Oasis, Top – Mexx, Shoes – Target, Earrings – Windsor, Ring – Etsy, Highlighter – Benefit)
To recreate Penny's look, which would be super cute for class, start with a pair of red skinny jeans. Add a dark patterned top; this one has sheer sleeves and a pretty bow neck that Penny would love. For footwear, rock some black, buckled boots. Accessorize with pyramid stud earrings and, because Penny tries so hard to be interested in what Leonard likes, a cute Batman ring. Finally, dab some highlighter under your eyes and on the apples of your cheeks to get Penny's signature glow.
Your thoughts?
What do you think of these looks? Did we miss any amazing outfits from the past week of TV? Which shows do you think deserve a spot on the next TV Fashion Recap post? Leave a comment below and tell us what you think!