TV Fashion Recap is a biweekly column featuring the best of TV fashion. Every other week, we recreate our favorite outfits from the most recent episodes of all of the hottest shows. Stay tuned; we may feature your favorite show next!

Every other week, I break down the best of TV fashion, featuring my favorite looks from the last two weeks. This week, I was inspired byThe Rachel Zoe Project and Psych. Read on to check out the outfits!
1. The Rachel Zoe Project (Season 5, Episode 7): The Models' Bohemian Style
(Photo Credit – Screenshot)
Bravo's The Rachel Zoe Project stars celebrity stylist Rachel Zoe in a reality show about her life and business. It's very interesting, especially if you want to get into the fashion industry, and the clothes are obviously fabulous.
In case you didn't know, Rachel's client list has included names like Anne Hathaway, Cameron Diaz, Nicole Richie, and Keira Knightley. This week, Rachel was tasked with styling a photo shoot for Glamour magazine, focusing on her trademark boho-chic vibe. However, in the Zoe universe, nothing ever quite goes as planned, so Rachel has more than a few obstacles to face on her way to photo shoot perfection.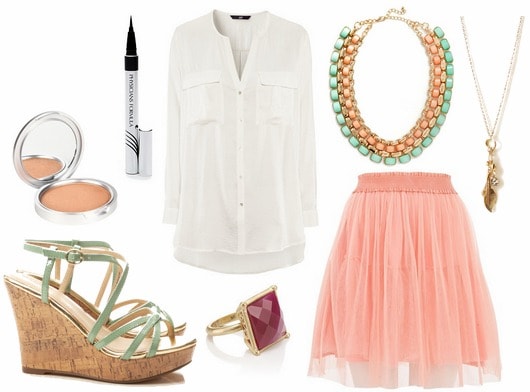 (Product Information: Eyeliner – Drugstore.com, Highlighter – theBalm, Top – H&M, Chain Necklace – Modcloth, Feather Necklace – Forever 21, Ring – Monsoon, Skirt – New Look, Sandals – Wallis)
The ensembles worn in the photo shoot Rachel styled were chic, relaxed, and absolutely perfect for spring. To recreate that boho vibe, start with a loose white blouse, an essential that Rachel likes to mix with more feminine pieces for a casual, cute look. Tuck the shirt into a pink skater skirt, which cinches you in at the waist to create an hourglass shape.
No Zoe-inspired outfit would be complete with out some MAY-JOR accessories! Layer several necklaces of different lengths around your neck and slip on a bright ring for a fun pop of color. Add a pair of strappy wedges — these mint ones are very on-trend this season. Lastly, add subtle winged eyeliner, along with highlighter and bronzer to give your face a sun-kissed glow like all of Rachel's models.
2. Psych (Season 7, Episode 9): Juliet's Hi-Low Tank and Blue Jeans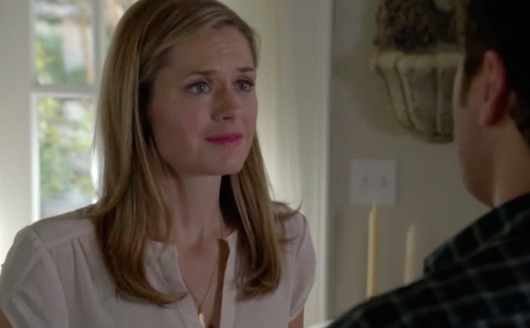 (Photo Credit – Screenshot)
USA's hit crime comedy, Psych, is about a hilarious, adorably scruffy guy named Shawn. He is a fake psychic who consults on difficult cases with his more conservative, food-obsessed sidekick. The duo often have a strained relationship with the police department because of Shawn's creative and often dangerous hi-jinks. It's one of the funniest and wittiest shows on television, and I highly recommend you check it out!
Juliet, a detective who works with Shawn, is incredibly smart, savvy, and tough. She and Shawn have the cutest relationship, even though they've been going through a rough patch ever since Juliet found out Shawn is not a real psychic. I hate that they aren't together right now, but I've been waiting seven seasons for Juliet to find out about Shawn's investigative talent, so I'm just glad it's finally out in the open.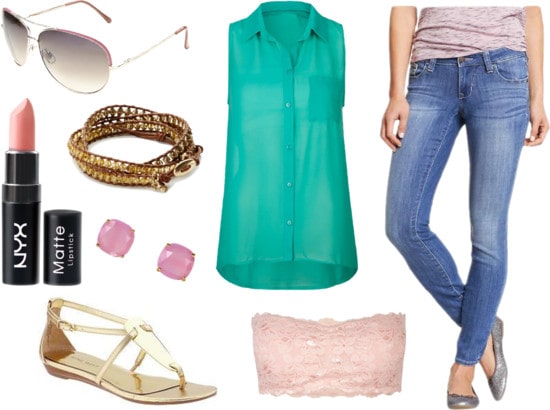 Outfit Inspired by Juliet from Psych by collegefashion featuring a kates spade
(Product Information: Jeans – Old Navy, Top – Tilly's, Earrings – Kate Spade, Bracelet – Lucky Brand, Lipstick – NYX, Bandeau – Tilly's, Sunglasses – Steve Madden, Sandals – Piperlime)
To recreate Juliet's colorful, summery outfit from this episode, start with a loose hi-low teal tank top. Since this one is slightly sheer, layer a cute bandeau bra underneath. Tuck the front of the top into a pair of bright blue skinny jeans. Add some strappy gold sandals and put on a pair of Aviator-style sunglasses as a stylish nod to Juliet's career as a cop. Accessorize with a beaded wrap bracelet and pink stud earrings which continue the casual vibe of the look. For the finishing touch, add a coat of pale pink lipstick.
Your thoughts?
What do you think of these looks? Did we miss any amazing outfits from the past week of TV? Which shows do you think deserve a spot on the next TV Fashion Recap post? Leave a comment below and tell us what you think!