TV Fashion Recap is a biweekly column featuring the best of TV fashion. Every other week, we recreate our favorite outfits from the most recent episodes of all of the hottest shows. Stay tuned; we may feature your favorite show next!

Every other week, I break down the best of TV fashion, featuring my favorite looks from the last two weeks. This week, I was inspired byOnce Upon A Time and Psych. Read on to check out the outfits!
1. Once Upon A Time (Season 2, Episode 21): Wendy's Lacy Top and Purple Skirt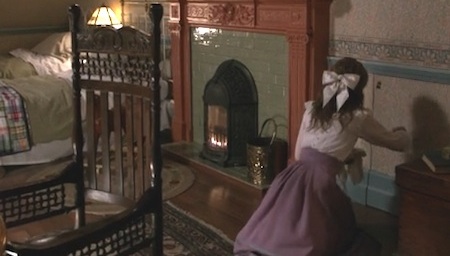 (Photo Credit – Screenshot)
Once Upon A Time is absolutely phenomenal. I've covered it several times (see my most recent recap on Tamara's style from Once Upon a Time), and, I know I say this every time, but the show really does get better and better each episode.
I was really excited for this week's episode because the backstory features a slightly modified Peter Pan tale. Peter Pan is one of my favorite characters in literature (and my childhood crush — laugh all you want, but I was so jealous of Wendy for flying away with him), but I thought Bae was great in this place. What do you think of recent Once Upon A Time episodes?
The fashion in this episode was especially fantastic, and I fell in love with Wendy's beautiful, detailed outfit.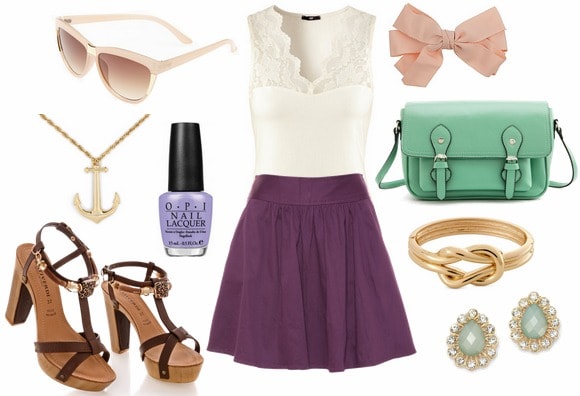 (Product Information: Sunglasses – Nordstrom, Shirt – H&M, Bow – Dorothy Perkins, Purse – Charlotte Russe, Infinity Bracelet – H&M, Nail Polish – Amazon, Skirt – AWear, Earrings – Saks Fifth Avenue, Shoes – Pret-a-Beaute, Necklace – C Wonder)
To recreate Wendy's fun and girly look, start with a white, lacy top. Add a short purple skater skirt and leather sandals to make it perfect for springtime. Next, grab a pastel purse – this mint one complements the deep purple of the skirt very well. Slip on a few girly, yet simple pieces of jewelry, like this gold anchor necklace, which pays homage to Wendy's time on Captain Hook's ship.
Paint your nails a girly lavender color and slip on a pair of cream-colored sunglasses. For the final touch, add a cute bow to the back of your hair – to go the extra mile, create wavy locks before pulling side pieces back into the bow.
2. Psych (Season 7, Episode 11): Gus' Checkered Shirt and Slacks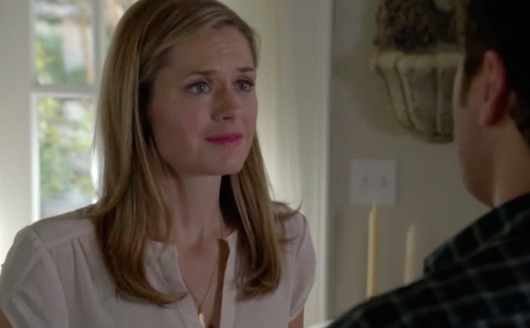 (Photo Credit – Screenshot)
I covered Psych in my last TV Fashion Recap post and was flooded with requests for inspiration from Gus, Shawn's very stylish sidekick. Gus is very buttoned-up on the outside, but Shawn brings out his hilarious, goofy side. He also thinks he's quite the ladies man, and, fun quirk: he always has food in his hands – even if it's stolen from crime scenes.
Gus' style is very preppy and polished. He's a big fan of button-ups, oxford shoes, and sweaters. It's a very classic and sophisticated aesthetic and he always rocks it.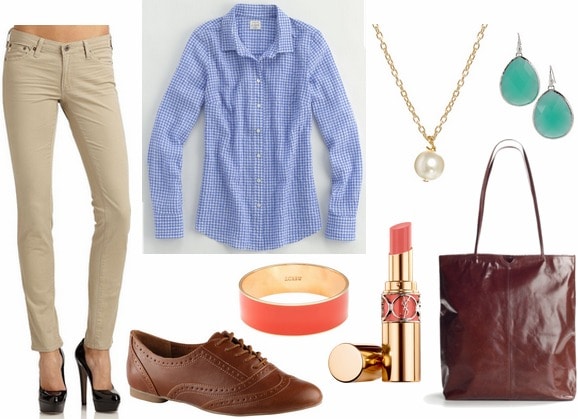 (Product Information: Pants – Saks Fifth Avenue, Shirt – J.Crew Factory, Necklace – ASOS, Earrings – Stella & Dot, Shoes – Aldo, Bracelet – J.Crew, Lipstick – Sephora, Purse – DSW)
To recreate Gus' look – which would be great for internships with business casual dress codes – start with a checkered button-up shirt and a pair of khaki pants. Slip on a pair of cognac-colored oxfords and a leather purse.
Now let's add some extras! Keep the jewelry minimal, but add fun pops of color. Gus frequently adds purple ties or one bolder accessory, so simple but bright bracelets and earrings are a great choice. A pearl charm necklace adds a sophisticated touch that Gus would love, and a pinky nude lipstick finishes off the preppy and classic look.
Your thoughts?
What do you think of these looks? Did we miss any amazing outfits from the past week of TV? Which shows do you think deserve a spot on the next TV Fashion Recap post? Leave a comment below and tell us what you think!