TV Fashion Recap is a biweekly column featuring the best of TV fashion. Every other week, we recreate our favorite outfits from the most recent episodes of all of the hottest shows. Stay tuned; we may feature your favorite show next!

Every other week, I break down the best of TV fashion, featuring my favorite looks from the last two weeks. This week, I was inspired byFalling Skiesand Pretty Little Liars. Read on to check out the outfits!
1. Falling Skies (Season 3, Episode 3): Jeanne's Military Jacket and Scarf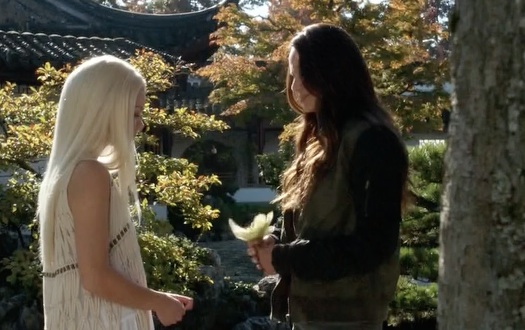 (Photo Credit – Screenshot)
Falling Skies, TNT's hit summer sci-fi series, is one of my favorite shows. It's got aliens, an apocalyptic setting, and some really hot cast members. The plot is intricate and suspenseful, but there's still a lot of witty banter and some lighter moments. I'd definitely recommend giving it a try, especially because the seasons are short so it's easy to catch up.
Jeanne Weaver is the daughter of one of the main characters, Colonel Weaver. She's relatively new to the show, but she's very loving and protective, and, right now, her main goal is helping her boyfriend recover from being kidnapped by aliens – you know, regular teenage relationship stuff. Her outfit really caught my eye this week – it's relaxed and comfy, but still very fashionable.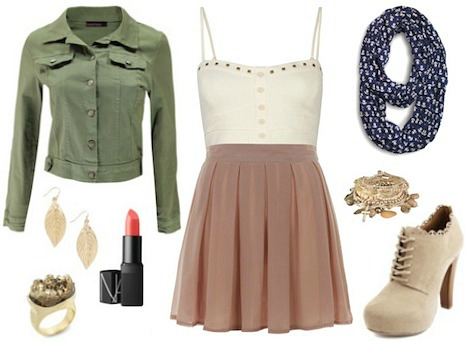 (Product Information: Jacket – Boohoo, Corset Top – Tilly's, Scarf – Sperry Top-Sider, Earrings – Modcloth, Lipstick – Amazon, Skirt – New Look, Bracelets – Maurices, Ring – C Wonder, Shoes –Charlotte Russe)
Jeanne's outfit is so cute and – with a few modifications – is ideal for summer. Start with a white tank or corset top and a neutral-colored skater skirt, which mimics the shape of outfit she's wearing on the show. Add a military jacket and a patterned infinity scarf to add layers and dimension to the outfit.
Keep the accessories light – a few gold, nature-inspired pieces like these leaf earrings and crystal ring are perfect! Add a pair of nude heels; Jeanne would love these simple, but very cute oxford heels. She favors bolder lips, so for the finishing touch, add a bright pink lip to create a flirty pop of color.
2. Pretty Little Liars (Season 4 Premiere Episode): Hanna's Coral Jacket and Leather Leggings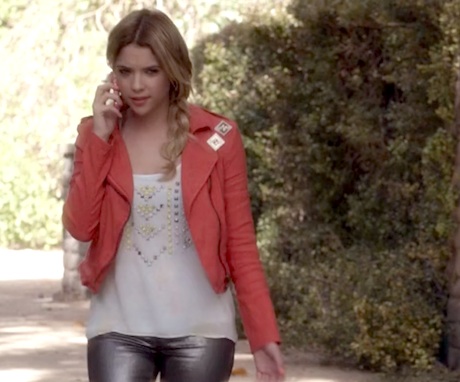 (Photo Credit – Screenshot)
I covered Pretty Little Liars in my last Fashion Recap, but in honor of the actual season premiere, I couldn't help doing another feature. Plus, I couldn't ignore Hanna's amazing outfit! Seriously, how does she look so flawless all the time?
PLL is one of my faves, and the season premiere definitely didn't disappoint. What did you guys think of the latest episode? Was anyone else a little conflicted about Aria's possible new (and really, really hot) guy?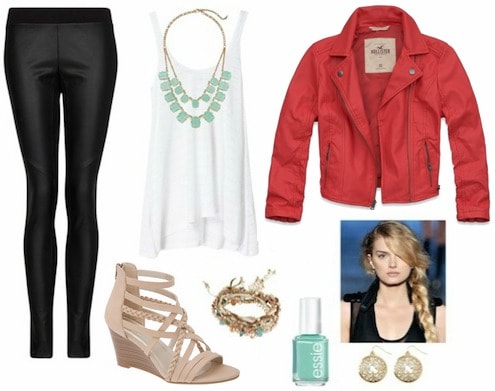 (Product Information: Pants – Mango, Shirt – Zara, Necklace – Bauble Bar, Jacket – Hollister, Shoes – Sonsi, Bracelet – Call It Spring, Nail Polish – Amazon, Earrings – White House Black Market, Braid Inspiration – Elle)
To recreate Hanna's bright, fun look, start with a loose white tank, and then layer it with a coral cropped leather jacket and black leather leggings. Add strappy neutral wedges, which are a staple in Hanna's closet.
Next, slip on some simple gold jewelry and a colorful, layered necklace for a pretty pop of color. Don't forget to swipe on a few coats of your favorite summer nail polish, since Hanna's nails are always painted fun, trendy colors. For the finishing touch, create a chunky side braid with side-swept bangs – it really helps tie the look together!
Your thoughts?
What do you think of these looks? Did we miss any amazing outfits from the past week of TV? Which shows do you think deserve a spot on the next TV Fashion Recap post? Leave a comment below and tell us what you think!