This post may contain affiliate links, which means we may receive a commission if you purchase through our links. Please
read our full disclosure here
.
This is the second installment in our series on fashion from the HBO series True Blood. Last week, we looked at Tara's laid-back approach to fashion and now, we'll be going in an entirely different direction by focusing on the vampire Sophie-Anne and her flawless sense of style.
Sophie-Anne is the Vampire Queen of Louisiana, which means she has jurisdiction over other vampires within her state. Although she's extremely powerful, Sophie-Anne is a bit immature and loves to lounge poolside all day in her mansion. Later in the series, though, we learn that Sophie-Anne has been behind some sinister plans all along.
Since Sophie-Anne is a recurring character, she only appears in a handful of episodes. However, whenever she does come on screen, we're treated to some major fashion eye candy. Sophie-Anne is always impeccably dressed, with vintage clothing and gorgeous jewelry. Interested in learning more? Read on to find out the three key elements of Sophie-Anne's style and learn how to achieve her look for yourself:
1. Glamorous Vintage Pieces
Top Row: 1, 2, 3
Bottom Row: 4, 5, 6
Sophie-Anne is always dressed in fabulous vintage clothing that gives off a sophisticated and glamorous vibe. She can be found donning cat-eye sunglasses, faux-fur stoles and pinup-style swimsuits, which keep her look anything but ordinary. Although Sophie-Anne's vintage clothes and accessories are probably originals, you can copy her look by wearing vintage-inspired pieces like cloche hats, full skirts and drop-waist dresses.
Outfit for Inspiration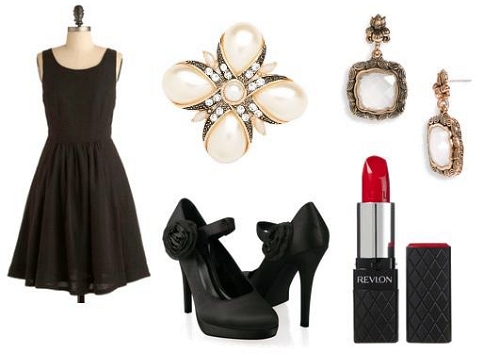 Dress, Brooch, Earrings, Pumps, Lipstick
For a formal and vintage-inspired look that channels Sophie-Anne, wear a dress with a classic silhouette, like this '50s-inspired frock. Pair the dress with some sky-high pumps and a unique brooch for interest. Add some matching earrings and a bold red lip for a glam and, dare I say, vampy look.
2. All-White Done Right
Top Row: 1, 2, 3
Bottom Row: 4, 5, 6
For someone so deliciously evil, Sophie-Anne sure does love wearing angelic, bright white ensembles. Adding pristine white pieces to your wardrobe creates an understated yet bold look that's perfect for summer. Of course, dressing in all-white from head-to-toe can be tricky, but Sophie-Anne pulls it off flawlessly.
Outfit for Inspiration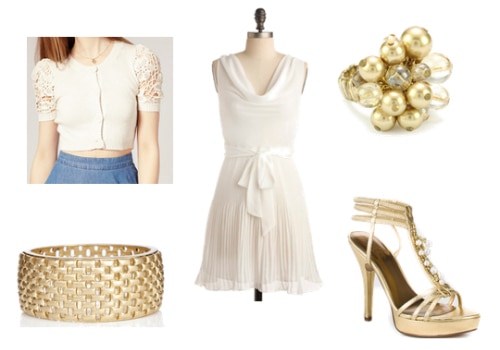 Dress, Cardigan, Ring, Bracelet, Sandals
Although white pantsuits might not be practical for college students, you can mimic Sophie-Anne's look by layering a LWD with a matching cropped cardigan. Add some pale gold sandals, then accessorize with matching jewelry, like this ring and bracelet.
3. Accessories Overload
Top Row: 1, 2, 3
Bottom Row: 4, 5, 6
You know the phrase "less is more"? Yeah, Sophie-Anne definitely doesn't follow that rule. She piles on tons of jewelery but somehow always manages to keep it from looking over-the-top. Rings, brooches, necklaces, bracelets, earrings — you name them, she's wearing them…at the same time, of course.
Outfit for Inspiration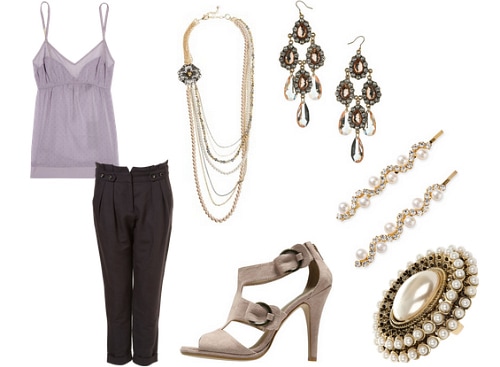 Top, Trousers, Sandals, Necklace, Earrings, Hair Pins, Ring
The key to layering lots of jewelry is to keep the rest of your outfit super simple – try wearing something such as this pale purple camisole, dark-colored trousers and beige sandals. Then go nuts adding jewelry like a layered necklace, chandelier earrings and an oversized cocktail ring. For a truly Sophie-Anne inspired look, you can even add some jeweled pins for your hair! Just be sure to keep all the jewelry in the same color/material range as it keeps the outfit from looking super costume-y.
Thoughts?
Are you a fan of True Blood?What do you think of Sophie-Anne's style? Do you like wearing lots of jewelry? Which of these looks is your favorite? Be sure to leave a comment and let me know what you think!