This post may contain affiliate links, which means we may receive a commission if you purchase through our links. Please
read our full disclosure here
.
Time for our final installment of a series that breaks down the style of popular characters on the hit HBO series, True Blood. Over the last month, we've examined Tara's tomboy-chic ensembles, Sophie-Anne's luxurious vintage look and Jessica's sweet and simple approach to fashion.
Today, our focus is on Pam De Beaufort. Pam co-owns the vampire bar Fangtasia with her maker, Eric. She's a sarcastic, no-nonsense vampire with a morbid sense of humor. Pam enjoys teasing and provoking others with her deadpan approach to humor. Also, Pam's a vampire after our own hearts: She loves fashion as much as we do!
When it comes to her look on True Blood, Pam has the most polarizing sense of style — it's sort of a mix between a dominatrix and a WASP. At Fangtasia, she's all about the skintight leather, which just oozes sex appeal. Off duty however, Pam opts to wear feminine sweater sets, tailored pencil skirts and demure dresses. Either way, though, Pam can always be found wearing some killer pumps.
Interested in learning more? Read on to see the three elements of Pam's style and some ideas on how to mimic her look yourself:
Fierce at Fangtasia
Top: 1, 2, 3 | Bottom: 4, 5, 6
When she's working at Fangtasia, Pam loves to rock over-the-top, body-hugging outfits. She can always be found wearing leather, corsets, fishnets and even latex, which gives her an edgy, in-your-face sexy look.
Outfit for Inspiration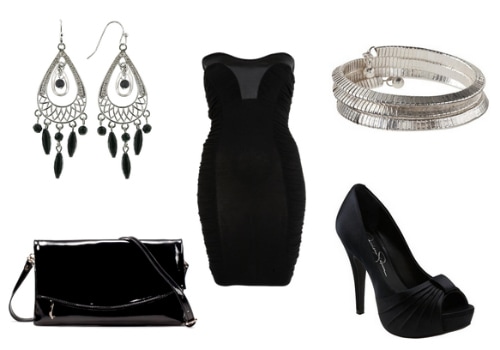 Dress, Earrings, Bracelet, Clutch, Pumps
The next time you're going out, channel Pam's Fangtasia look (albeit in a tamer way) and pair a bodycon dress with some sky-high stilettos. Dress the look up with a cool coiled bracelet, some gorgeous chandelier earrings and a sleek clutch and you'll have a sexy yet stylish evening look.
Perfectly Prim & Polished
Top: 1, 2, 3 | Bottom: 4, 5, 6
When she's not working, Pam can be found wearing preppy and polished pieces. She loves perfectly matched sweater sets and skirts, colorful cardigans and structured satchels, pieces that are on the opposite side of the style spectrum from her Fangtasia essentials! Add pieces like the ones above to your wardrobe and you'll create a sophisticated vibe in any outfit.
Outfit for Inspiration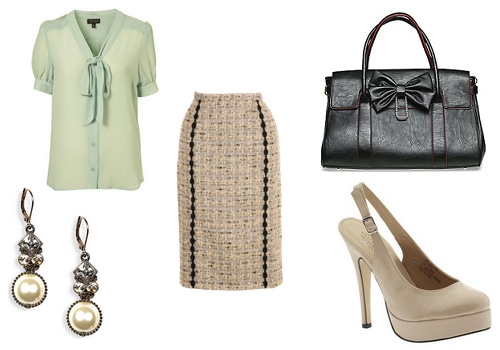 Blouse, Skirt, Bag, Earrings, Shoes
For a work-appropriate outfit inspired by Pam, try wearing a tweed pencil skirt with a silky mint-green blouse and some fabulous beige slingbacks. Accessorize with these elegant drop earrings and a sturdy satchel bag, which matches the detailing on the skirt.
Cinched Waistlines
Top: 1, 2, 3 | Bottom: 4, 5, 6
Another element of Pam's look is her preference for a fabulous cinched waist. Belted dresses and blouses create an instant hourglass figure and amp up the style factor of any outfit. You can channel Pam's cinched-in look by wearing a dress with a defined waist, or cinch in any piece by adding an oversized belt.
Outfit for Inspiration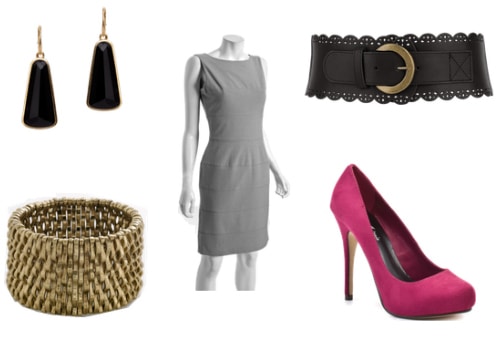 Dress, Earrings, Belt, Bracelet, Pumps
Create a cinched-in waist by pairing a classic steel-gray sheath dress with a pretty ruffled belt. Add some matching jewelry, like these gold-toned earrings and this simple bracelet, to streamline the look. Finally, create a pop of color with these great pink pumps.
What do you think?
Do you watch True Blood? What do you think of Pam's look? What's your favorite aspect of her style? Would you wear any of these outfits? Be sure to leave a comment and let me know your thoughts!