If you've been keeping up with CF these past few weeks, you'll know that we're smack-dab in the middle of our series that breaks down the style of popular characters from the HBO series, True Blood. So far, we've covered Tara's tomboy-chic sense of style and Sophie-Anne's glamorous vintage ensembles. This time, we'll be looking at Jessica Hamby's sweet and simple approach to fashion.
Jessica was just a girl in the wrong place at the wrong time when she was unwillingly turned into a vampire near the end of season one. However, since she came from a super-strict upbringing, Jessica embraced her new freedom as a vampire and all of the power that came with it. Now, as a "baby vamp", she has to learn how to use all of her new abilities… while still dealing with all of the problems that come with being an eternal teenager.
As far as fashion goes, Jessica sticks with casual, no-fuss pieces with a girly touch. She's someone who loves feminine sundresses, cute separates and pretty prints. Interested in more? Read on to learn the three elements of Jessica's style and some ideas on how to achieve her look for yourself:
Casual & Cute Separates
Top: 1, 2, 3 | Bottom: 4, 5, 6
For her everyday look, Jessica sticks with laid-back and stylish separates. Basic wardrobe staples like brightly-colored tops, cardigans, shorts and denim skirts are all easy to mix-and-match, making the outfit possibilities endless. As far as footwear goes, she keeps it casual, choosing to wear flats or slip-on sneakers.
Outfit for Inspiration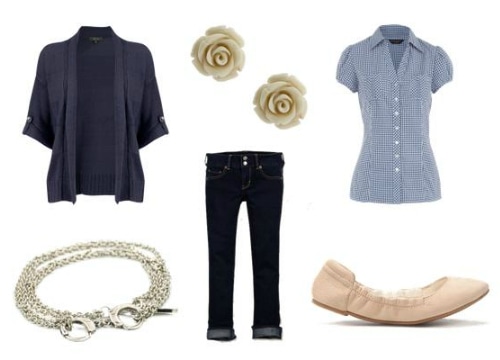 Cardigan, Earrings, Shirt, Bracelet, Jeans, Flats
Channel Jessica's everyday look by pairing some cropped jeans with a classic gingham blouse. Layer a loose-fitting cardigan over the blouse and add some comfy ballet flats. Jessica always keeps her jewelry low-key, so just wear some stud earrings and a simple bracelet to complete this look.
Sweet & Simple Sundresses
Top: 1, 2, 3 | Bottom: 4, 5, 6
When Jessica wants to go out or even just dress up a bit, she opts to wear a simple sundress. These types of dresses show of her feminine side and are perfect for all the hot weather that's sure to hit this summer. Sundresses are super-easy to wear and Jessica always pulls them off flawlessly.
Outfit for Inspiration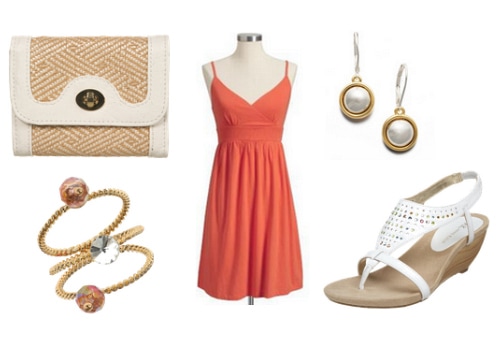 Dress, Clutch, Earrings, Ring, Sandals
For a warm-weather look inspired by Jessica, pair a simple coral-colored sundresses with some wedge sandals. Add a matching clutch, then accessorize with demure earrings and stacked rings. This look would be perfect for a casual night out or even a summer wedding!
Pretty Printed Tops
Top: 1, 2, 3 | Bottom: 4, 5, 6
Jessica tends to stray away from basic, solid-colored tops – instead, her wardrobe is full of printed blouses. These pretty tops are unique and add interest to her everyday outfits. If you're a girl who loves solids, spice things up like Jessica and try on a printed blouse instead.
Outfit for Inspiration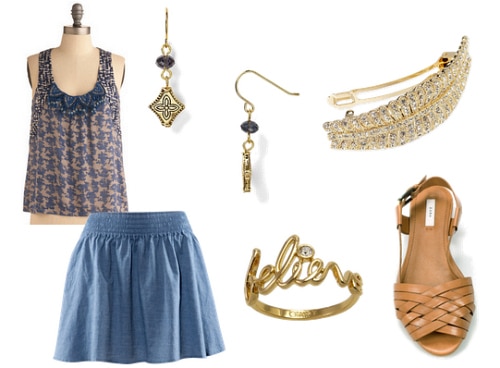 Top, Skirt, Earrings, Barrette, Ring, Sandals
Mimic Jessica's love of prints by pairing this unique top with a basic chambray skirt. Add some simple sandals and pull your hair back with a pretty barrette. Finally, add some delicate jewelry, like this ring and these drop earrings.
Thoughts?
Do you watch True Blood? What do you think of Jessica's style? Are you a fan of simple, yet put-together outfits? Which of these looks is your fave? Be sure to leave a comment and let me know what you think!