This post may contain affiliate links, which means we may receive a commission if you purchase through our links. Please
read our full disclosure here
.
It's finally time for another countdown, and this week I'm super excited to present the second half of our Top 20 Most Stylish Rappers list. (In case you missed last week, check out Part One of the Top 20 Most Stylish Rappers.)
To recap from last week, the criteria for this list includes both unique style aesthetics, and the ability to create a distinctive look for themselves. For this list, I also examined how well an artist utilizes his or her ensemble to make a unique brand for themselves that separates them from the pack. Also, we define "rapper" as someone who has rapped in multiple songs, primarily in the hip hop genre.
And without further ado, here's the rest of the list:
Bonus: A$AP Rocky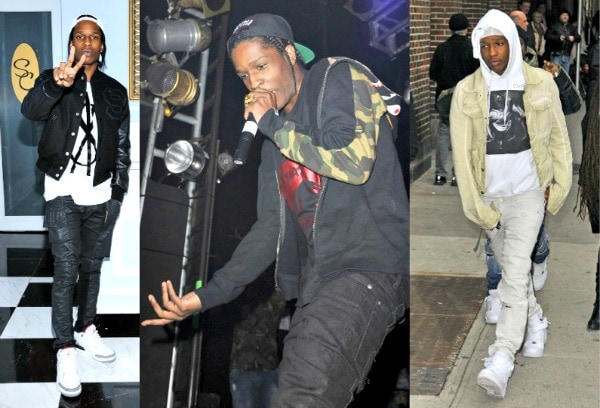 Photo Credits: Pacific Coast News
I owe this one to you fantastic readers. Although I had heard about A$AP Rocky a few times (I'm a big Kendrick Lamar fan, and hello, "Problems" is insanely catchy!) I had no idea that such an interesting, stylish person was behind those rhymes. I already had my top 10 picked out, but since so many readers requested him last week, I knew this list wouldn't be complete without him.
What I find most interesting about A$AP Rocky's style is how he samples pieces from many different genres, and combines them in a way that is uniquely his. He's been seen in everything from streamlined black-on-black dress shirts, slacks, and dress shoe looks on the red carpet, to casual oversized hockey jerseys during his live shows. A$AP Rocky has a taste for high-end designer pieces, and often mixes them with more casual Nike Dunks or flat-bill hats. He's a big fan of designer hoodies and jackets, and always rocks his signature french-braided hairstyle.
A$AP Rocky is also known to rub elbows with some of the brightest names in the fashion world. He used to date number 20 on our countdown, Iggy Azalea, and even has some ink dedicated to her. Last year, Rocky was even spotted at Jeremy Scott's fashion week show, sitting in the front row with fashion blogging royalty Rumi Neely and BryanBoy.
Songs to check out: F—– Problems (with Kendrick Lamar, 2 Chainz, and Drake), Wild for the Night, Fashion Killa
10. The Notorious B.I.G.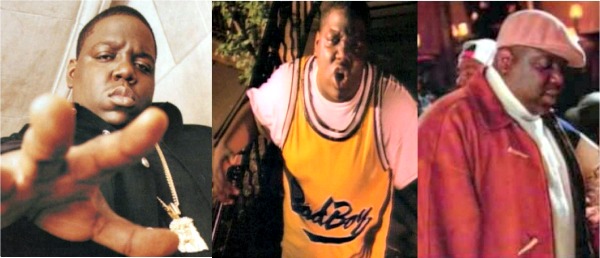 Photo Credits: 1. Official Promo Material 2 & 3. Music Video Screen Captures | Uptown Records
The Notorious B.I.G. is one of the most iconic figures of the rap genre. I was very young when he was fatally shot, but I still remember how upset my cousins were when they found out. My dad loves watching documentaries on the deaths of Biggie and Tupac, so I grew up learning about different theories surrounding their tragic deaths. Despite his tough and badass look, Biggie was a very tender-hearted person – a true gentle giant.
Biggie Smalls leaves us with not only a catalog of fantastic music, but also a legacy of interesting fashion choices that helped define the look and feel of '90s rap. Biggie helped launch the zoot suit look we all think of when it comes to early rap, wearing suits that almost channeled an old-school Rat Pack or even a Roaring '20s sort of look. He accessorized his matching suits with the occasional cane or wallet chain, and made the Applejack hat famous once again.
Biggie's more casual look is fondly remembered as well. He was bold enough to rock Coogi sweaters, flashy jewelry, sports jerseys, newsboy hats, and sweet sneakers. Love it!
Songs to check out: Big Poppa, Juicy, Hypnotize, and Mo' Money Mo' Problems
9. Pharrell Williams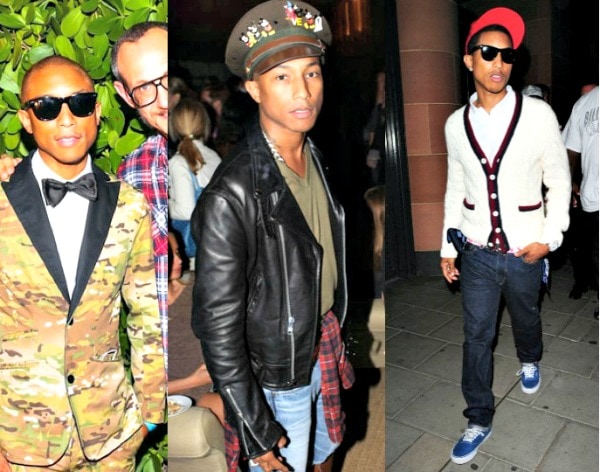 Photo Credits: 1. ELLE 2. ELLE 3. Pacific Coast News
Pharrell's velvety smooth voice and sweet rhymes have been a mainstay on American airwaves for over a decade. In addition to his knack for producing platinum albums and singing hooks for number one singles, he's also made a huge impact on the fashion side of hip hop culture as well.
Pharrell was one of the first hip hop figures to embrace anime and skate park style clothing and culture, which paved the way for artists like Lil' Wayne and Tyler the Creator to really run with that sort of aesthetic. Pharrell embraced designer BAPE and Ice Cream hoodies, making them mainstream. (Does anyone else remember DYING for a bold hoodie that zipped up over your face in high school?)
Additionally, Pharrell has a very classy, Hamptons-esque vibe to his style which he always mixes with more urban pieces. He's known to wear bow ties with jeans, boat shoes with flat bills, and sneakers with designer suits. He's eccentric, daring, and isn't afraid to wear a crazy hat or a bold suit for the sake of fashion.
Songs to check out:Get Lucky (with Daft Punk), Frontin' (feat. Jay-Z), Can I Have It Like That (feat. Gwen Stefani), and Boys (with Britney Spears).
8. Tupac Shakur

Photo Credits: 1. Official Promo Material 2 & 3. Music Video Screen Captures | Interscope
As I mentioned before, the legends and lore surrounding Biggie and Tupac were (and still are) a common interest between me an my dad. Tupac was so much more than the "thug" that the media sometimes made him out to be. He went to a performing arts high school, where he studied jazz music, poetry, Shakespeare, and classical dance. He even starred as the Mouse King in a production of the Nutcracker as a teen! He was remembered as one of the most popular kids in school, and during that time developed a close friendship with Jada Pinkett, wife to another superstar rapper who made this countdown.
Tupac had a tough and hardened exterior, but he reflected his sensitive and humanitarian side in many of his most famous songs. To this day, I still hold the belief that Changes is one of the most inspiring and hopeful songs I've ever heard. Thug Mansion and Dear Mama are among some of his other great songs that discuss social issues.

Tupac Shakur's look was as eccentric and unique as his interests. He often wore hoodies, large gold chain necklaces, and baggy jeans, but he had two true signatures: tan hiking boots, and a bandanna tied on his head to slightly resemble bunny ears. His working class, blue-collar hiking boots trickled down all genres of fashion in the '90s. Twenty years later, it is impossible to tie a bandanna in that fashion without everyone assuming that one is paying homage to one Tupac Shakur. The look is truly iconic.
Songs to check out:Changes, California Love, Thug Mansion (acoustic version), All Eyez On Me, Only God Can Judge Me, and Dear Mama
7. Tyler the Creator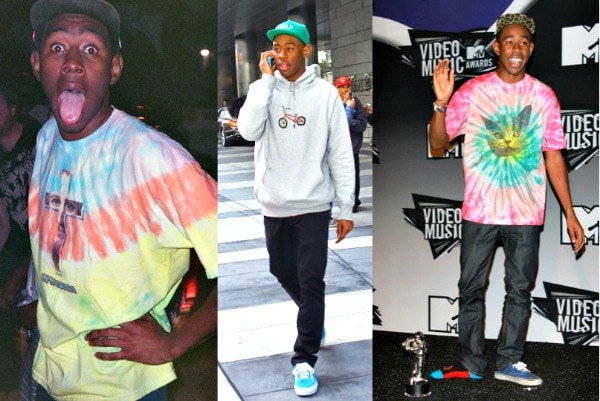 Photo Credits: 1. Wikimedia Commons 2. Pacific Coast News 3. Pacific Coast News
You might be wondering why Tyler, the Creator made it so high on our countdown. After all, the controversial singer dresses kind of like we might have in elementary school – that is, if our mom's didn't check us before we left the house. But, this is exactly why I think Tyler, the Creator has interesting style, and why he's inspiring kids to fearlessly be themselves.
Underneath the swear words, graphic imagery, and the occasional slur, the root message of most of Tyler, the Creator's songs is usually – believe it or not- kind of empowering. He talks a lot about being bullied as a kid for listening to jazz music, hanging out with "dorks," and wearing unusual clothes. Tyler, the Creator definitely has a — well — avant garde and sometimes offensive way of relaying his messages, but the intended meaning appeals to the "loner" in all of us.
When it comes down to it, Odd Future (the rap collective Tyler founded) is made up of "misfits" and by design appeals to other teenage "misfits."Oldie, the last track on Odd Future's latest CD, features many of Odd Future's members rapping on it (including another person on this countdown, Frank Ocean). Not only does the makeshift music video help exemplify the youthful, carefree, and fun energy of Tyler, the Creator and his friends, but the very last verse on the track features Tyler rapping about how thrilled he is by his success, obtained by following his dreams.
Tyler, the Creator's style features some of the same aesthetics as other people on this countdown, like Wiz Khalifa, Lil' Wayne, and Pharrell. Tyler's a skateboarder, and very much embraces that culture's way of dressing. Tyler knows how to rock flat bill baseball caps, tube socks with cut-off denim shorts, Converse All-Stars and Vans, skater shoes, Hawaiian and other bold-patterned button-downs, and tons of tie-dye. Tyler loves graphic t-shirts, both new and vintage. He's a fan of brightly colored socks and shoes, and mismatched patterns.
Tyler's quirky way of dressing inspired him to create his own clothing line, which you can purchase online or at his pop-up shop in Los Angeles. It's clear that Tyler, the Creator's style is heavily influence by non other than the king of looking fresh, '90s Will Smith.
Songs to check out:Yonkers, She (feat. Frank Ocean), Sam (Is Dead) (feat. Domo Genesis), Rella (feat. Domo Genesis and Hodgy Beats), Analog 2 (feat. Frank Ocean and Syd Tha Kyd)
6. LL Cool J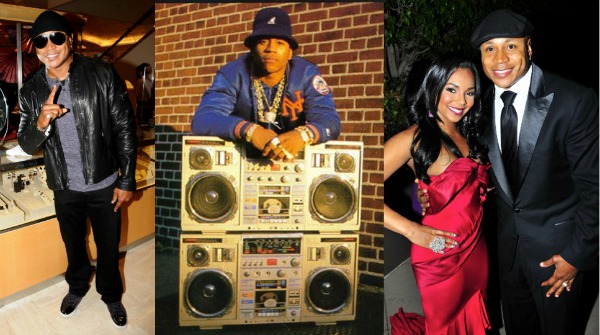 Photo Credits: 1. Pacific Coast News 2. Music Video Screen Clipping | Def Jam 3. Pacific Coast News
The Ladies Loved Cool James back in the nineties, and I can still think of plenty of reasons to love him today. LL Cool J burst on the music scene in the mid '80s and has been a mainstay ever since. With dozens of hit songs, a solid acting career, and even the occasional A-list hosting gig, LL still has it, and has had "it" for four different decades.
Remember those funny Adidas track suits that Ashton Kutcher and Sean William Scott wore in Dude, Where's My Car? We owe the popularity of those suits to none other than LL Cool J, who usually paired his with a Kangol bucket hat. LL wore Kangol bucket hats everywhere, from his music videos to live performances, even to pools and beaches!
LL Cool J was a big fan of layering large gold chains over his sports jerseys, varsity-style jackets, and hoodies. He was also a fan of denim jackets, colorful windbreakers, and leather jackets. As LL grew up, he shifted from his signature urban look to a more polished, tailored look. He's now known for his spiffy designer suits.
LL Cool J helped start several clothing lines over the years. In the '80s he worked behind the scenes with TROOP, and in the '90s he helped launch FUBU. Najee shoes and the Todd Smith clothing lines are both LL's own and he's also starred in several national ad campaigns over the years, including GAP.
Songs to check out:Mama Said Knock You Out, I'm Bad, I Need Love, and Around The Way Girl
5. P.Diddy / Diddy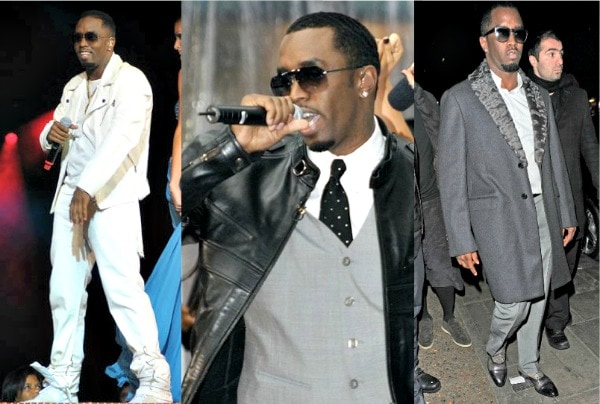 Photo Credits: 1. ELLE 2. Wikimedia Commons 3. Pacific Coast News
Sean Combs might change his stage name a lot (Puff Daddy, P.Diddy, and now just Diddy), but his style will remain iconic for generations. His style first came to our attention when he was the arm-candy of a stylin' Jennifer Lopez (remember that white bandanna look and the deep v outfit?), but Sean Combs' style is debonair all on its own.
Although Diddy got his start rapping, he's evolved his likeness into a multi-million-dollar brand, which includes music production, a record label, restaurants, acting, and even a successful clothing line. Diddy's now just as well known for his business ventures as he is for his hit singles. Diddy is even planning on opening a business school in New York! Diddy's clothing line "Sean John" is one of the first hip hop lines that received acceptance and praise from the high-end fashion world. He's also well-known for throwing a legendary annual "White Party" in the Hamptons, where fashionistas are required to wear an all-white wardrobe.
Diddy describes his personal style as "swagger, timeless, diverse." Although he wore much more casual outfits in the mid-'90s. Diddy has evolved to dress like the sophisticated businessman he's become. He's known for wearing immaculately tailored designer suits, interesting tie and vest combinations, unique jackets, and luxury shoes. Sean Combs' dresses in way that looks luxe, but not flamboyant, sort of like Don Draper on Mad Men.
Songs to check out: throwbacks like It's All About The Benjamins and Victory, and the newer Coming Home.
4. Will Smith / Fresh Prince

Photo Credits: 1 & 2: Fresh Prince promo materials, 3, 4, & 5: TV show screencaps
There's no bigger movie star in the world than Will Smith. He has the Midas touch when it comes to summer blockbusters, and can play any role from badass heroes to sensitive every-men with ease. Will Smith is a man of the people, and has become such a huge film star that it's easy to forget about his start as a rapper.
In the early '90s, popular rapper Fresh Prince (a.k.a. Will Smith) ran into a bit of financial trouble. To make some quick money, he agreed to star in a sitcom based on a fictionalized version of himself. His wardrobe on the show perfectly mirrored the rap persona he created for himself, creating a very mutually beneficial situation for both his acting and music careers. Will Smith's wardrobe during this particular time period is what earned him such a high spot on our countdown!
Bright colors, mixmatched prints, windbreakers, sports jerseys, baseball caps, and patterned button downs were all among the Fresh Prince's staples. The youthful energy of Will Smith's outfits reflected his childhood in Pennsylvania, and his fun and bouncy rap beats. He was a big fan of colorful high-top sneakers, ethnic prints, and even the occasional pair of overalls.
As he matured, his personal style did as well. Big Willie graduated to swaggy sunglasses, understated diamond jewelry, and classy dress shirts. Even today, you can always count on Will Smith (and his wife and kids) to be the best-dressed family on the red carpet.
Songs to check out:Summertime and Parents Just Don't Understand (both feat. DJ Jazzy Jeff), Miami, Gettin' Jiggy Wit' It, and of course, the Fresh Prince of Bel-Air Theme Song.
3. Nicki Minaj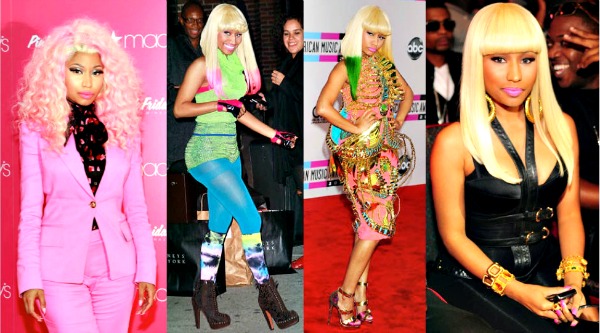 Photo Credits: 1. ELLE 2. ELLE 3. ELLE 4. ELLE
Nicki Minaj broke all the rules when she burst on the scene. Part Bratz doll and part Barbie, Nicki is as pretty as they come, and has an eccentric, candy-colored wardrobe to match her gorgeous face.
I can't be the only one who loved seeing Nicki on American Idol. It was fun seeing a sweet and funny side of her personality that you can't really see through her music videos. I've been watching AI since its inception, and I don't think I've ever seen a judge that made me laugh as hard.

Nicki Minaj would never leave the house in a pair of sweats – or even jeans for that matter! She's lives in synthetic materials, pastel and day-glo bright colors, and the craziest wigs you can imagine. Nicki's not afraid to mix prints, or wear something completely confusing and wild for the sake of causing a scene. She's talked on Fashion Police about sometimes intentionally shooting for the worst dressed list! Her ballsiness on the red carpet is what earned her the number 3 spot on our list.
Songs to check out:Super Bass, Fly (feat. Rihanna), Moment 4 Life (feat. Drake), and Starships
2. Kanye West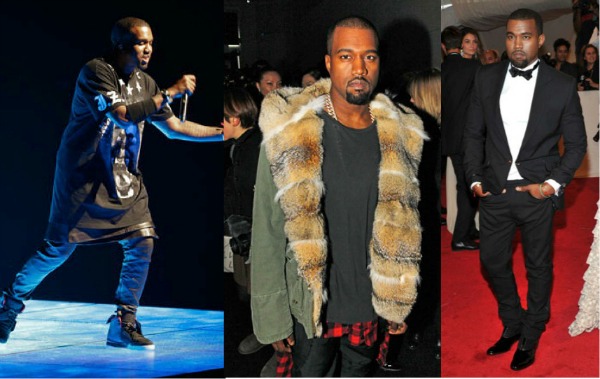 Photo Credits: 1. ELLE 2. ELLE 3. ELLE
It should come to no one's surprise that Kanye West earned this spot on our countdown. Kanye takes his personal style and business dealings in fashion very seriously. He's paired up with countless haute couture houses to design collaboration lines. He's designed shoes for Louis Vuitton, Nike, Giuseppe Zanotti, and BAPE. The Olsen twins, Jeremy Scott, Azzedine Alaia, and Olivier Theyskens all showed up to his first Fashion Week fashion show to support his self-designed women's line. Kayne has even interned at various fashion houses to hone his new craft!
Kanye's personal style is eccentric to say the least. He's bold enough to wear fur, blouses, leather skinny jeans, and even the occasional kilt. What's amazing is, even though Kanye wears some very flamboyant pieces, he does so in a way that still looks masculine. I love androgynous looks, but Kanye somehow doesn't evoke those vibes at all, while another person wearing the exact same outfit totally would. It's why we love his style!
Songs to check out:See You In My Nightmare (feat. Lil Wayne), Gold Digger, Heartless, Love Lockdown, POWER, Can't Tell Me Nothing and Flashing Lights
1. Andre 3000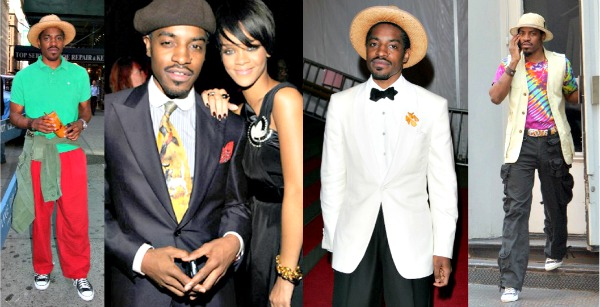 Photo Credits: 1. Pacific Coast News 2. ELLE 3. Pacific Coast News 4. Pacific Coast News
Esquire calls Andre 3000 the "Best Dressed Man in the World." That may seem just a tad hyperbolic — that is, until you take one look at Andre 3000's outfits.
Andre 3000 (born Andre Lauren Benjamin) is one half of the hip hop duo OutKast, and grew up in Atlanta. His southern roots are apparent in his style, which is reminiscent of a throwback southern gentleman. He's often seen wearing well-tailored chinos, vests, bow ties, suspenders, and loafers. He has a penchant for pastel colors, tweed textures, artfully mixing patterns, and putting fresh yet elegant spins on a classic suit. It's fascinating to me that Andre 3000 can dress so eccentrically, yet look so polished and classic. Andre pretty much always looks like he walked straight out of a J.Crew catalog!
Perhaps Andre 3000's most signature look is his huge collection of hats. Andre has been seen in every kind of hat imaginable, from newsboys to fedoras, and even fez and safari-styled hats, and pulls them all off with ease.
Additionally, he founded a clothing line called Benjamin Bixby, which has a Southern retro vibe. According to Andre, the entire line is inspired by collegiate football circa 1935. Andre 3000's style breaks the mold of typical hip hop and rap artists' wardrobes, but is insanely unique, appealing, and interesting. That's why he had to be #1.
Songs to check out:Roses, Hey Ya!, Ms. Jackson, B.O.B., and So Fresh, So Clean
What Do You Think?
Do you listen to rap and hip hop music? Who are your favorite rap artists? Whose style do you admire most? What other lists would you like to see CF count down? Leave a comment and contribute to the conversation!