This post may contain affiliate links, which means we may receive a commission if you purchase through our links. Please
read our full disclosure here
.
It's Thursday, and time for another countdown! Although we've stuck to top 10 countdowns the last few weeks, this next category had so many awesome candidates that I had to up the number to 20. So this week and next, we're covering the 20 most stylish rappers.
Rap and hip-hop music has been a mainstay in American pop culture for decades. I love the creative lyrics, plays on words, and fun dance beats of a great rap song, but I'm also intrigued by rappers themselves. They put so much of their own personality into their rhymes that I always want to learn more about who they are and where they came from.
First: The Criteria
One thing I love about musicians is the unique look they each develop to express themselves. For this countdown, I ranked artists based on a few things. First of all, the creativity, fashion, and overall aesthetic of a hip hop artist's look was accounted for. But more than that, I examined the strength of the unique look that they've created for themselves.
Style is more than about having awesome clothes and cool outfits — it's also about creating a look that distinguishes yourself from the pack, and makes you immediately recognizable. Therefore, I tried to include a fair mix of both kinds of "good style" in this list.
And, without further ado, here's the the first part of our countdown:
20. Iggy Azalea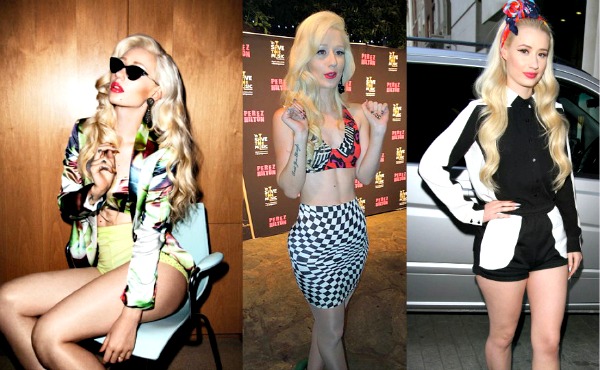 Photo Credits: 1. ELLE 2. Wikimedia Commons 3. Pacific Coast News
When one thinks of great rappers, "Australian" and "female" just aren't two words that usually come to mind. Iggy Azalea, however, wasn't created to fit into any of society's molds.
Iggy Azalea ran away from home and moved to America at the age of 16. Tupac Shakur inspired her to begin rapping, and she thought that the USA was the best place to pursue a hip hop career. Right around the time her mixtapes gained some traction, Iggy's modeling career took off as well. As of 2012, Iggy has been the face of both Levi's and House of Holland. Iggy's love of fashion is evident in her rhymes — her rap songs notably name-drop huge fashion names like Christian Louboutin and Louis Vuitton.
Bright colors, bold prints, body-con tops and skirts, and insanely tall high heels define Iggy Azalea's fashion must-haves. She's also a big fan of retro-style hairdos and animal print. In interviews, she's stated that for style inspiration, she looks to Gwen Stefani, the Spice Girls, Grace Kelly, and even Fran Drescher as the Nanny! Iggy Azalea combines old-school elements with funky, trendy pieces to create a bold, eccentric, and slightly retro look that's reminiscent of both Katy Perry and Gwen Stefani.
Iggy Azalea's willingness to set new standards and chic looks on the red carpet land her the number 20 spot on our countdown.
Songs to check out:Work, My World, The Last Song
19. Eminem
Photo Credits: 1. Pacific Coast News 2. Wikimedia Commons 3. ELLE
I still remember when Eminem's first album hit stores. I think I was in 5th grade, and only one kid in my neighborhood had parents who actually bought the CD for him. We all crowded in his room and listened to "The Real Slim Shady" and "My Name Is" as if they were the most important and sacred messages of the time. Fifteen years later, I am totally impressed at Eminem's staying power and influence in the genre. Eminem is unique, not only in his music but in the iconic way he presents himself.
Sweatpants, oversized hoodies, plain t-shirts, flatbills, chunky necklaces, and tennis shoes aren't exactly things I'd consider fashionable, but Eminem utilized them to create an image of himself that's immediately recognizable. Among Slim Shady's other signatures are his thin gold hoop earrings, his platinum blonde buzz-cut hair, and of course, the (real or contrived) scowl on his face.
One of Eminem's most iconic looks is the baggy jeans, white tank, and wallet chain look he rocked for his MTV Award performance of "The Real Slim Shady." I was very young when that aired, but the image was so powerful that I'll never forget it!
Songs to check out: throwbacks like Lose Yourself, The Real Slim Shady, My Name Is, and Without Me, and newer songs like Not Afraid, No Love (feat. Lil' Wayne), and Love The Way You Lie (feat. Rihanna)
18. Drake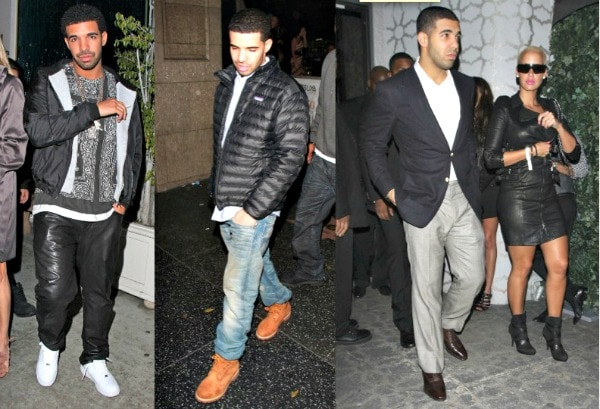 Photo Credits: Pacific Coast News
Aubrey Drake Graham (better known as just Drake) got his start as Jimmy on Degrassi: The Next Generation. Since then, he's become an international superstar known for both his singing voice and his rhymes. I love the "cool guy" vibe he brings to things. Drake is laid-back and seems like he'd be someone you'd want to hang out with in real life!
Drake taps into his start on a high school TV drama by channeling a sort of athletic, all-American vibe in many of the outfits he wears. Drake's been known to wear letterman cardigans, varsity jackets, pastel-colored polos, clean tennis shoes, North Face rain jackets and down vests, and classy, tailored separates. He's also great at mixing in unexpected extras, like hiking boots or silk scarves.
Songs to check out: Find Your Love, The Motto (feat. Lil' Wayne), Best I Ever Had, Headlines, Over, and Underground Kings
17. Frank Ocean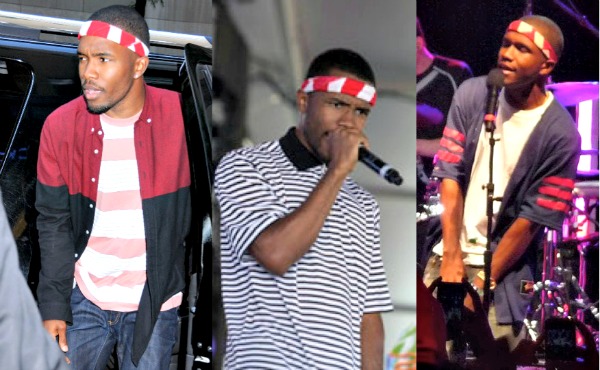 Photo Credits: 1. Pacific Coast News 2. ELLE 3. Wikimedia Commons
Frank Ocean took the music industry by storm when he was heavily featured on Kanye West and Jay Z's "Watch The Throne" album. As a member of hip-hop collective Odd Future, Frank already had a very loyal underground following previous to that exposure. His musical crescendo took place when his debut solo album "Channel Orange" was released last year to high critical acclaim.
Frank's songs are sensitive, beautiful, and feature both his ability to rap and sing gorgeous R&B melodies. Frank also caused a media frenzy last year when he shared with the world that he is gay. As one of the first openly gay hip hop artists, Frank has been praised by many for his bravery and honesty.
Frank Ocean is also brave when it comes to fashion. He's been known to rock grandpa cardigans, button-down patterned shirts, vintage t-shirts, and even thick-framed nerd glasses. Frank Ocean artfully mixes prints, often pairing striped or polka-dot dress shirts with camouflage pants. While he still borrows many "California Casual" elements from Tyler The Creator and the Odd Future clothing line, Frank dresses it up with tailored chinos and clean Chuck Taylors.
Frank's style signature is definitely his red and white striped bandanna that he wears around his head during live performances (including the Grammys). This simple piece helps people who aren't as familiar with Frank or his music recognize him instantly on television.
Songs to check out:Super Rich Kids (feat. Earl Sweatshirt), She (with Tyler the Creator), Forrest Gump, Bad Religion, Ya Know (with Syd Tha Kyd), and No Church In The Wild (with Kanye West and Jay Z)
16. Jay Z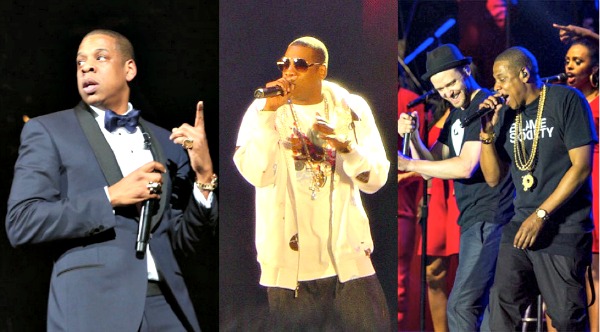 Photo Credits: 1. ELLE 2. Wikimedia Commons 3. ELLE
You knew HOVA had to make this list. From his catchy songs to his sharp business sense and stunning wife and baby, Jay Z (who recently dropped the hyphen) is a trendsetter in pretty much every facet of life.
What I love most about Jay Z's look is how seamlessly he blends casual street looks with classic and tailored formal attire. He pairs designer suits with flatbilled hats. He dresses up track suits with chunky, fancy jewelry. When he's doing something super fancy (you know, like meeting the President or signing dozens of awesome athletes to his new agency) Jay Z looks dapper and flawless in crisp black and white Tom Ford suits, but the very next day the paparazzi will catch him toting his daughter Blue Ivy around in a hoodie, clean Nikes, athletic pants, and aviators.
Songs to check out: throwbacks like Change Clothes and Izzo (H.O.V.A), newer songs like Empire State of Mind (feat. Alicia Keys), and Made in America (with Frank Ocean and Kanye West), and, of course, his latest single Tom Ford, a must for any fashionista's playlist
15. MC Hammer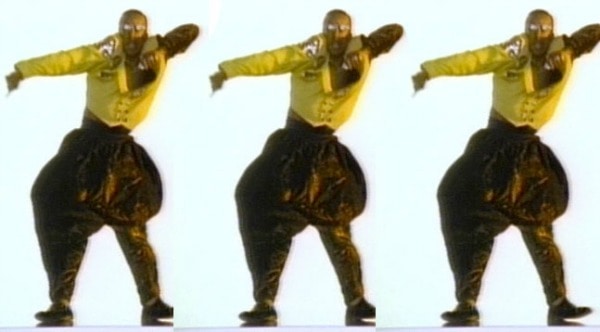 Photo Credit: U Can't Touch This Music Video Screen Capture
We've all wrestled with the concept of harem pants. I regularly have debates with myself and others on the practicality — and uh, flatter quotient — on these babies. Sometimes they're super comfortable, but sometimes they bunch around your butt like a diaper. Sometimes they look chic and slimming, other times, the drop-waist hits your knees and makes you look like a flashy penguin. Harem pants are super tricky!
We mostly owe the concept of baggy, tapered pants to none other than MC Hammer. While I salute him for the way he styled his parachute pants (a cropped, fitted jacket and flats? Genius!), I mostly blame him for introducing this impossible pair of pants to the masses. Regardless, culture embraces this iconic look and catchy song for the long haul. U Can't Touch This was one of the biggest rap songs of the '90s, and his pants are practically synonymous with MC Hammer's legacy.
Song to check out: MC Hammer was pretty close to a one-hit wonder, so you'll definitely have to listen to U Can't Touch This to catch his vibe.
14. The Beastie Boys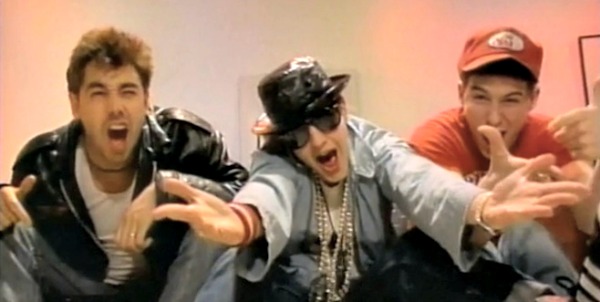 Photo Credit: Fight For Your Right Music Video Screen Capture
I'm a total Beastie Boys fangirl, and I'm not afraid to admit it! Next time you're looking for some great pump-up music for a workout or even a fun night on the town, look no further than the Mike D, Ad-Rock, and the late MCA. An absolute phenomenon in the '90s, these boys had fun, carefree personalities – and crazy catchy songs – that resonated with millions of suburban kids.
In the '90s, the Boys were known to wear acid-ashed jeans, white sneakers, leather jackets, plastic sunglasses, baseball caps, colorful windbreakers, and tube socks. They also loved aviator sunglasses, track jackets, chambray tops, and those silly color-block collared shirts that moms made the boys in your elementary classes wear. There's no doubt that the Beastie Boys made quite an impact on '90s fashion – just check out old school Nickelodeon shows like All That or Pete and Pete to see what I mean!
Songs to check out:Intergalactic, Sabotage, Ch-Check It Out, Brass Monkey, No Sleep 'Til Brooklyn, and (You've Gotta) Fight For Your Right (To Party)
13. Snoop Dogg / Snoop Lion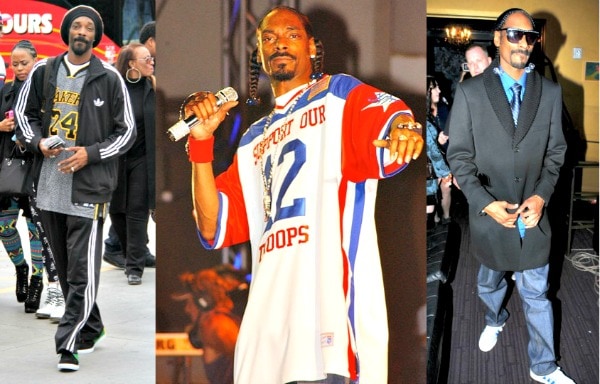 Photo Credits 1. Pacific Coast News 2. Wikimedia Commons 3. Pacific Coast News
Snoop Dogg (AKA Snoop Lion) has been around since I can remember. He's been cranking out number one hits and sweet collaborations for over twenty years now. Even today, Snoop is just as much of a player in the industry now as he was when he first hit the scene.
Snoop has a penchant for oversized everything, as you can see in the above photos. He also helped popularize matching jacket, pant, and hat sets. He's a fan of blingy jewelry ("ice", as we like to call it), fedoras and feathered brimmed hats, doo-rags, and loud ties and scarves. Of course, we can't forget about his signature braided hairstyle.
Another cool look that Snoop embraces is a midwestern working class aesthetic that became popular in the mid 2000's. He's been seen wearing Dickies workshirts and onesies, Converse All Stars, and tan work boots. These provide a nice balance when compared to his more spiffy, "zoot suit" look he's most famous for.
Songs to check out:Drop It Like It's Hot, Gin and Juice, Beautiful (feat. Pharrell), and Young, Wild, and Free (feat. Bruno Mars and Wiz Khalifa)
12. Lil' Wayne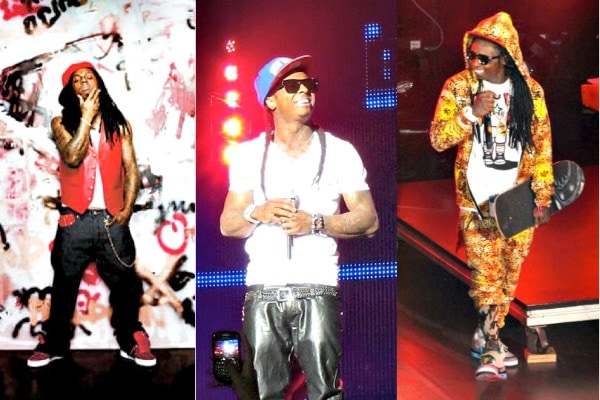 Photo Credits: 1. ELLE 2. Wikimedia Commons 3. Pacific Coast News
Okay, so I realize that many of you wouldn't exactly consider Lil' Wayne a fashionista, but you can't deny that he has a signature look that he rocks the heck out of. Decades from now, Lil' Wayne's ensembles will surely define an entire era of music.
Weezy is known for his flashy grills, tube socks, baggy shorts, loud patterned hoodies, and his signature dreadlocks. Lil' Wayne is credited for popularizing huge diamond necklaces, flatbill caps, and the rise of designer hoodies. Rap music isn't traditionally associated with skate culture, but Lil' Wayne was a very strong influence in hip hop's recent trend to embrace skateboarding and surf-style clothing and aesthetics. He often wears bulky skater shoes, saggy pants, and white under-shirt tanks, and always flaunts his many tattoos with pride.
Songs to check out: Let The Beat Build, Right Above It (feat. Drake), Lollipop, Prom Queen, A Milli, and The Sky Is The Limit
11. Wiz Khalifa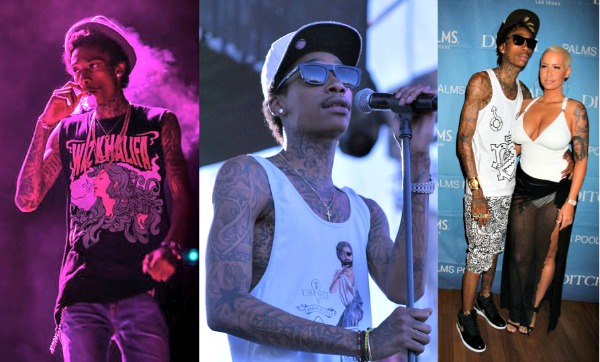 Photo Credits: 1. Wikimedia Commons 2. Wikimedia Commons 3. Pacific Coast News
Although Wiz Khalifa is relatively green to the rap and hip hop world, he's already made a permanent mark on the industry. With numerous number one hits and a much-publicized marriage to fashion model Amber Rose, it's evident that Wiz is here to stay.
Wiz Khalifa's style is interesting because it draws both from his hometown of Pittsburgh and the carefree vibe of Los Angeles. The way he looks is almost a throwback to Jimi Hendrix in the 1960s. He's known to rock fedoras, tank tops, vintage t-shirts, Converse All-Stars, and scarves or bandanas around his neck.
Like Lil' Wayne and the Odd Future boys, Wiz Khalifa embraces skateboarding style, and is sometimes seen in skater shoes, hoodies, and patterned button-down shirts. Wiz embraces patterns, and isn't afraid to mix prints. He's also been seen in cut-off and cargo shorts, camouflage pants, and skinny jeans.
Wiz Khalifa's most prominent feature is the collection of tattoos that almost cover the top half of his body. It gives him a look that is completely his, and looks particularly unique when combined with surfer tank tops, hipster scarves, and fedoras. He totally owns his unorthodox look, which lands him the number eleven spot on our list.
Songs to check out:Black and Yellow, Payphone (with Maroon 5), Paperbond, We Own It, Say Yeah, and No Sleep
Want More?
Want to see the top 10? Check out part 2 of this list right here.
What Do You Think?
We've shared some of our favorites, and now we want to hear yours. Do you listen to any of the artists we listed above? Who do you hope makes our top 10 list next week? What other lists would you like to see CF countdown? Leave a comment and contribute to the conversation!