This post may contain affiliate links, which means we may receive a commission if you purchase through our links. Please
read our full disclosure here
.
Everyone has those days when you wake up and don't want to go to class… Or even get up at all. Too often, it takes me until 8:20am to convince myself to abandon my fuzzy blanket and make myself almost presentable. (I have class at 8:30am so… yeah, it's bad.)
At the same time, I know I feel my best when I dress my best, and looking more put-together often leads to me acting more put-together. A well-coordinated outfit works wonders for my mood; I feel more charismatic, I smile more, I become more outgoing, I say hi to people I don't know. You know what they say: Dress to impress and you will.
Obviously, these two states of mind don't go together too well. Every morning you need to choose between dragging yourself out of bed to get ready, or hitting the snooze.
…Until now!
Readers, let me introduce you to my new BFF (best fashion friend), the blanket poncho.
No lie, wearing this is like wearing a Snuggie to class. It's like you just couldn't leave your blanket behind this morning and figured you'd bring it with you. Except you still look incredibly stylish and on-trend, even more so due to the boho '70s craze.
Not sure how to style a blanket poncho? I've got some outfit inspiration for you below:
Outfit 1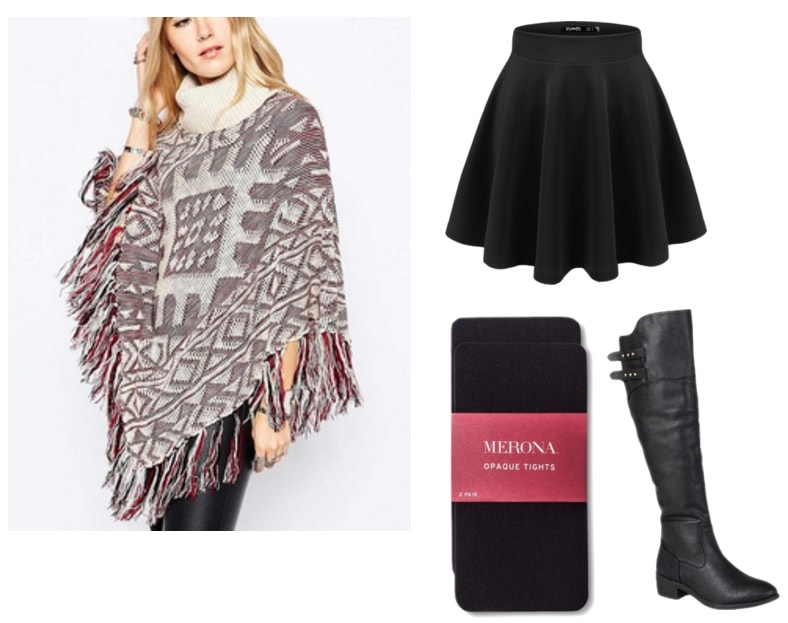 Products: Poncho | Skirt | Tights | Boots
This simple outfit basically replaces your usual oversized sweater with a blanket poncho. Start with a thick poncho and tights for extra warmth. Pull on a basic black skirt, but don't tuck in the poncho – let it flow for that breezy hippie look that's so sought after right now. Add knee high-boots in a black or brown hue to keep it comfortable and casual.
Outfit 2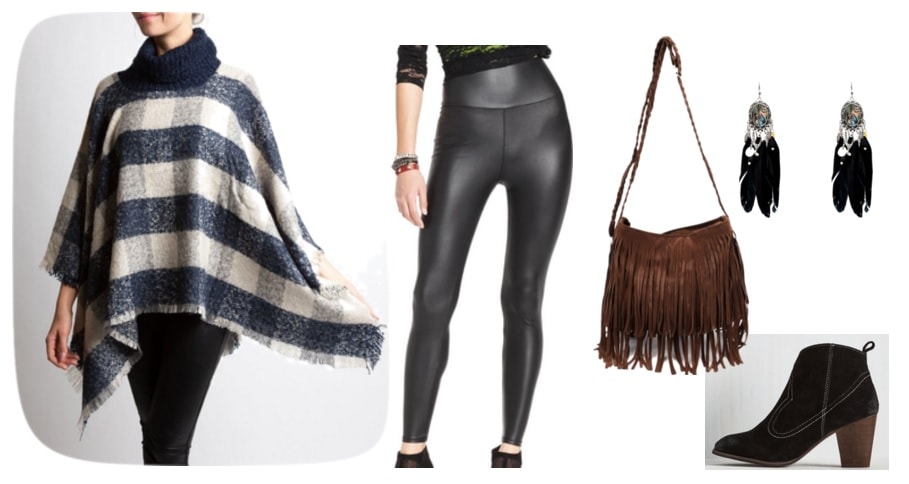 Products: Poncho | Leggings | Booties | Bag | Earrings
This is a slightly dressier option for your poncho. Pleather leggings are comfortable while still looking polished. Wear those with some suede booties for a texture contrast. A brown messenger bag will carry your essentials like your wallet, keys, and ID, while making a statement with the fringe. Wear your hair up in a bun to show off these cute feather drop earrings.
What do you think?
How do you find a balance between comfort and style? Are you going to give the blanket poncho a try? Let us know in the comments below!