This post may contain affiliate links, which means we may receive a commission if you purchase through our links. Please
read our full disclosure here
.
Now that summer is in full swing, it's time to break out my favorite accessory: sunglasses! Often wrongly ignored, sunglasses can really change the feel of a look and they're great because they're both practical and fashionable. Plus, they come in countless styles which means that you can always find a pair that suits your personal taste!
Today, I've styled three trendy pairs of sunglasses into three pretty summer outfits. They all include sunglasses under $20 because you don't have to splurge to get a trendy look. Also, if you're like me and can't seem to get through the season without breaking at least one pair, the low price tag will take the sting away.
Learn how to wear summer 2016's hottest sunglasses below:
Look #1: Trendy Round Shades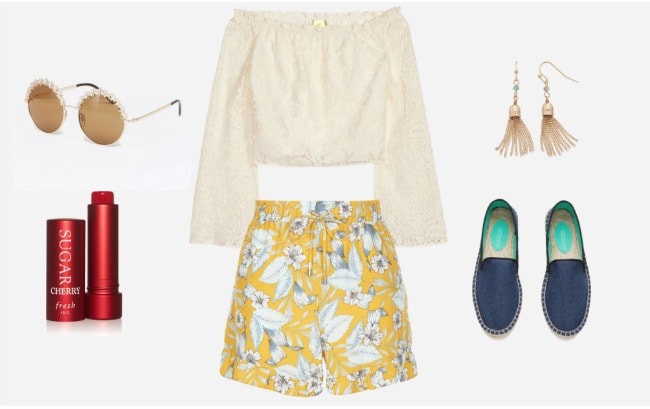 Products: Sunglasses, Blouse, Shorts, Shoes, Earrings, Lip Color
For this first look, I was heavily inspired by the '70s bohemian feel of these round frame sunglasses. The lace off-the-shoulder top is quintessentially boho, as are these flowy printed shorts. The espadrille flats are so summery and their denim fabric sets them apart from the pack. I finished the outfit with a pair of dangly earrings – also very '70s – and a subtle red lip.
Look #2: Classic Square Shape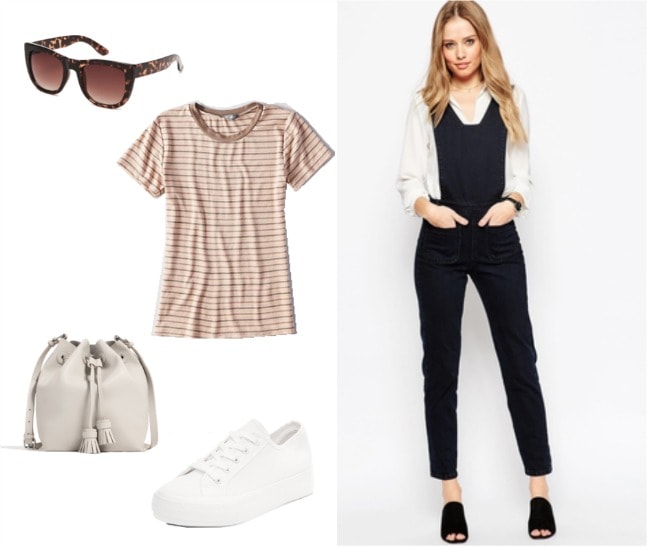 Products: Sunglasses, Overalls, T Shirt, Sneakers, Bag
Now for a classic: Slightly square, Wayfarer-style shades are always summer favorites and they look great on everyone. I paired these classic sunglasses with a trendy outfit to create some balance.
For this look, I went with overalls as the main statement piece, since they're a huge trend this summer. I added a neutral t-shirt to go underneath them and keep the color palette simple. I finished the outfit off with a pair of fresh flatform sneakers and a bucket bag for a fun touch.
Look #3: Funky Aviator Glasses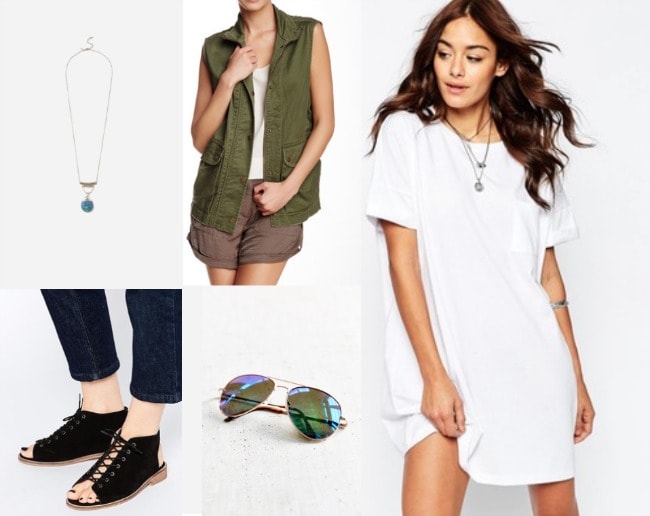 Products: Sunglasses, Dress, Vest, Shoes, Necklace
For this final look, we're styling up some aviators with colorful reflective lenses, a cool and trendy twist on a classic style. I paired them with a simple white t shirt dress and vest for some relaxed, summer-appropriate layering. I finished the look off with a pair of funky sandals and a necklace that complements the glasses.
What do you think?
Do you use sunglasses to accessorize or do you look at them as practical necessities? What's your favorite shade style? Do you follow the trends or stay with a more classic shape? Let me know below!