This post may contain affiliate links, which means we may receive a commission if you purchase through our links. Please
read our full disclosure here
.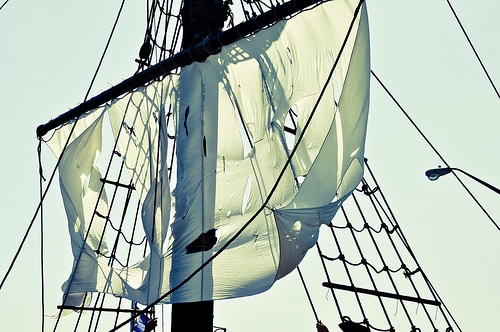 Summer is the perfect time to have a little adventure in your life and switch up your style, using unexpected sources as inspiration. While the phrase "pirate style" may bring to mind tacky, over-the-top costumes or Cara Maria from MTV's The Challenge, the aesthetic we're talking about today is all about combining summer's boho and nautical trends for a fun, adventurous look.
Don't believe it's possible to go "pirate-inspired" without looking costumey? Read on; we'll prove it.
Boho/Nautical Style Tips:
As we stated earlier, you don't want to go all costumey when getting dressed in the morning… it's really all about those subtle hints of inspiration. (Think a hint of lace, a stripe or two, a skull-embellished ring or a headscarf… and not necessarily all at once.)
Combining these two trends is easy when you utilize accessories – why not mix a studded ankle bootie with a lace top, or add a handful of bangles to an otherwise preppy striped ensemble? So long as you keep the proportions in balance, you'll look fashion-forward and unique, not over-the-top.
Crocheted tops and denim cutoffs are the easiest ways to start off with this type of look. Layer on some bangles and necklaces and you're good to go!
Outfit 1: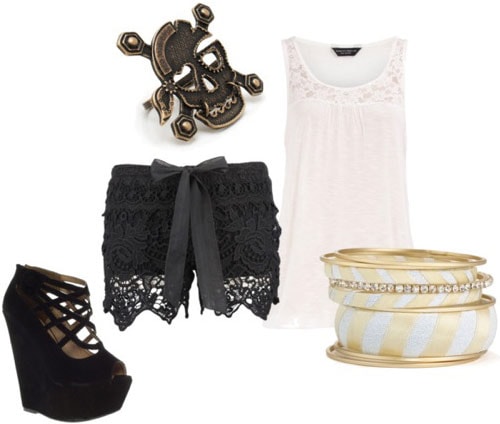 Shirt, Shoes, Shorts, Bracelets, Ring
This first outfit is flirty, mixing boho basics with edgy accessories. Find some black lace shorts and pair them with a flowy white tank. Add some killer wedges and some striped bangles (along with a pirate-inspired ring) and you're set for a night out on the town.
Outfit 2: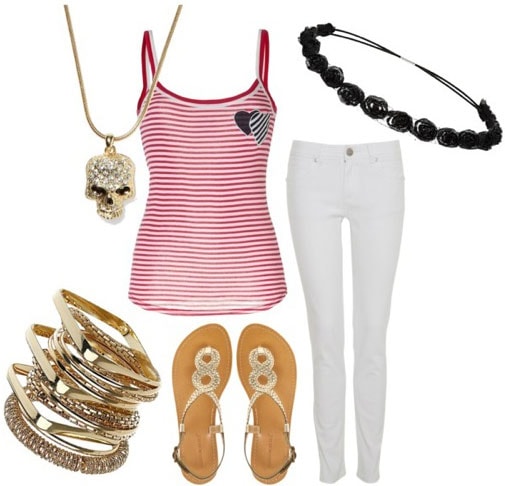 Shirt, Pants, Sandals, Bangles, Headband,Necklace
Find a cool nautical striped tank (preferably in red or navy blue) and pair it with some white skinnies to keep it light for spring. Add some gold sandals and pile on the gold bangles to get that boho look. Finally, the skull necklace is a great conversation piece to add to your collection!
Outfit 3: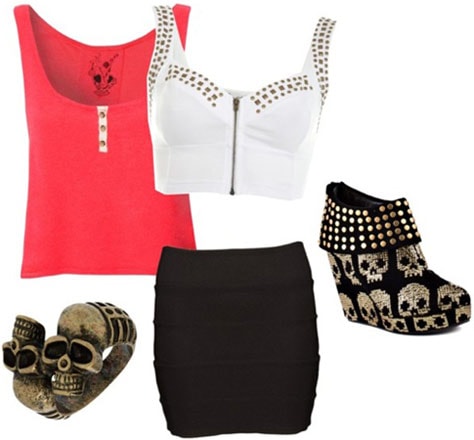 Skirt, Bra/top, Tank, Shoes, Ring
This last look is the edgiest of the three and perfect for a night out! Red, black, white, and gold form a classic color combination that channels the nautical trend. For edge, pair a black bandage skirt with a studded bra-let and a flowy red tank top. Add a skull ring and some skull wedges to finish the ensemble. (Although they're super spendy at $100, I LOVE these wedges and couldn't resist!)
Your thoughts?
Do you like to mix trends to create new looks? What do you think of "pirate-inspired" nautical boho? Let me know if you would try this look or if it's too overboard for you.