This post may contain affiliate links, which means we may receive a commission if you purchase through our links. Please
read our full disclosure here
.
Photos: Pacific Coast News
I know, I know — right now, we're all experiencing Kardashian overload. In fact, if I hear one more person mention something about Kim, positive or negative, I just might punch myself in the face. Despite these sentiments, I kontinue to dedicate my Sunday nights to katching the latest episode of Keeping Up With the Kardashians, Khloe and Lamar, Kourtney and Kim Take New York, etc. Konsider it at hostile takeover of my konscience — I kind of hate myself for it, but I just kan't get enough of the Kardashians!
I'll be honest — my addiction to these shows is solely because I love watching Khloe and surprisingly, Scott Disick. I've enjoyed seeing him start out as the bratty and wild boyfriend of Kourtney, and evolve into the funny, quirky, and relatively sane character he is today. In addition to his hilarious one-liners (did anyone else catch him quote Home Alone in the first episode of KKTNY?) Scott also has a fierce sense of style — which is something we can all appreciate, regardless of how we feel about the show itself.
Today, we're breaking down Scott's colorful, preppy, and classic sense of style. Read to rock his look? Read on!
(For more posts on stylish men, check out our blogs on Mick Jagger, Freddie Mercury, Andre 3000, Kurt Cobain, Michael Jackson, Seth Cohen from the O.C., Johnny Depp, Kanye West, and David Bowie.)
Photos: Pacific Coast News
It's no surprise that Scott's family is from the Hamptons. Despite living in California, Scott still dresses like he's always on his way to a blue-blood country club — but in a really good way! Scott is a fan of pastel colors, polo and oxford-style shirts, printed pants, patterned jackets, and loafers.
Scott, like many of the other stylish men we've profiled, knows how to utilize accessories to give himself a distinctive look. Scott's favorite pieces are his gold watch, brown leather belts, and Ray Ban wayfarers.
Scott might be the only person in California that rocks the ole' sweater-tied-over-your-shoulders look and slicked-back hair… and we love it. His true signature, though, is his collection of eccentric suits, complete with fancy cuff links, mixed patterns, and pocket squares galore.
I realize that wearing a paisley printed suit might be a bit much for your 10:30 history class, but don't worry — I've worked his look into some campus-friendly outfits. Ch-ch-check them out below!
Outfit Inspiration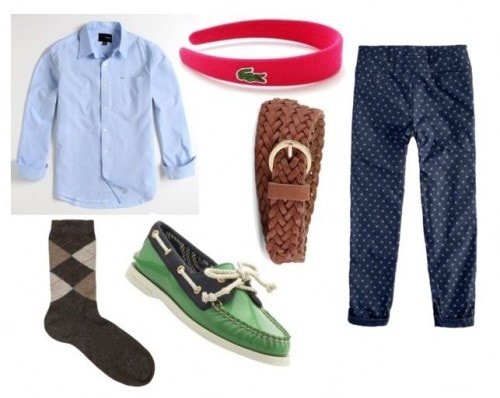 Shirt, Headband, Pants, Belt, Socks, Shoes
Start with a fun pair of preppy, printed pants, and pair them with argyle socks and boat shoes for a taste of New England prep style. (Or lose the socks and try cuffing your pants!) Add your favorite classic button-down shirt, a brown belt, and a preppy headband – Lacoste headbands like this one are only $15 most places and are super popular at my college!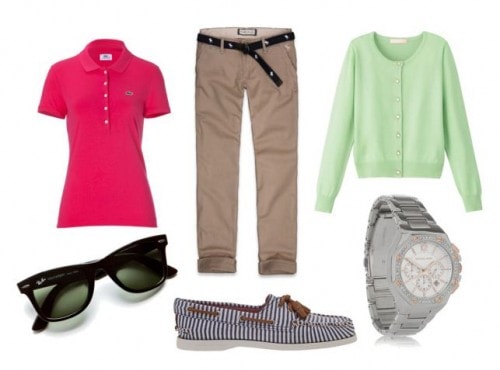 Polo, Pants, Cardigan, Sunglasses, Shoes, Watch
This outfit might remind you of something your wore in high school — at least, it does for me! What makes it interesting and stylish, though, are the bold color combinations and little quirks you'll add to the basic khakis/polo/cardigan outfit. Try rolling the cuffs of the pants, tying the cardigan around your shoulders, or adding a loud pair of shoes. Finish with two of Scott's signature accessories — a watch and a pair of wayfarers!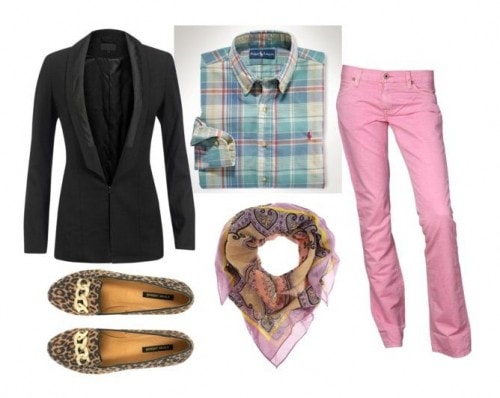 Jacket, Shirt, Pants, Scarf, Shoes
This look screams "Scott Disick!" Scott has the kind of swagger that lets him get away with wearing a plaid shirt, paisley scarf, and leopard shoes at the same time, and if you have confidence, you can pull it off too! This look works because the main pieces in the outfit — the pink pants and black jacket — are simple and chic enough to go with everything.
What Do You Think?
Are you addicted to the Kardashians, or are you ready for them to disappear? Who is your favorite "Kardashian?" What do you think about Scott's style? Do you like any of the other Kardashian's style? Who else would you like to see CF cover? Leave a comment and tell us how you feel!