This post may contain affiliate links, which means we may receive a commission if you purchase through our links. Please
read our full disclosure here
.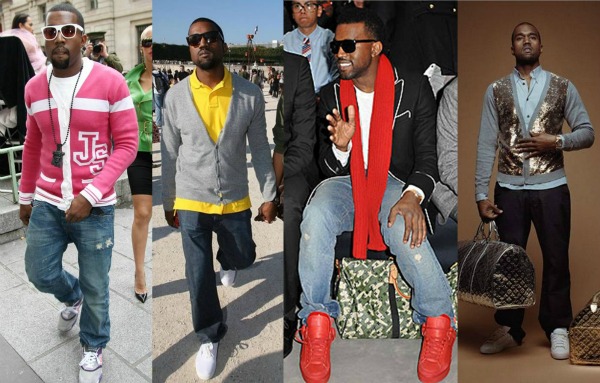 Kanye West is known for taking risks, both in the music world and his fashion choices — making him the perfect subject for this week's Stylish Men post!
Kanye got his start as a producer, and soon ventured into rapping and singing on tracks of his own. Today, he frequently collaborates with other A-list singers, and always seems to have a song on the charts or be making an appearance at an award show.
Kanye is also very into fashion – he has collaborated with Nike and Louis Vuitton to create shoe lines, and premiered a line of women's clothing at last fall's Paris Fashion Week to an audience including the Olsen twins, Azzedine Alaia, Olivier Theyskens and Jeremy Scott. Kanye takes his fashion career very seriously, and even applied for internships with various fashion houses in Paris when he was starting out!
Kanye might just be getting his sea legs as a designer, but we can take cues from his personal style no matter what the season is! Read on!
(For more in our Stylish Men series, see our posts on Mick Jagger, Freddie Mercury, Andre 3000, Kurt Cobain, Michael Jackson, Seth Cohen from The O.C. and Johnny Depp).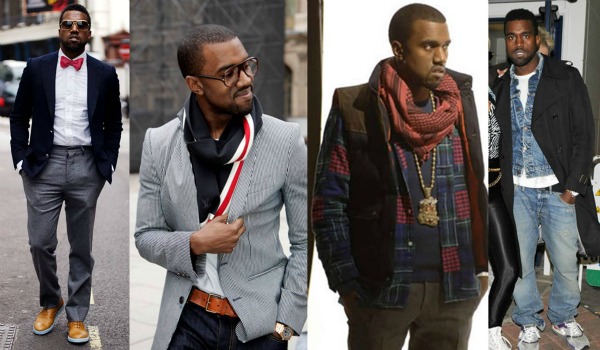 Kayne's style is very classic and pulled together. He's known for combining basic pieces, but adding a touch of flair, like a whimsical necklace or a loud pair of Nike Dunks. He likes preppy staples, such as cardigans, polos, loafers, and anything seersucker. You can catch Kayne in other closet staples such as medium and dark-wash jeans, blazers, trench coats, and denim jackets.
Kayne sees everyday pieces as opportunities to express himself. That's why he frequently wears logo graphic tees, and the flashiest pairs of sneakers around!
Most of all, Kanye West (like many of the other stylish men we've covered) rarely leaves the house without completing his outfits with a few accessories. He is often seen wearing statement necklaces, scarves, flashy watches, and sunglasses.
Need more ideas to get you started? We've got you covered!
Outfit Inspiration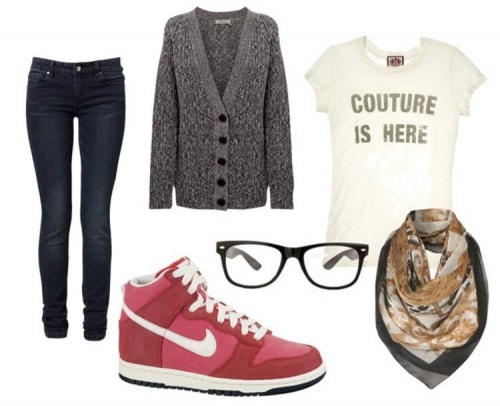 Jeans, Cardigan, Shirt, Shoes, Glasses, Scarf
This look would be really simple to recreate using things you probably wear every week! Take your trusty skinny jeans and pair them with a graphic t-shirt. Then add a thick cardigan and a scarf to help you stay warm. Finish the outfit with a pair of pumped-up kicks and glasses if you have them!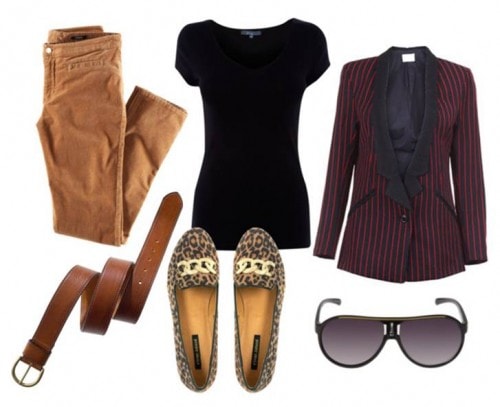 Pants, Shoes, Belt, Shirt, Jacket, Sunglasses
This outfit is a little more out there, but definitely something I could see Kanye West wearing! Basic khaki pants and a black t-shirt make a solid base to pair a loud tuxedo jacket with. Accessorize with leopard print loafers, a simple belt, and aviator sunglasses.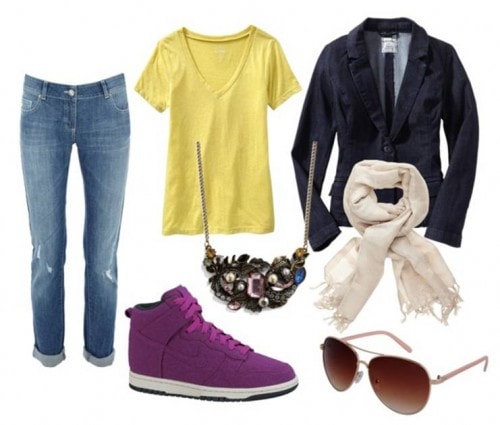 Jeans, Shirt, Jacket, Shoes, Necklace, Scarf, Sunglasses
Kanye West has been known to rock the dreaded double denim to perfection. The trick? Wear contrasting shades of blue! Pairing this combo with a v-neck and your favorite pair of sneakers will look cool, but by adding a statement necklace, simple scarf, and sunglasses, your ensemble will become completely unique.
What Do You Think?
Do you listen to Kanye West's music? What do you think about his style? Did you like his fashion line that debuted last season? What other stylish men would you like to see us cover? Leave a comment and tell us what you think!