This post may contain affiliate links, which means we may receive a commission if you purchase through our links. Please
read our full disclosure here
.
There's nothing more refreshing (or rare!) than a masculine guy with a unique sense of style. We've covered Freddie Mercury and Mick Jagger, but this week's subject is none other Andre 3000, dubbed the "Best Dressed Man in the World" by Esquire. At first glace, that statement might seem a little extreme (I mean, the best dressed guy in the whole world?) but after spending hours pouring through pages and pages of his eclectic, colorful, and vintage-inspired wardrobe, I can't help but agree 100%.
Andre 3000, born Andre Lauren Benjamin, is one half of hip-hop duo OutKast. Not only does he rap, write songs, act, and produce, but Andre is also an advocate for animal rights and a successful entrepreneur. His unique style, influenced by southern gentlemen from his hometown of Atlanta, Georgia, helped him launch Benjamin Bixby, a clothing line inspired by collegiate football circa 1935.
What does it take to be the world's most stylish man? Take a large helping of East Coast prep, add a touch of southern flair, and fold in a pinch of Jay Gatsby. I'll break it down for you.
Lessons We Can Learn From Andre 3000's Style
Know your influences. Andre 3000 has listed Ralph Lauren, the 1930s, and the deep south as his main sources of fashion inspiration. What time periods inspire you? What region of the country? What designers? Andre has a solid sense of what he likes and what works for him. Stay true to what you love and rock your looks with confidence!
Colors. Andre 3000's color palette ranges from soft pastels to bright primary colors. You'll almost never catch Andre in a neutral-colored or monochromatic outfit. Take a tip from him and don't be afraid to pair different solid colors together when planning outfits — as long as each piece you're wearing is somewhat simple, you'll look bold and stylish.
Load on the accessories. Andre 3000 is ALL about the accessories, especially ones with southern or vintage roots. He loves bow ties, suspenders, scarves, colorful belts, pocket watches, oversized glasses, aviators, and funky ties. If you're unhappy with what you've got on, you'll be surprised how much a scarf and a hat can completely change your look.
Put a spin on a suit. You'll never see Andre 3000 in a plain black suit. His dress clothes are made from rich fabrics and classic patterns. He isn't afraid to mix and match blazers and slacks, and loves to rock vests. A trusty blazer will go with anything in your closet, and give you a sophisticated look that's easy to build from.
Patterns. A master at mixing patterns, Andre doesn't shy away from combining a bold pattern with a clashing color or print. He's especially fond of plaid and argyle designs. So don't be afraid to try mixing prints on your own! As long as you don't go overboard and you rock the look with confidence, others will envy your sartorial risk-taking!
Hats. I could not find one picture of Andre 3000 without a hat. Hats are his signature. So pick an item you love, and make it your style trademark. (Mine is anything leopard print.) Can't decide? It's easy to start small with something like headbands (a la Blair Waldorf) or killer shoes (like Victoria Beckham).
Outfit Inspiration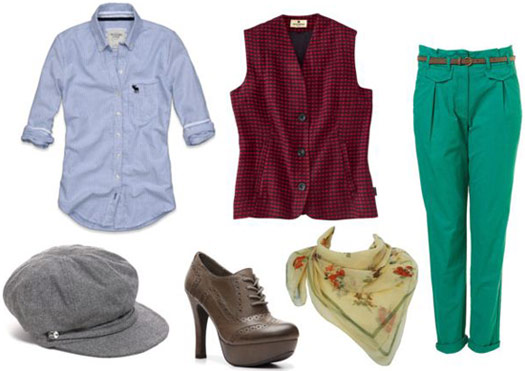 Shirt, Vest, Pants, Hat, Shoes, Scarf
This outfit combines many of Andre 3000's signature pieces — a vest, dress shirt, colorful trousers, and a hat. They combine nicely because the bold colored pants are solid, and the vest (although patterned) is relatively simple. Add a delicate scarf and a proper pair of oxford heels to complete a look that's eccentric, but classic at the same time.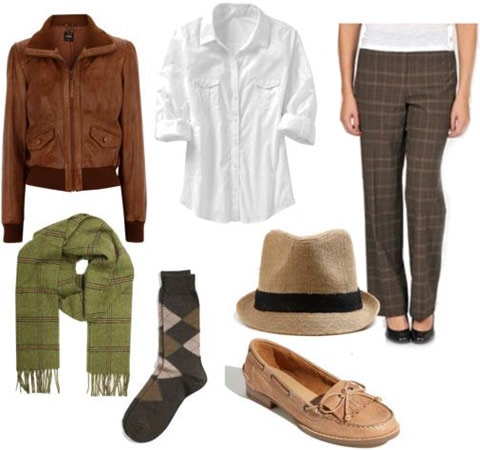 Jacket, Shirt, Pants, Scarf, Socks, Hat, Shoes
Get Andre's aesthetic by combining a pair of subtly patterned chinos with your trusty white dress shirt and a trendy bomber jacket. Add more 3000 style by layering on a plaid scarf, argyle socks, loafers, and a straw fedora. Bold, yet subtle.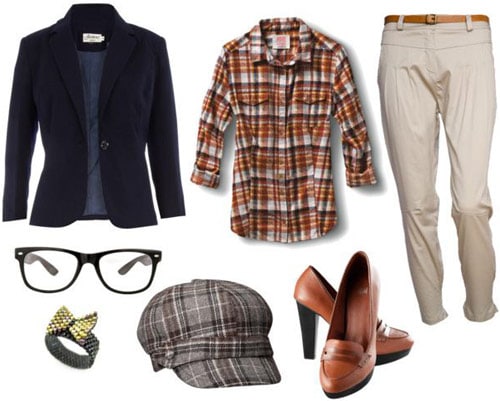 Blazer, Shirt, Pants, Glasses, Hat, Ring, Shoes
For this look, start with a pair of khaki pants and your favorite plaid button-down. Class it up with a blazer, printed newsboy cap, and some high-heeled loafers. Finish the outfit with your glasses (if you wear them, or just rock a non-prescription pair for fun!) and a bow tie ring. So fresh, so vintage, so fly.
What Do You Think?
What do you think of Andre 3000's style? Do you listen to OutKast? What other stylish men do you admire? Do you think that men pay less attention or more attention to their sense of style than in the past? Who else would you like to see us cover? Leave a comment and tell other CF readers what YOU think!