This post may contain affiliate links, which means we may receive a commission if you purchase through our links. Please
read our full disclosure here
.
When CF readers Amanda and Suzie suggested that I do a post on Fun (in the comments of another Style Notes piece), I knew the band would be perfect for my next Style Notes article!
Not to get totally hipster on you guys, but I've been a big fan of Fun (formerly stylized as "fun.") since I was a wee junior high student. Fun have released some great songs, but only recently have they been having mainstream success. Though I may be lowering my hipster cred by saying so, I'm glad a whole new audience is supporting this awesome band (even if I do cringe when people ask me if I've heard of Fun before).
Below, I've put together three outfits inspired by the songs "Some Nights", "Carry On", and "We Are Young". Whether you're a longtime lover of Fun or a new fan, take some style inspiration from the band's quirky style and fun (no pun intended!) lyrics.
Some Nights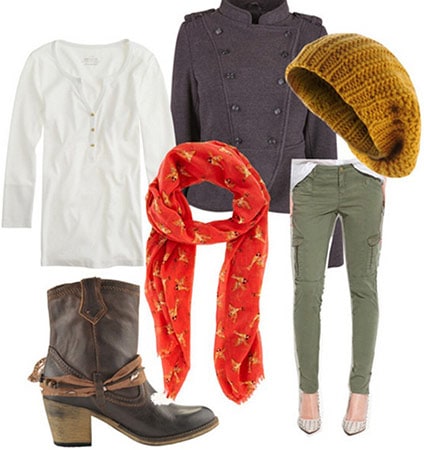 Shirt, Jacket, Scarf, Boots, Cargos, Beanie
The title track to Fun's second studio album, "Some Nights" is super catchy, and a bit of a dance anthem in my dorm. (Just-before-quiet-hours sing-a-long sessions are an absolute college must.) The song deals with some heavy themes, but manages to maintain an upbeat feeling. (Is there a metaphoric lesson in that? Discuss.) The music video has a very dramatic feel, with the military scenes acting as on-trend inspiration for a great autumn outfit.
Rock a military look à la the music video with a pair of skinny cargos– such a cool alternative to jeans! Layer a military jacket and a pretty print scarf over a simple henley for a rugged, yet cute look. Paired with leather boots and a slouchy beanie, this look begs to be worn to class on a windy fall day.
Carry On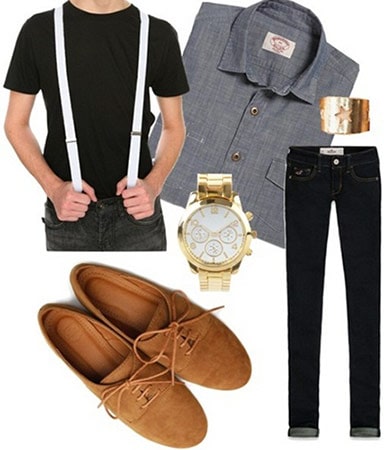 Suspenders, Shirt, Ring, Oxfords, Watch, Jeans
Also off the Album "Some Nights", "Carry On" has a more mellow feel than the titular title track, but still includes some great electric guitar and, of course, some standout moments courtesy of Nate Ruess' amazing voice.
For this outfit, I took my inspiration from Nate Ruess' look in the music video for a menswear-inspired feel. Starting with a base of a chambray shirt and cuffed jeans, add some classic-yet-quirky suspenders and stylish oxfords. Put on a ring which references the song's lyrics and grab a chunky gold watch for a look that's sophisticated, but youthful.
I could see wearing this look to lunch with friends, but I also think its comfy-meets-stylish feel would be great for going sight-seeing – just because you're a tourist, doesn't make it okay to don a visor and a fanny pack!
We are Young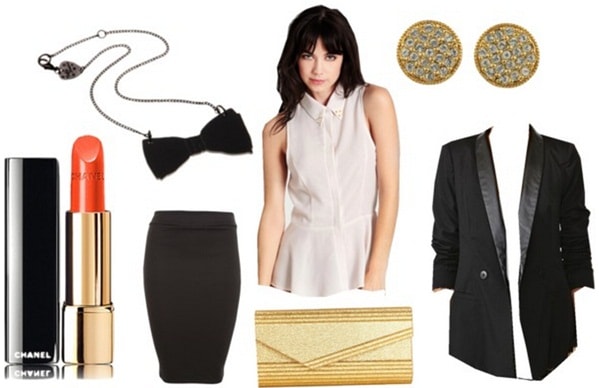 Lipstick, Necklace, Skirt, Blouse, Clutch, Earrings, Blazer
Credited with catapulting Fun into mainstream success, "We Are Young" ft. Janelle Monáe reached number one on the U.S.Billboard Hot 100, the first alternative rock song to do so since Coldplay's "Viva la Vida" (a band previously featured on Style Notes). A feel-good song with an uber catchy chorus, this became the graduation song for just about every class of 2012. (Mine included!)
Both the boys of Fun and Janelle Monáe (one of my style-crushes!) look particularly dapper in tuxedos for the song's music video. Suit up and pay homage in a sleek black blazer paired with a trendy embellished peplum blouse, plus a simple pencil skirt. Make the look more feminine by substituting a bow tie-inspired necklace for the real deal, and pair your ensemble with some fierce red lips. Grab some sparkly earrings and a gorgeous gold clutch for a fantastically glamorous look.
What do you think?
Are you a fan of Fun? Have you checked out their first studio album, Aim & Ignite? What's your favorite Fun song? (My personal faves are "The Gambler" and "All the Pretty Girls"!) What are some bands you listened to before they were popular- let's get our hipster on! As usual, you can leave me questions, comments and song suggestions in the comments below!