This post may contain affiliate links, which means we may receive a commission if you purchase through our links. Please
read our full disclosure here
.
When CF reader Suzie suggested it in the comments from my last "style notes" post, I knew I absolutely had to do a song from Arctic Monkeys – and not just because I'm slightly in love with Alex Turner.
The Arctic Monkeys are an British indie-rock band who first reached popular attention with the 2005 single "I Bet You Look Good on the Dancefloor", which quickly climbed to number 1 on the UK charts. I thought it only fitting I put together some outfits inspired by this song- it's perfect to rock out to as you get ready for a big night out!
Because of the Arctic Monkeys' punk sound, most of the outfits have a rock and roll or grunge feel to them – and sometimes, that's just what you need for a night out. Let's face it, I can't even get through "Dirty Little Secret" on Guitar Hero, but I can still dress like a punk maven! If you harbor secret rock n' roll fantasies like me, or just want to edge it up for the day, read on:
Banging Tunes n' DJ Sets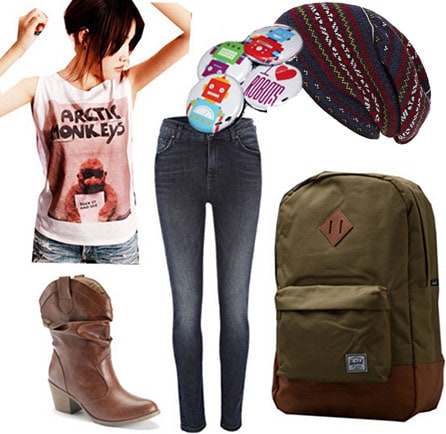 Tank, Boots, Jeans, Hat, Buttons, Backpack
This first outfit is the most casual of the three, and would be perfect for crunching through autumn leaves on your way to class (plus, it's laptop- friendly).
If you're an Arctic Monkeys fan, show your pride in this cool graphic tank, paired with relaxed skinnies and cool ankle boots. Reference the "robot from 1984" lyric with some quirky buttons stock on your backpack, and slip on a too-cool-to-care beanie in a fall-appropriate Fair Isle print.
Looking for Romance, Or?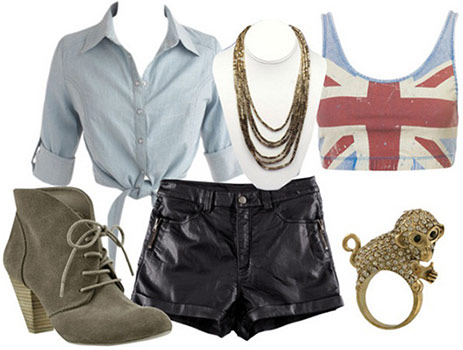 Denim Shirt, Boots, Shorts, Necklace, Crop Top, Ring
This outfit fits the song's punk vibe with edgy leather shorts – they're just as sexy, but less fussy than a skirt (add tights if it's chilly out). A rocker-chic layered necklace adds texture to the outfit. A Union Jack crop-top, referencing the band's home country, peeks out of a tie-front blouse that instantly gives you that 'va-va-voom' silhouette. Finally, finish the look with cute, but practical, heeled boots and a cheeky monkey ring to reference the band's name, for an outfit you can't help but feel confident wearing!
You're an Explosion, You're Dynamite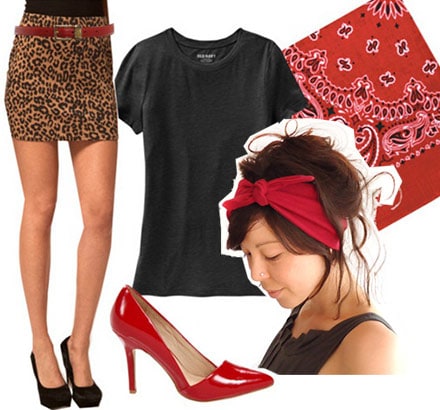 Skirt, Belt, Tee, Heels, Head Wrap, Bandana
This last outfit plays on a fairly traditional and classic ensemble – the pencil skirt, tee, and heels – but ups the fashion ante by combining prints in a quirky way.
First make sure you look like 'dynamite' by slipping on a leopard pencil skirt, and balance out the sex-appeal factor of the skirt with a fairly conservative tee. Next, cinch your waist with a bright red belt, and echo that color with bright red heels. (Is there a better confidence booster than a pair of red high heels? I'm going to have to say no.) Mix prints for an eclectic look by taking a red paisley bandana, and tying it into a uber-trendy headwrap – because the color matches your other accessories, it keeps the print mix looking chic.
What to you think?
Are you a fan of the Arctic Monkeys? Do you have a ridiculously large fan-girl crush on Alex Turner like me? Would you rock any of these outfits (extra points if it's to an Arctic Monkeys concert)? As always, leave your thoughts, questions and song requests in the comments below!