This post may contain affiliate links, which means we may receive a commission if you purchase through our links. Please
read our full disclosure here
.
Welcome back to Style Notes, where we take fashion inspiration from our favorite songs. This week, we'll be giving you a blast from the past with outfits inspired by the song "Tiny Dancer", penned by the dynamic duo of Bernie Taupin and Elton John in 1971.
"Tiny Dancer" was dedicated to Taupin's first wife, and many believe the song to be about her, but Taupin himself has a different explanation:
"We came to California in the fall of 1970, and sunshine radiated from the populace. I was trying to capture the spirit of that time, encapsulated by the women we met – especially at the clothes stores up and down the Strip in L.A. They were free spirits, sexy in hip-huggers and lacy blouses, and very ethereal, the way they moved." – Bernie Taupin
This song was a suggestion from CF reader Michelle on my first Style Notes post– thanks Michelle! I was drawn to this suggestion because I was involved in competitive dance for many years, and the casual way dancers throw on their clothes has always had a kind of haphazard, whimsical look that I love- an aesthetic that seems to fall in line with Taupin's inspiration.
Take a look at these ethereal-meets-casual outfits below for some free-spirited dancer inspiration:
Pretty Eyed, Pirate Smile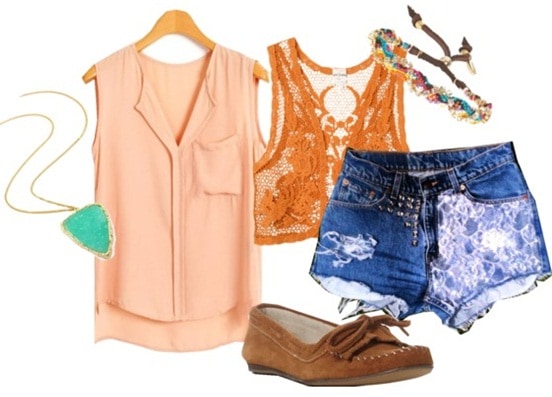 Shirt, Vest, Shorts, Necklace, Moccasins, Bracelet
This outfit is the kind of eclectic, boho-chic ensemble that would be perfect for enjoying the sunshine at an outdoor music festival.
Though this look is casual, the lacy details of the shorts and vest and this luxe reinterpretation of a friendship bracelet dress the look up. The pop of contrasting color provided by the turquoise necklace is the perfect counterpart to the warm tones of the vest and the blouse, while comfy moccasins- perfect after a long day en pointe- ground the outfit and keep it comfy. Sweet, but a little daring, too, this look has all the flair of a stage costume, but provides the comfort any dancer craves during their (very limited!) free time.
Blue Jean Baby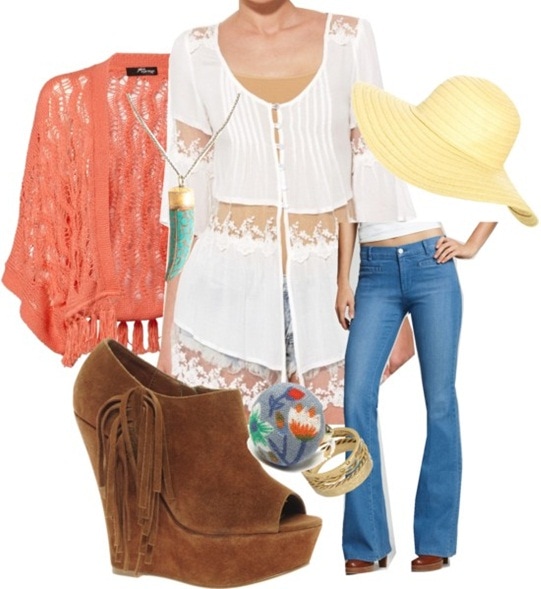 Shirt, Jacket, Jeans, Boots, Necklace, Hat, Fabric Ring, Brass Ring
This look draws inspiration from the '70s, with the flared jeans and hippie-chic blouse, boots and fringed jacket.
While this outfit doesn't skimp on the style, it's also super comfy and practical for lunch with the girls. The eclectic mix of colors and textures mimics the "free spirit" mentality Taupin so admired in those LA girls. The layers and bright colors provide that sense of childlike whimsy that translates from the song's tone and melody, but the wedge heels, along with the cut outs in the blouse, keep you looking gorgeous enough to be a muse yourself!
Dancing in the Sand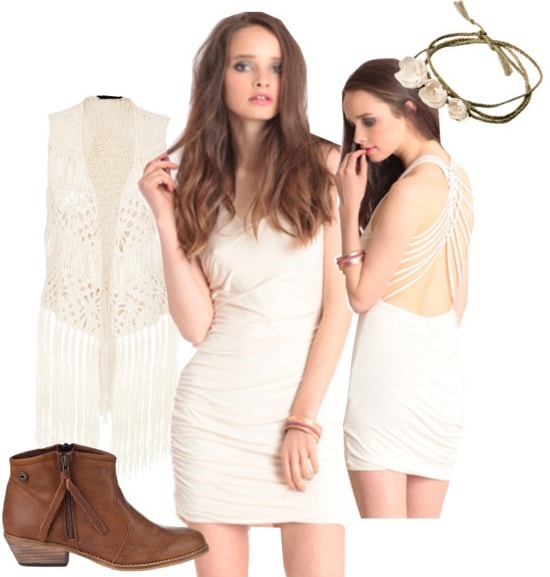 This last outfit combines delicate layers of white on white and is stunning in its simplicity. Every movement you make will be accentuated by the uncomplicated, yet sexy dress, and the fringe on the beautifully detailed lace vest. Complement your airy look with a hippie-inspired headband and mussed hair and you'll be the picture of ethereal loveliness.
This look goes best with a wide-eyed, dewy look of innocence, and bare feet walking on a windswept beach (preferably in a Sofia Coppola movie), but if more practical considerations must prevail, slip on a comfy pair of leather ankle boots with zippers that mimic the fringe on the vest for a look that's effortlessly radiant.
What do you think?
Do you like Elton John? If so, what's your favorite Elton track? How are you liking the whole boho/'70s-revival trend? Most importantly, do you have any more Style Notes suggestions?As always, leave your thoughts in the comments below!