Welcome to a new feature called Style Notes, where we take fashion inspiration from an awesome song of any genre. This inspiration could come from the lyrics, the band's personal style, the song's music video, or even the general mood of the song.
For my first Style Notes piece, I chose the song "Yellow," by Coldplay. "Yellow" was released on the album Parachutes in 2000, and remains one of Coldplay's most enduring hits. The song not only references one of 2012's hottest colors, but its video has a beautiful summer vibe. To create these outfits, I drew on a beachy theme, with a romantic vibe to complement the lyrics of the song. Check out the summery outfits below!
Easy-Breezy-Beachy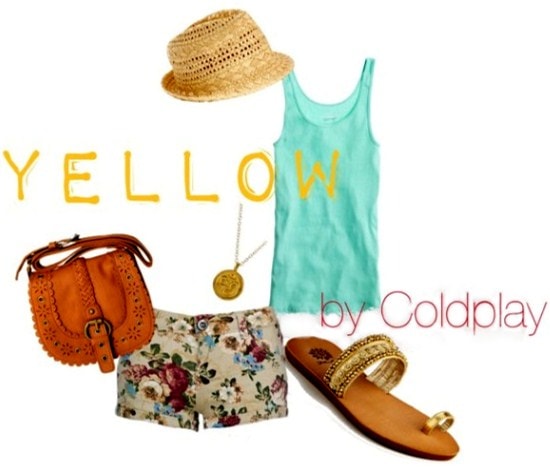 Hat, Tank, Shorts, Sandals, Necklace, Bag
This first outfit is big on style, but short on fuss – the perfect thing to throw over a bikini on a hot summer day. First, pull in some "Yellow" with these adorable flowered shorts. The mellow color pairs perfectly with an ocean-blue tank that picks up on the blue accents in the shorts' design, while the gold sandals and chain add just the right touch of polish. Finish off your look with a straw hat and a little brown satchel, and you've got an outfit that's chill anough for the beach, but cute enough for you to head out with friends in confidence!
Boho Babe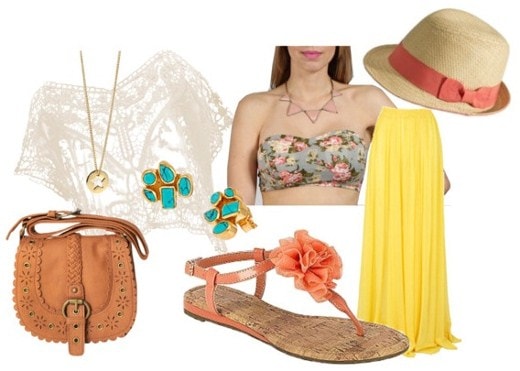 Shirt, Bandeau, Skirt, Sandals, Hat, Earrings, Necklace, Bag
Though this next outfit is still completely beach-appropriate, it feels a little more glam than the first. This look would be perfect for dinner on the boardwalk, or maybe soaking up the sun and perusing an outdoor market. You'll look effortlessly lovely in a gorgeous floaty yellow maxi skirt, which is complemented by a white lace top – combined, these pieces create a relaxed, feminine feel. Under the lace top, slip on a floral bandeau that keeps this look as romantic as the song that inspired it. The flower-embellished sandals echo the bandeau's pattern and, with the fedora, provide a pretty pop of juicy tangerine. Finally, finish off the look with tiny turquoise studs and a delicate star charm necklace that references the song's lyrics.
High Tide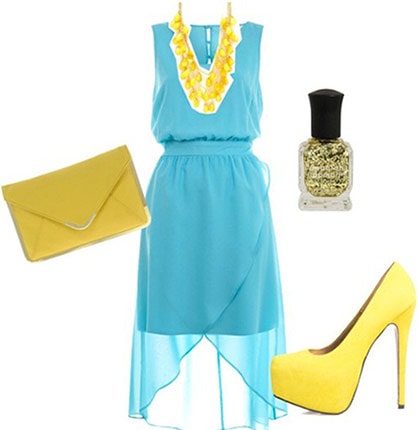 Dress, Shoes, Clutch, Necklace, Polish
Rock your summer night out in an ocean blue high-low dress that showcases your gorgeous legs! A fun statement necklace pops beautifully against the blue background, while a simple yellow pump and a soft yellow clutch tie in perfectly. A gold glitter polish, applied thinly over the nails, mimics a star-scattered summer sky (say that five times fast!), ensuring your nails will "shine for you" all night long!
What do you think?
Do you think these outfits go with the song? Which one is your favorite? Have any song requests for future Style Notes pieces? Don't be shy, leave me a comment down below!