This post may contain affiliate links, which means we may receive a commission if you purchase through our links. Please
read our full disclosure here
.
When I arrived back at school after Canadian Thanksgiving, I started to get twinges of homesickness. This weekend, a dorm-mate and I spent some time reminiscing about our hometowns (we grew up 15 minutes apart), and although it helped to talk about it, home is still on my mind.
So this week, although there were amazing suggestions in the comments of the last Style Notes post (I have posts on Muse, the Beatles, fun., and more reader picks coming up!), I hope you guys will forgive me for branching out a little and choosing a song that reminds me of home: "Chicken Fried" by the Zac Brown Band.
This song's country feel and lovely lyrics remind me of my hometown. In addition, it's the perfect inspiration for some uncomplicated, but sweet outfits.
Pair of Jeans That Fit Just Right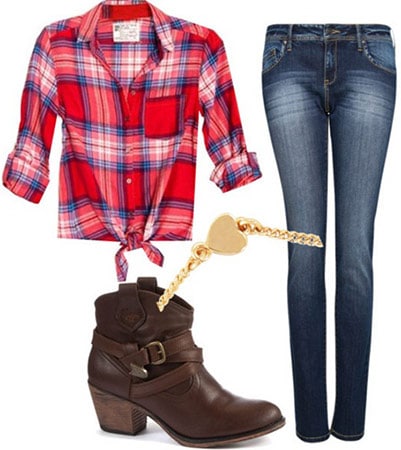 This first outfit is about as simple as you can get, but is still super adorable. A tie-front plaid shirt is comfy without being frumpy, and, paired with your favorite "good-butt" jeans (you know the ones!), it's the ultimate (country) girl-next-door look.
Now it's time to accessorize! If you're not ready to go all out with cowboy boots, you can still channel a western vibe with these cool brown leather harness boots. Finish the outfit with a sweetly simple heart bracelet that references the song's main message: loving and appreciating the little things in life.
This outfit is perfect for everything from driving your pickup to the hardware store, to riding a mechanical bull at your local country bar. (Trust me on that one.)
Shade of a Georgia Pine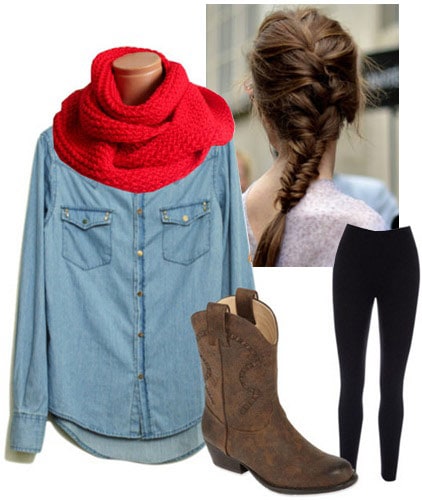 Shirt, Scarf, Boots, Leggings | Photo: ELLE
This next outfit would be perfect for going to class on those mornings when you want to look good, but not make too much of an effort (ie. every morning that involves an 8AM lecture).
To get this look, pair an oversized denim shirt with practical leggings, then add a pop of color with a bright red knit circle scarf. Show a little country love with some broken in cowboy boots, and finish with a messy fishtail for a look that's perfectly suited to campus.
Sweet Tea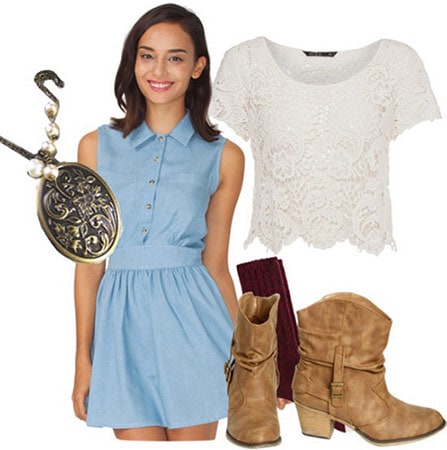 Dress, Shirt, Necklace, Socks, Boots
This last outfit is the girliest of the three, the epitome of country charm. Start with a little denim dress, layer on a gorgeous lace tee, then add tan harness boots with cable knit socks peeking out. Lend the look a little Southern influence with a vintage-esque locket featuring a pretty pearl detail. The combination of the boots and socks, as well as the more laid-back cut of the shirt helps the outfit feel more relaxed. This outfit is sweet without being sickly, and great for two-stepping the night away!
What do you think?
Are you a country fan? What kind of music reminds you of home? Would you rock any of these country-inspired looks? What is your stance on mechanical bulls? Let me know your thoughts and suggestions, as always, in the comments below!