This post may contain affiliate links, which means we may receive a commission if you purchase through our links. Please
read our full disclosure here
.
So if I've learned anything from writing Style Notes, it's that CF readers have great taste in music. I have the best time reading and, subsequently, Youtubing all of your suggestions, and this week was no exception.
I'd heard the song "Thrift Shop" by Macklemore and Ryan Lewis ft. Wanz before, and loved the (slightly confusing) poppy-meets-jazzy-meets-rap sound. However, I had never watched the music video until CF reader Jessica suggested it – and, I have to say, it's Mother McMuffin hilarious.
Haven't seen it? Check the video out below! (WARNING: The lyrics are NSFW.)
As you can see, the video looks like a hundred fashion bloggers downed Pixy Stix and created some kind of awesome trippy fashion Disneyland – perfect inspiration for this week's Style Notes!
In honor of "Thrift Shop"'s message about being creative with fashion and dressing for only yourself, this week I focused on clothing combos that were slightly "out there" – and if you don't feel these outfits are wearable, you should, of course, feel free to customize the look to your own style. That said, here at CF, we do believe that you can rock ANYTHING with enough confidence! (Okay, exception: Crocs. Please don't.)
In any event, I hope this post will at least inspire you not to take style too seriously; so take these combos with a dash of sartorial salt, and remember fashion can be just plain fun!
Draped in Leopard Mink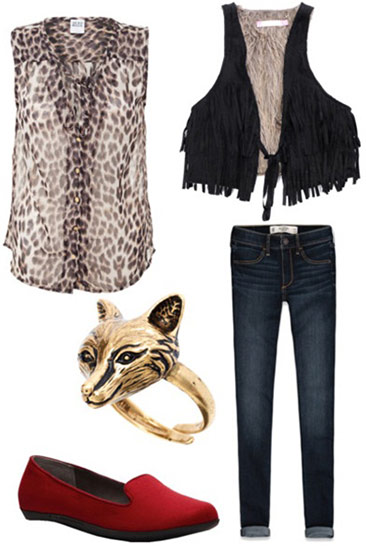 Shirt, Vest, Ring, Jeans, Loafers
This first, and most wearable outfit amalgamates a couple of outfits Ben Haggerty aka Macklemore wears in the video, and represents a great way to be fashionable, but still comfortable.
To get this look, rock a fringed vest over a semi-sheer leopard blouse to pay homage to the animal prints in the video. Along with cuffed jeans, a vintage-inspired wolf ring (cause we just can't figure out how to rock a wolf on your noggin!) and red smoking slippers for a pop of color, this look is stylish, but still laid back enough to be casual and comfy.
Dressed All in Pink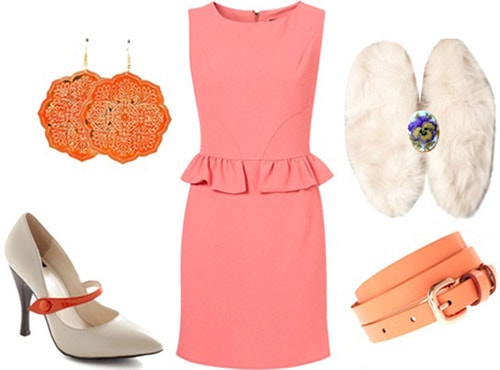 Earrings, Heels, Dress, Stole, Brooch, Belt
This next look is inspired by the insanely awesome pink and salmon suit Wanz rocks near the end of the video, in which, he does indeed "look incredible." This ensemble is a modern take on a retro silhouette, combining color blocking and brights with Old-Hollywood glam.
To get this glam look, start with a pink peplum dress, then cinch your waist just above the ruffles with an orange belt for some subtle color blocking. Pull from the belt's color with fun earrings and cute heeled Mary Janes. Finally, take a (faux!) fur cue from Macklemore and throw on a white stole that adds a little touch of quirky glamour – especially when teamed with a vintage brooch. You can find all kinds of old brooches and unique jewelry at your local Goodwill or Value Village!
Is that your Grandma's coat?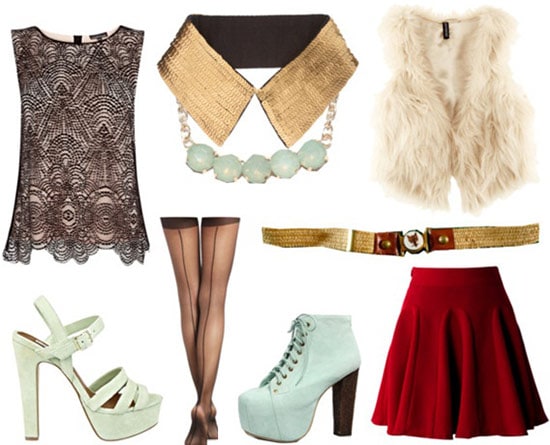 Shirt, Sandals, Collar, Necklace, Tights, Belt, Litas, Vest, Skirt
This last outfit is the most daring of the bunch, but also my personal favorite. It plays on an unusual combination of deep red and mint green, but I think the richness of the red pops against the cool fresh feel of the green! To me, this look most closely follows the aesthetic of the music video, with its quirkiness and mix of textures.
To start, a baroque shirt gets tucked into a ruby skirt, which, along with an on-trend white vest and seamed stockings (there's a great DIY here that shows you how to make them yourself!) makes this look uber-glam. This outfit doesn't include a "fur fox skin," (we saw Fox & the Hound – there's no way.) but you can don an adorable belt with a fox detail. Finish the look by layering a gold collar and mint necklace, and grabbing some matching shoes – either Litas or strappy sandals, your call.
What do you think?
Have you heard of Macklemore? Do you like his music? Are you loving the video as much as I am? As always, dear readers, let me know your thoughts, questions, comments and song suggestions in the comments below!