This post may contain affiliate links, which means we may receive a commission if you purchase through our links. Please
read our full disclosure here
.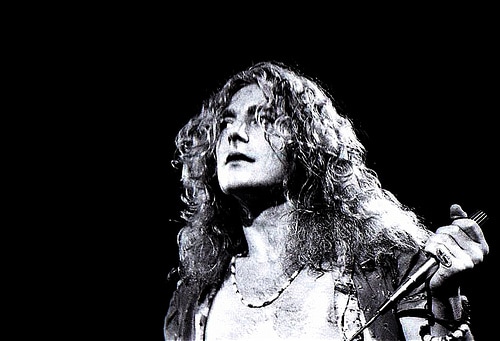 Robert Plant with Led Zeppelin | Photo Credit
One of the most legendary rock groups of all time, Led Zeppelin has been hugely influential in the music industry and adored across the globe. So when they were suggested as the focus for a Style Notes post by CF reader Laura,I knew they would be perfect inspiration for some awesomely flamboyant "it-shouldn't-work-but-it-does" outfits.
The members of Led Zeppelin (Jimmy Page, John Paul Jones, Robert Plant and the late John Bonham) kept their styles pretty simple during their downtime, but onstage, it was a totally different story! Channel their wild performance ensembles with crazy colors, playful patterns, and retro silhouettes – rad '70s hair optional (but totally recommended!).
Moby Dick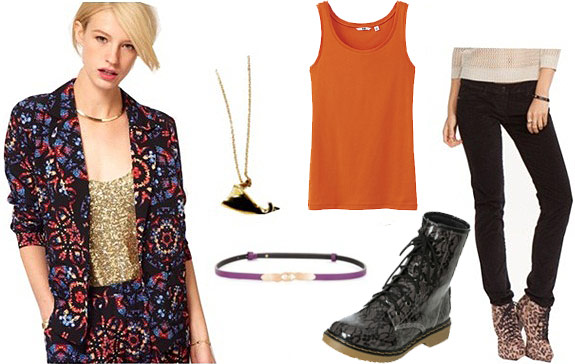 Blazer, Necklace, Belt, Tank, Boots, Pants
This first look pays homage to the fanciful prints and colors that Led Zeppelin members were known to rock in concert.
Though we looove this psychedelic blazer, it may be a little much with matching pants; instead, pair it with some black cords and a coordinating tank that references the name of one of Led Zeppelin's songs, "Tangerine". Accessorize with a skinny purple belt and a necklace that plays on the name of another Zeppelin classic, "Moby Dick". Finish the look with tough combat boots.
You Shook Me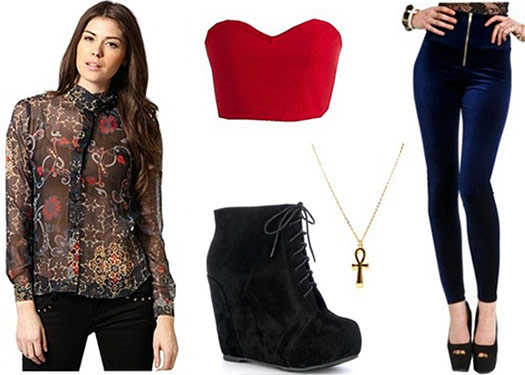 Blouse, Bustier, Boots, Necklace, Pants
Again combining unusual colors, this second outfit incorporates a modern version of the velvet pants the band often wore on stage.
Though these high-waisted blue velvet pants are technically leggings, their thick fabric and jean styling makes them wearable with most tops. Pair them with a crop top to show just the right amount of skin, then add a long, breezy sheer blouse on top and tie it at your waist. (The guys often worked the bare-chested look, but I think a little midriff is plenty!) The ankh necklace is similar to one that John Paul Johns has been seen wearing, while wedge ankle booties make your legs look miles-long. This look would be amazing for a concert, or even a party.
Black Dog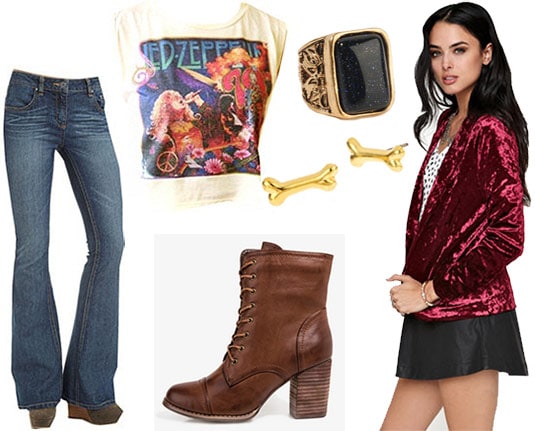 Jeans, Tee, Boots, Earrings, Ring, Blazer
This last look is my favorite, and (perhaps not too coincidentally) is partially inspired by my favorite Zeppelin song. The flare jeans are reminiscent of the period when the band was most active, and look great with a "burning red" velvet blazer left open over a Zeppelin tee (but of course!). Paired with earrings that reference the song title, a black stone ring and '70s-esque stacked heel boots, this look combines luxe with casual for a boho-chic look.
What do you think?
Are you a fan of Led Zeppelin? What classic rock/metal bands are your faves? What are your favorite retro clothing pieces to pair with modern trends? As always, leave your opinions, suggestions, questions or favorite chocolate chip cookie recipe in the comments below!