In honor of her "Best Song" win at the 2013 Golden Globes, Adele's "Skyfall" is this week's Style Notes feature. Here at CF, we love Adele, not only for her one-in-a-million voice and retro style, but also for her grounded, classy approach to celebrity. We're also in love with her latest track.
"Skyfall", the title track to the 2012 James Bond film starring Daniel Craig, is a lush, dramatic ballad with unreal vocals and a dark, moody tone. It's also my favorite Bond theme yet.
Paul Epworth, the song's producer and co-writer, described his and Adele's writing process:
"It was interesting to do something that was simultaneously dark and final, like a funeral, and to try and turn it into something that was not final. A sense of death and rebirth."
In case you haven't heard the song yet, listen to itbelow!
Outfits Inspired by "Skyfall"
When creating outfits inspired by Skyfall, I drew on Adele's own style, the aesthetic of the film (check out the opening credits here), and the opulent, yet darkfeel of the song. I mostly stuck to Adele's favored color, black, which also works well with the visuals from the film's title sequence.
If you're looking for glamour with a hint of danger, read on!
Skyfall Is Where We Start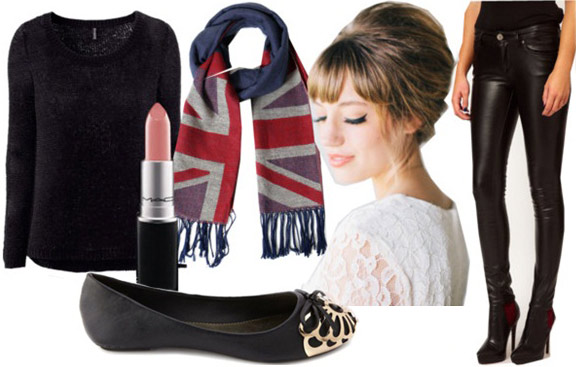 Sweater, Scarf, Pants, Flats, Lipstick
Take a cue from Adele's personal style and throw on a cozy knit sweater over trendy leather-look skinnies. Add some pretty flats, Adele's footwear of choice. When paired with a Union Jack scarf referencing Adele's (and 007's!) origins, this look is simple and polished.
Pair this outfit with Adele-inspired hair and '60s makeup and you'll look just as feminine and elegantly retro as the singer herself.
You'll Never Have My Heart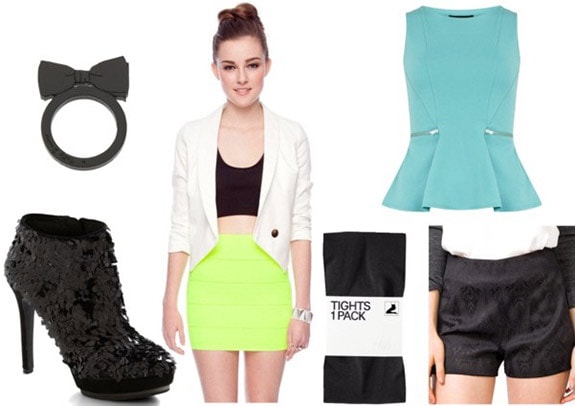 Ring, Booties, Jacket, Shirt, Tights, Shorts
Pay homage to everyone's favorite secret agent with an update on a tuxedo, using the colors from the Skyfall single cover art.
Start with this gorgeous aqua peplum top, worn with cool black brocade shorts and a white tuxedo jacket. Black tights give you legs for days, especially when paired with these amazing sparkly booties. Add a little bowtie ring as another Bond reference, and you have an outfit worthy of a night out on the town.
We Will Stand Tall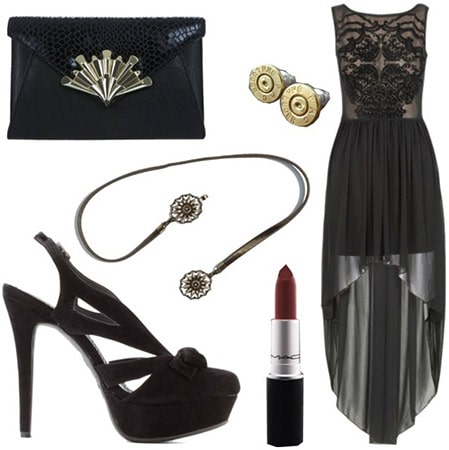 Clutch, Belt, Heels, Earrings, Dress, Lipstick
This last outfit has all the dark drama of the song, featuring an opulent high-low dress and an ornate belt.
To accessorize, add black heels that echo the detailing on the dress, and a black clutch with an Art Deco-inspired clasp. Next, apply some vampy lipstick to accent your gothic glamour. Bullet-shaped earrings are an unexpected finishing touch, and allude to the most famous member of the MI6.
What do you think?
Did you see "Skyfall" in theaters? What do you think of these outfits?Are you a Bond/Adele fan? As ever, dear readers, leave your thoughts, suggestions, opinions and questions in the comments below!