This post may contain affiliate links, which means we may receive a commission if you purchase through our links. Please
read our full disclosure here
.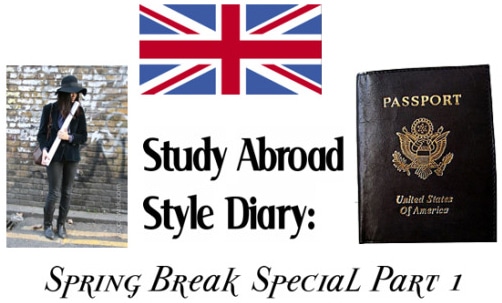 I had an article all lined up for this week, nearly completed, with outfits I was sure you guys would love. However, I just returned from my first leg of spring break, where I was lucky enough to visit a friend in Paris, France. And while I definitely want to share the other post with you guys (check back next week!), I couldn't in good conscience keep the amazing inspiration I found in Paris to myself.
Known as the "City of Love," Paris is definitely full of passion. But I found it to be alive with much more feeling than just "l'amour!" Therefore, I wanted to show outfits inspired by the overflow of emotion and beauty I found in Paris, through sights a bit off the beaten path. (That's right: no Eiffel Tower inspiration in this post!)
Each outfit below represents a different emotion, and will help you dress for those nights when you are serene (like when exams are finally over), those days when you need confidence (like when you're taking your exams), or those times when you're feeling exuberant (like once you've aced said exams)!
The second part of the "Spring Break" special (coming in two weeks) will focus on the inspiration I found during the rest of my travels, as well as tips on how to make the most of weekend/day trips and how to survive break while on a budget. Read Part 1 below, and check back soon for Part Deux!
Look One: Serene
Inspired by: Claude Monet paintings, Valentino hair & makeup S/S '10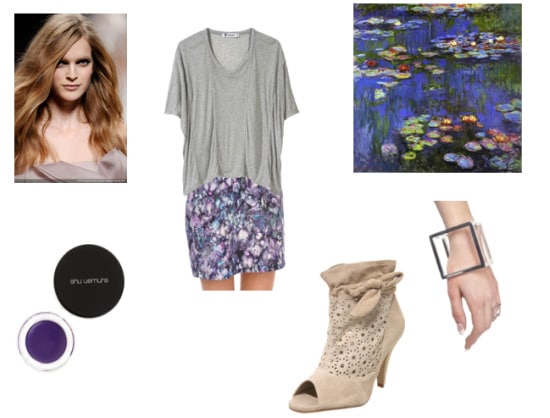 Product Information: Cuff: Shopnastygal.com, Purple Eyeliner: Barneys.com, Booties: Missselfridge.com, Tee: Lagarconne.com, Skirt: Shopnastygal.com
I'll admit it right off the bat: I am a huge fan of Claude Monet's incredible work. But whether he is your "style" or not, viewing a life-size Monet is an experience not to be missed. As students, we lead stressful lives and don't often stop to appreciate the beauty around us. That's why it's impossible not to be moved by Monet's vision of the world–dancing with life and color, beautiful and extraordinary in its ordinariness.
For the look above, I wanted to go against the typical florals-for-day trend and find a look you could wear on a warm spring or summer night. The floral skirt picks up the colors found in Monet's painting, and its tight bandage shape balances out the loose, flowy shirt. Complete this look with a lucite bangle (reminiscent of the reflections found in Monet's ponds), adorable, leg-lengthening nude booties, and hair inspired by Valentino's goddess-like, imperfect waves (pictured above).
Too pastel and pretty for a night look? Add punch with metallic purple eye liner or, for those who are a bit shy, do a coppery, smoky eye like the Valentino model above. If it is cold out, add a cardigan and opaque black or lace tights!
Look Two: Confident
Inspired by: Hall of Mirrors in Versailles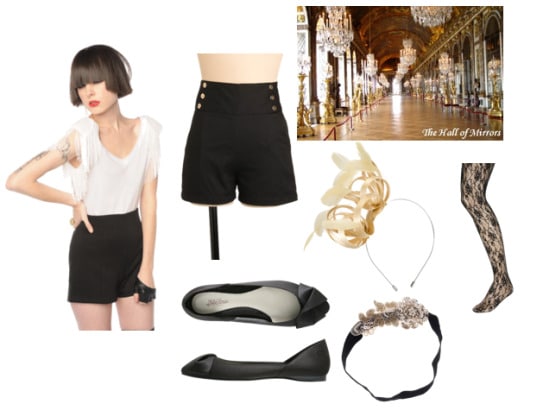 Product Information: Top: Shopnastygal.com, Shorts: Modcloth.com, Flats: Payless.com, Loop Headband: Johnlewis.com, Wrap Headband: Missselfridge.com, Tights: My-wardrobe.com
I have had a long-standing obsession with the glamour and unruly decadence of Marie Antoinette and the lesser-known but equally fabulous monarchs before her, so going to Versailles was a dream come true. Of course, one of the most amazing parts of the castle is the inimitable "Hall of Mirrors," literally a room of 360 degree head-to-toe mirrors and gilded chandeliers. To me, the Hall of Mirrors is ALL about confidence: to survive, you had better enjoy looking at yourself from every possible angle!
I often dress to put myself in a certain mood–bright colors for a fun night out, preppy if I know I have to buckle down for school work, etc–so for this look, I chose an outfit that demands confidence. Whether you wear it to bolster your self-esteem before a test or just for a day out shopping when you want all eyes on you, the intricate detailing throughout calls for a head held high.
The first piece I chose was the shorts, as I am a huge fan of shorts with tights during transitional weather. Wear them with a shirt that at first appears to be a plain white tee… until you get to the fringed shoulders, reminiscent of the Hall of Mirrors' chandeliers. A pair of lace tights and some geometric flats add just the right amount of detail to be over-the-top but not gaudy.
Now, here is where you get to have fun! Marie Antoinette is known for her hair accessories and while a wig might be over-the-top, a gorgeous, attention-grabbing headband will make you look like a queen (or at least Lady Gaga). For those super-confident days, the gold, looped headband will make you the center of any room, even one as intricate as the Hall of Mirrors! For days when you're in class and not up for all that attention, choose a subtle, feminine headband with lace, pearls, and swirls to complete the style.
Look Three: Exuberant
Inspired by: The Moulin Rouge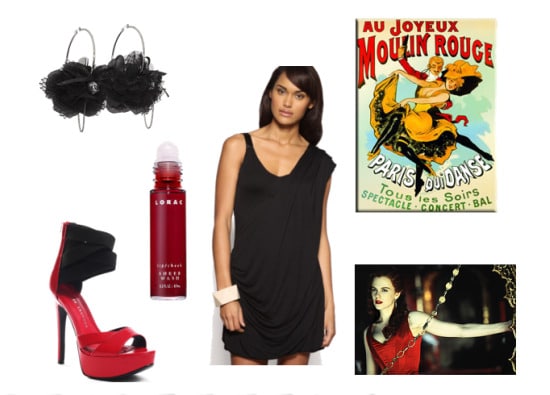 Product Information: Earrings: Zappos.com, Heels: Heels.com, Lip Stain: Sephora.com, Dress: Asos.com
Whether you're excited about the end of exams, a fun-filled weekend ahead, or maybe even for a new relationship, nothing in France spells out "excitement" like the over-the-top flashiness of the real-life Moulin Rouge! Obviously, the looks worn in the show are a bit risque for us college students, so I took my inspiration from one of the old images that used to represent the venue and can still be found in souvenir shops (above).
The Moulin Rouge represents the height of Parisian passion, so this look is centered around bold red. However, a red dress can be a bit much for a college night out. If you can rock it, good for you! Otherwise, here's an alternative that still calls for an occasion, but is more toned-down.
The draping of this LBD reminds me of the layers and ruffles found in Moulin Rouge costumes, but the dress is simple enough that it can be worn for many events. Add pops of red in unexpected places, like with a lip stain to mimic Nicole Kidman's iconic role as a Moulin Rouge girl, and a pair of strappy high heels that resemble the corset tops worn in such venues. For a final touch, add lacy earrings for a bit of a boudoir reference.
What do you think?
Does Paris inspire you? What do you think is the most inspiring thing about Paris? Are these looks you would wear? What places have inspired you over the years? Let us know in the comments!