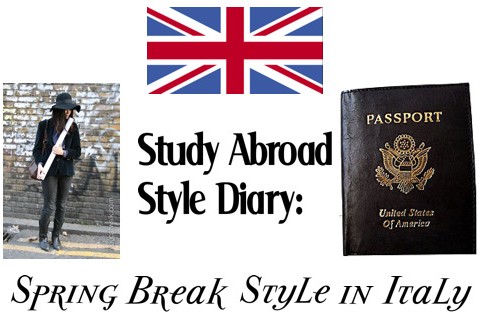 So I have finally returned from a whirlwind few weeks of Spring Break travel (for part one, see Study Abroad Style Diary – Spring Break Style in Paris), with a heavier bag and a decidedly lighter wallet than I left with. (Oops.)
Now that I am back in the U.K. and with my computer again, for this week's edition of Study Abroad Style Diary, I wanted to share the style inspiration I found while on Spring Break in Italy.
In each place I have written about for this column, I have noted a particular facet of the location that has intrigued me most. For Italy, it was definitely the abundance of bright, beautiful colors. From the frescoes in churches to the colorful vendor booths lining street corners, the cities of Italy are bursting with colorful splendor that is only matched by the natural beauty of some of Italy's quieter, more secluded regions.
Many of the colors I saw in Italy were reminiscent of the ones in Pantone's Spring 2010 color report. (For those of you who haven't heard of this report, it's a great resource for season-by-season fashion inspiration. The report includes the hottest colors of the season, as well as recommendations from top designers on how to wear them.)
Therefore, for this article I decided to use not only some of my favorite parts of Italy as inspiration, but also the colors from the Pantone Spring 2010 report. Visiting Italy made me so excited for warm-weather fashion, and I hope this post gets you excited as well!
Look One: Grotta Azzurra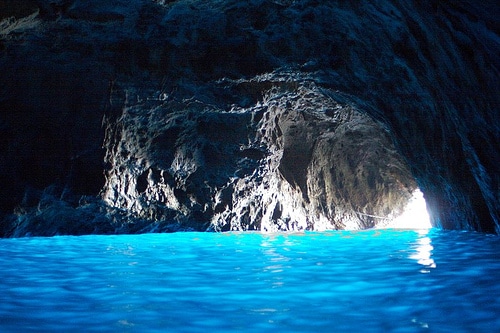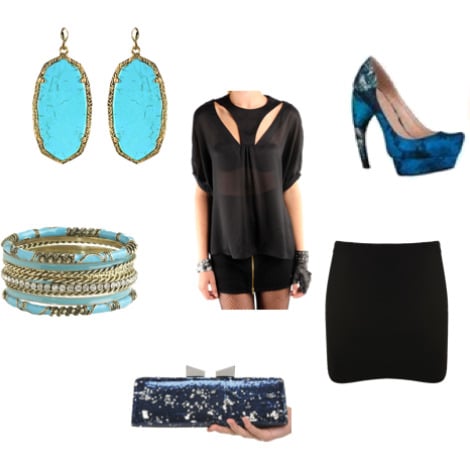 Product Information: Earrings: Maxandchloe.com, Bracelets: Wetseal.com, Top:Shopnastygal.com, Clutch: Shopnastygal.com, Shoes: Christian Siriano (sold out on Payless.com, but still available on eBay!), Skirt: Bunnyhug.co.uk
The Grotta Azzurra in Capri, Italy is hands-down one of the most beautiful things I have ever seen in my life. The colors in the picture above absolutely do not do it justice–the blues are deep, yet still clear and sparkling and the darkness around it only adds mystery and romance to its beauty. It is certainly a sight everyone should see before they die.
Obviously, the color I walked away from the Grotto thinking of was that oceanic blue, which happens to be on Pantone's list by the name of "Amparo Blue." For an outfit, I wanted to show the shocking contrast between darkness (like the cave) and bright blue (like the water). To do this, I chose dark, architectural pieces for the base with a sheer top and tight black skirt matched with striking blue accessories.
The blue shoes continue the structural vibe while introducing the deep blue color that is then picked up in the shimmery clutch. The earrings and bangles introduce Pantone's other Spring blue choice, Turquoise, which has always been one of my favorite colors for Spring. This look can easily be complemented with messy hair and smudgy eye makeup for a rocker vibe, or with sleek, pulled-back hair and natural makeup for a chic but still edgy look.
Look Two: Ponte Vecchio "Locks of Love"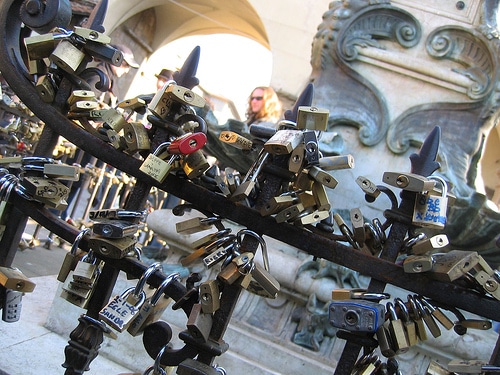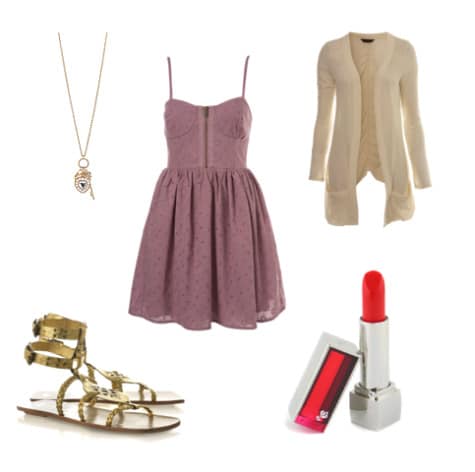 Product Information: Necklace: Forever21.com, Lipstick: Yesstyle.com, Dress: Topshop.com, Cardigan: Missselfridge.com, Sandals: Net-a-porter.com
Don't get me wrong- the Ponte Vecchio in Florence itself is incredibly stunning, but what I was most intrigued by were the locks lining the bridge in various places. When I asked a friend about it, she said they were "locks of love," locks that couples would write their names on and then lock to the bridge to symbolize their everlasting love. After closing the lock, they would toss the keys over the bridge into the depths of the water.
While this is now illegal to do, many locks still remain on the bridge and have become an attraction in their own right to romantics from around the world. Therefore, for the look inspired by these locks, I wanted to make a perfect date outfit for all of those idyllic spring/summer nights.
At first glance, I the outfit seems pretty simple. What could be more common in spring than a sundress and cardigan? But the real style here is in the details. Using the locks as inspiration, I tried to get a bit of hardware going throughout the outfit, like the zipper on the dress and the gladiator sandals. The dress' structured shape is softened by a "Tuscany" colored cardigan, which I picture worn with the sleeves pushed up a bit.
I wanted to use this adorable lock-and-key necklace I found, but thought it would be too overwhelming with the zipper on the dress to actually wear around your neck. Instead, wrap it around your wrist a few times to create a delicate charm bracelet look!
My favorite part of this look is the romantic colors. As the Pantone report says, "Violet lends a romantic air to the warm-weather palette." The bright coral lipcolor brings the look a step above simple while still keeping the soft, feminine vibe. Grab a cute clutch, throw your hair back in a low ponytail, and you're ready for a teen movie-worthy summer romance!
Look Three: Gelato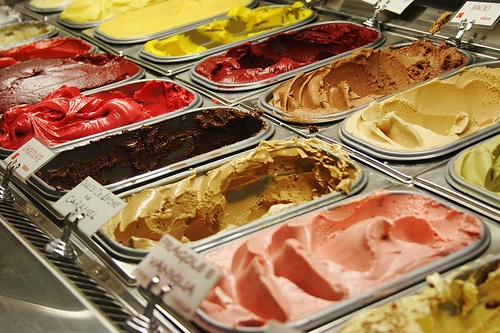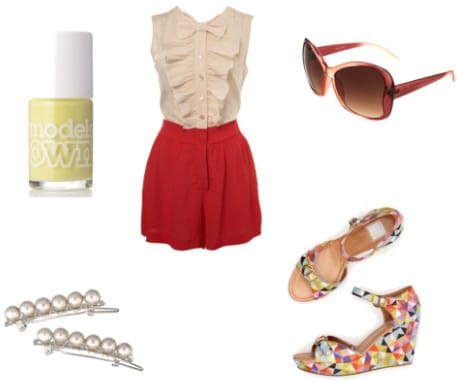 Product Information: Nail polish: Bunnyhug.co.uk, Hair pins: Dorothyperkins.com, Romper: Missselfridge.com,Sunglasses: Missselfridge.com, Wedges: Roxy.com
Italy is breathtakingly beautiful, from its art, to its architectural sites, to its natural landscapes. But you cannot talk about Italy without mentioning the food! For me, the sunny weather could only mean one thing: lots and lots of cool, creamy gelato.
The thing that I loved best about the various Italian gelato vendors and restaurants (besides actually eating my gelato, of course) was the presentation of the various flavors. The bins were always overflowing with the vibrantly-colored dessert, often adorned with an edible decoration. (For example, an orange flavor would be decorated with juicy halves of blood oranges.)
So for my last look, I was inspired to create something that would capture the fun-loving, dessert-guzzling child in all of us that seems to come out at least once each summer. For the outfit, I picked a romper with a ruffled top and "Tomato Puree" colored bottoms that reminded me of all the fruity flavors I saw in Italy.
This base allowed me to have lots of fun with color, pairing the look with multi-colored wedges and coral sunglasses. Finish it off with hair pinned back by pearl-adorned clips and "Aurora" nails in a lemony color that will look good enough to eat!
What do you think?
Does Italy inspire you? What other places have inspired you over the years? What colors do you plan on incorporating into your spring/summer wardrobe? Let us know in the comments!