This post may contain affiliate links, which means we may receive a commission if you purchase through our links. Please
read our full disclosure here
.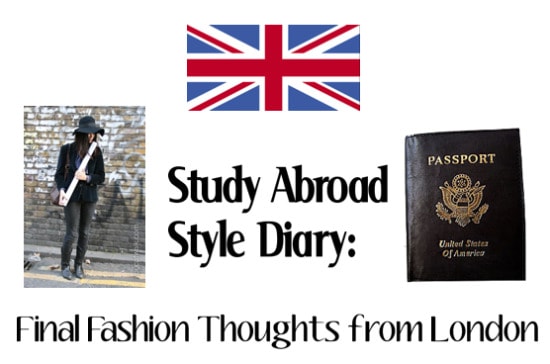 I cannot believe that an entire semester has gone by since I wrote my initial hopes, fears and–of course!–study abroad style observations in my first "Style Diary." It seems like it was just yesterday! Of course, it was not "just yesterday" but the four months that I have spent exploring and discovering the intricacies of foreign cultures by browsing ancient cities, museums and plenty of markets and retail stores has gone by fast.
So, for my last post written in the lovely London, I wanted to pay homage to some of my favorite shopping spots I have found while here. Being abroad has seriously given me so much style inspiration, and these are the places where I took that inspiration out on my credit card!
I also wanted to create the perfect looks for each of these spots that will also transfer to your own favorite shopping spots back home. These are looks I'd envision being worn for a day of shopping or any other of your favorite daytime summer activities. I hope you enjoy them!
Shopping Spot One: Camden Market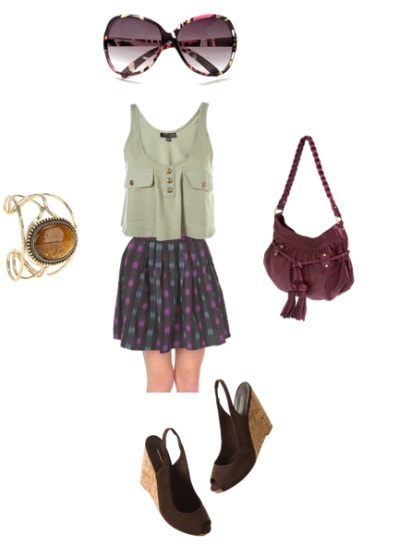 Product Information: Top: Topshop.com, Skirt: Shopastygal.com, Sunglasses: Monsoon.co.uk, Bracelet: Urbanoutfitters.com , Wedges: H&M.com, Bag: Modcloth.com
Definitely one of London's funkier spots, Camden Market literally has something for everyone, with stores ranging from hardcore punk-rock styles to cute, girly dresses. The market itself can be a bit overwhelming; it's a maze of stores carrying everything from jewelry to dresses to souvenir shirts. But the possibility of getting a little lost is totally worth it, and the vibe is totally inspiring, with all of the different styles of clothing next to each other!
For this outfit, I wanted to combine a variety of styles to create an effortless, original look that has many different elements but still works all together. The cropped tank is a nod to the surplus/safari style that's popular this summer and is a great "throw on" shirt to have for the summer. Meanwhile, this super girly, full skirt gives the look some fun and color, which is highlighted by the wine-colored shoulder bag. Slightly longer skirts can sometimes cut off your legs in an unflattering way, so ensure they look long and sleek by throwing on some wedge heels.
Mixing prints is a great way to change up your look but can be tricky, so I tried to ease into it by adding printed sunglasses that were a bit different from the design on the skirt to make the look a bit more edgy. To keep it from going over the top, I stuck with a neutral accessory–a bracelet with a golden brown stone to highlight the buttons on the top.
Shopping Spot Two: Oxford Street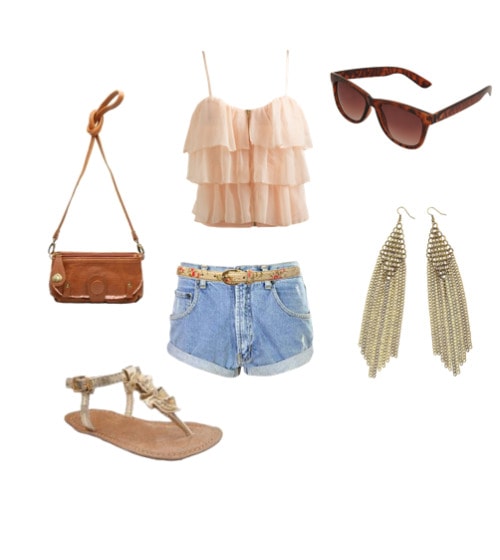 Product Information: Top: Wetseal.com, Shorts: Spoiledbrat.co.uk, Belt: Missselfridge.com, Bag: Debenhams.com, Sandals: Gap.com, Sunglasses: Forever21.com, Earrings: Topshop.com
A tourist classic boasting iconic stores such as the epic, multi-level mecca that is Topshop, Oxford Street is definitely a must-visit for any fashionista traveling to London. With high street stores ranging from inexpensive (such as Primark) to slightly pricier ones like Topshop, there is literally something for everyone on this stylish street.
The one downside to Oxford Street is that it is literally always crowded–weekend or week day, rain or shine, get ready to fight through crowds not only in the stores but on the actual street as well. Therefore, I wanted to create an outfit that is super comfy and easy to run around in while still being cute!
The first piece I chose was a pair of broken in shorts, as a skirt wouldn't allow you to lunge for that adorable shirt on sale a few racks over. Since the shorts are slightly high-waisted, I added a belt to accentuate their shape. The floral belt's summery pink color inspired the shirt that I found next. The ruffled detail on the the shirt screams "summer day" to me and I love how it is subtly reflected in these gold sandals.
My style personally is never complete without a touch of rocker-chic, so I added on a pair of chain earrings and Ray Ban-style sunglasses to rough up this girly look a bit. Complete your outfit with a cross-body bag with a secure closure–Oxford Street is crowded and you want to make sure that your belongings stay close to your body and safe!
Shopping Spot Three: Notting Hill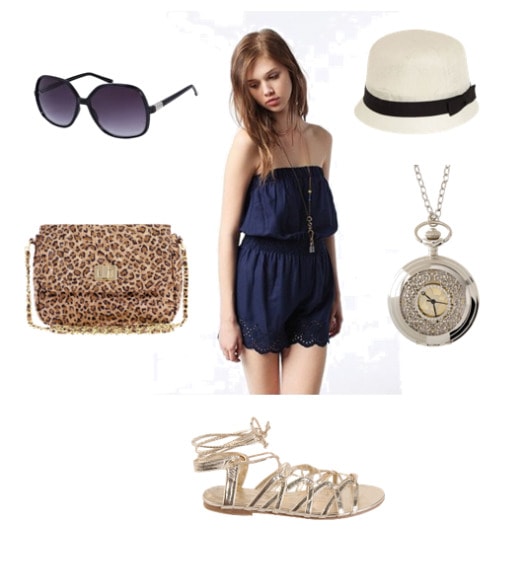 Product Information: Romper: Urbanoutfitters.com, Sunglasses: Asos.com, Bag: Asos.com, Sandals: Forever21.com, Hat: Modcloth.com, Necklace: Modcloth.com
Immortalized by Hugh Grant and Julia Roberts in the romantic comedy by the same name, Notting Hill is so much more than just a backdrop for Hollywood magic. This area has some of the best vintage shops around as well as some trendier new ones (there's even an American Apparel!), so I wanted to create a look that mixed old classics and new trends just like Notting Hill itself.
I still love the stylishness and comfort of rompers in the summer and the blue hue, and scalloped, lace-like pattern on the bottom of this one give it a great vintage feel. I paired the romper with some accessories that would pick up on that feel, like this precious clock necklace, oversized sunglasses, chain-link leopard purse, and adorable hat with a simple bow trim. To make the look a bit more modern, I finished it off with some lace-up gladiators.
Now all you need to do is find a Hugh Grant to go shopping with!
What Do You Think?
Where are your favorite areas to shop? Have you been to any of these places in London? Are you interested in trying any of these looks for the summer? Where would you wear them? Let us know if the comments!
Also, two weeks from now will be my final "Study Abroad" post, so if there are any topics you'd like me to address, let me know!