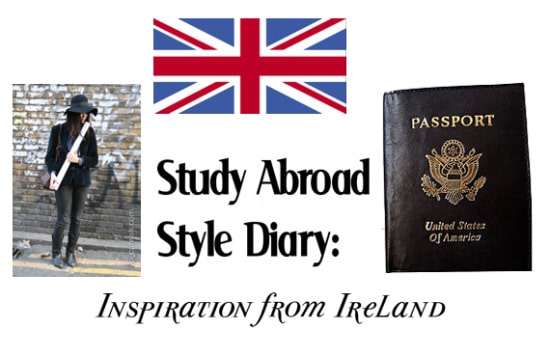 This past weekend, I was lucky enough to visit the amazing city of Dublin, Ireland.
Of course, since I visited last weekend, much of the trip was dedicated to St. Patrick's Day festivities. And as those of you who celebrated yesterday with your favorite green attire know, St. Patrick's day is a really fun holiday! But as someone with strong Irish heritage who dragged her friends every historical site possible, it makes me a little sad to see that many people just think of Irish culture in terms of this single day.
Therefore, I thought I would show you guys some looks inspired by the gorgeous sites I saw in Ireland that transcend the typical green-and-shamrocks stereotype. Much of the inspiration I pulled from these sites actually goes perfectly with the hot trends for Spring 2010, so besides showing you the site that inspired the look, I will also show you the Spring '10 trend it ties into!
Look One: Doors of Dublin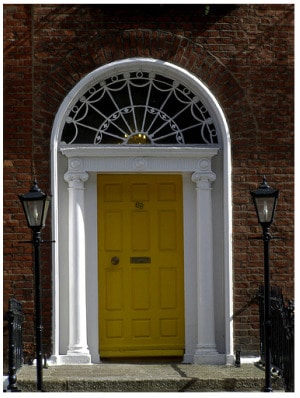 S/S '10 Trend: Bold colors and shapes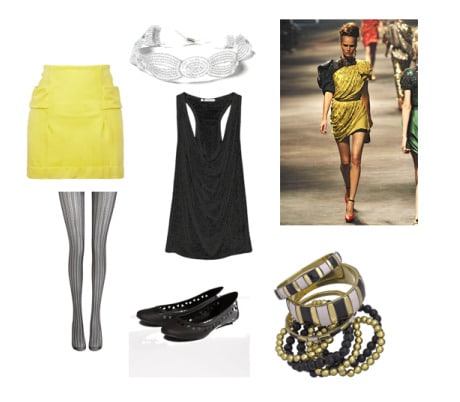 Product Information: Skirt: Handbag.com, Tights: Barneys.com, Headband: Bananarepublic.gap.com, Tank: Mrsh.me, Flats: Ae.com, Bracelets: Missselfridge.com, Image: Lanvin S/S '10 Runway
Dublin is full of quaint, adorable old houses that are great to see, but I was most impressed by the Georgian architecture that is still prevalent in many areas of the city. Known as the "Doors of Dublin," brightly colored Georgian doors stand out from their white frames and brighten up the brick buildings on many of Dublin's streets. They came in many colors, from pink to navy, but my favorites were the yellow doors, as it was impossible not to smile when I saw them!
For this look, I was inspired not only by the bold colors of the doors but also by their architectural style, which combines linear elements with ornate details. I was quickly reminded of Lanvin's S/S '10 runway looks, which were both bold and bright in color, yet incredibly detailed in design.
The main focus of this look is the bright yellow skirt, so I tried to keep the rest of the palette more neutral in color but still intricate in design. A burnt out, slightly sheer black tank and vertically striped black tights add great texture to the look, while the bangles and cut-out flats add fun without detracting from the yellow. The white, looping headband reminds me of the top of the door above, and it adds the perfect feminine touch to complete the look!
Look Two: Book of Kells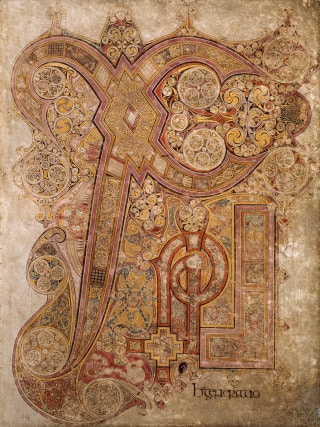 S/S '10 Trend: Vivid patterns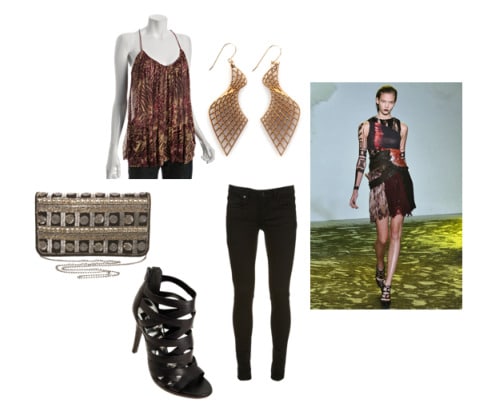 Product Information: Shirt: Bluefly.com, Clutch: Missselfridge.com, Heels: Lovemyshoes.com, Jeans: Topshop.com, Earrings: Shop.moxsie.com, Image: Rodarte S/S '10
Dublin's most popular (and one of its most breathtaking) tourist sites is the Trinity College Old Library, which houses the famed Book of Kells. The Book of Kells is a centuries old manuscript that features four Gospels written in immaculate Latin script and illuminated with the most amazingly vivid pictures.
The mix of colors and patterns on the pages can easily be translated into S/S '10 fashion, as it seems mixed prints have been everywhere lately! I especially liked Rodarte's S/S '10 show, where they utilized vivid tribal designs. For this look, I chose a top that incorporated the rich red that was all over the Book of Kells, as well as Rodarte's runway show. I matched this with simple black jeans and strappy heels to keep the focus on the different patterns of the intricate shirt, earrings, and clutch. The winding style of the earrings and geometrical design of the purse remind me so much of the design of the Book of Kells page shown above!
I envisioned this at first as more of a "going out look" (hence the strappy heels and clutch), but I could also see it as a daytime look if you added a loose cardigan, flats, and a soft leather bag. Therefore, this would be a great look to take from class to a night out if there is a day you don't have a lot of time to get ready!
Look Three: Irish Greenery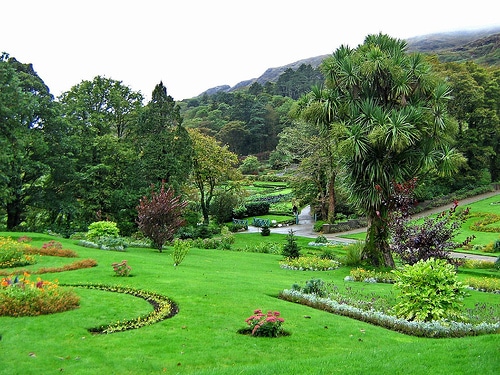 S/S '10 Trend: Flirty but fierce florals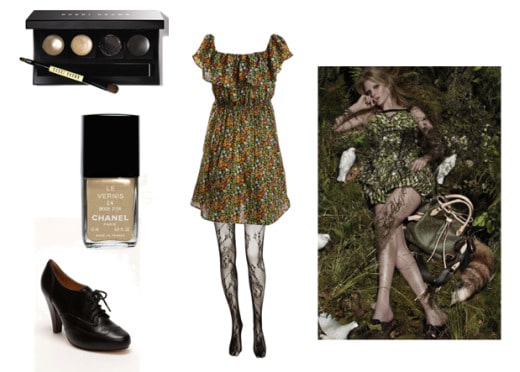 Product Information: Dress: Generalpants.com, Tights: Desireclothing.co.uk, Eyeshadow Palette: Bobbibrowncosmetics.com, Nail polish: Saks Fifth Avenue, Oxford Heels: Urbanoutfitters.com, Image: Louis Vuitton S/S Ad
I know I said that I was trying to show new aspects of Ireland in this article, but it really does not feel complete without a mention of Ireland's gorgeous, green outdoor scenery! And with florals popping up all over the S/S '10 runways, I couldn't resist putting this in.
For this specific look, I wanted something inspired by the nature of Ireland that broke the typical mold of florals and greens being soft and girly. This idea reminded me of the absolutely beautiful ads Louis Vuitton created for this season (pictured above), which feature "It" model Lara Stone in a natural setting, swathed in green but still maintaining an "edge" with her highlighted cheekbones and smoky eyes.
I went for a similar look here but added a bit more color with this bright, airy floral dress over swirling lace tights and completed with Spring's beloved oxfords (these have a fabulous stacked wooden heel that add to the natural look). For makeup, I picked this palette by Bobby Brown that will allow you to create the perfect smoky eye and even has a highlighter for your brow and cheek bones.
Go for soft, slightly messy hair here, whether it is down and natural or twisted into a messy bun or side braid. To complete your look, use Chanel's coveted nude nail polish for a natural but immaculate finishing touch!
What do you think?
Have you ever visited these sites in Ireland? Are these spring trends you're excited for? Are there any places you have visited that have inspired you, like Ireland inspired me? How did you dress up for St. Patrick's day yesterday? Let me know in the comments!